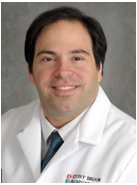 Welcome to Stony Brook Neurology! Stony Brook Medicine includes Stony Brook University Hospital, the only tertiary care medical center in all of Suffolk County, and Renaissance School of Medicine at Stony Brook University, the only medical school in Suffolk County. One of the primary goals of the Adult Neurology Training Program is to produce outstanding clinical neurologists. 
There a number of things that make Stony Brook Neurology stand out, but hands down, the best feature of our program is our faculty and their dedication to teaching! We are proud to have a number of internationally known faculty members here at Stony Brook. All of our faculty are always approachable and have an open-door policy. We have a  "closed faculty" system (no outside community neurologists admitting to the hospital).

There are so many other features that make Stony Brook special, such as our strong didactic program, diverse patient population, multiple fellowship opportunities, Night Float System and active research projects. Plus, we are part of Renaissance School of Medicine and all of our residents have invaluable roles in medical student education.
We are a categorical program: NRMP Code is 2919180C0. Six positions are available each year. 
We are proud to be part of the Neurosciences Institute, which is a collaborative effort among multiple clinical and basic science departments here at Stony Brook University, and comprises multiple specialty centers, including:
 
JCAHO Comprehensive Stroke Center
Inpatient Stepdown Unit
Neuro-critical Care Unit
Level 4 Comprehensive Epilepsy Center
Inpatient Video Epilepsy Monitoring Unit
Comprehensive Spine Center
Comprehensive Multiple Sclerosis Center
Neuromuscular Disease and ALS Center
The Stony Brook University Neuromuscular Disease and Christopher Pendergast ALS Center of Excellence - An ALS Association Certified Center
Neuro-Oncology Center
Skull Base Surgery Center
Sleep Disorders Center
Huntington's Disease Center of Excellence
We also have outstanding neuro-radiology, neuro-ophthalmology, neuropathology, neuropsychology, neurosurgery and neurovascular surgery here at Stony Brook.  
 
The community of Stony Brook is a wonderful place to live and train. The school districts here are excellent, University Childcare services are superb, and we are close to beaches, nature preserves, farmlands and wineries, as well everything that New York City has to offer. The University itself offers a whole host of cultural, athletic and academic opportunities as well.
I myself came to Stony Brook Neurology for residency upon graduating from medical school at Downstate, stayed for fellowships in Vascular Neurology and Clinical Neurophysiology, and was proud to become part of this outstanding  institution and Stony Brook Medicine. I have found Stony Brook a professionally rewarding place to be, and my colleagues in Neurology are truly a second family. Our commitment to clinical teaching, research and patient care is unwavering.

Why should you choose Stony Brook?
Because we are a close department where all the faculty and residents know each other.
Because you will come out of our program with excellent clinical training, and the ability to go anywhere and do anything. You will also benefit from a supportive, informal and collegial departmental environment where faculty and residents all know each other well, and the faculty are committed to your success.

We look forward to meeting you!

Michael Guido, MD
---