Associate Professor of Surgery
Board Certification
Education
Medical School
University of Miami (1989)
Residency Training
General Surgery, University of California at Los Angeles
Otolaryngology, Columbia-Presbyterian Medical Center, New York
Affiliated Specialty Center
Clinical Interests/Expertise
Management of diseases of the ear, nose and throat

Rhinology (sinus surgery)

Surgical treatment of chronic sinusitis (including minimally invasive "in office" balloon sinuplasty)

Obstructive sleep apnea

Balloon dilation for airway stenosis

Head and neck cancers

Skull base surgery

Thyroid and parathyroid surgery

Trans-oral robotic surgery (first on Long Island)

Salivary duct endoscopy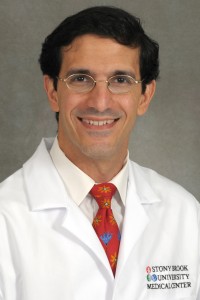 Contact Information
Division of Otolaryngology-Head and Neck Surgery
Department of Surgery, Health Sciences Center T19-068
Stony Brook Medicine
Stony Brook, NY 11794-8191
Tel: 631-444-8410
Fax: 631-444-7635
For patient care information, including insurance participation and practice locations, click here.
Honors
Publications
Additional
Bram R, Fiore S, McHugh D, Samara GJ, Davis RP. Hemostasis in endoscopic endonasal skull base surgery using the Aquamantys bipolar sealer: technical note. J Clin Neurosci 2017;41:81-5.
Eubanks PJ, Sawicki MP, Samara GJ, Gatti R, Nakamura Y, Tsao D, Johnson C, Hurwitz M, Wan YJ, Passaro E Jr. Putative tumor-suppressor gene on chromosome 11 is important in sporadic endocrine tumor formation. Am J Surg 1994;167:180-5.
Eubanks PJ, Sawicki MP, Samara GJ, Wan YJ, Gatti RA, Hurwitz M, Passaro E Jr. Pancreatic endocrine tumors with loss of heterozygosity at the multiple endocrine neoplasia type I locus. Am J Surg 1997;173:518-20.
Frenkel CH, Yang J, Zhang M, Regenbogen E, Telem DA, Samara GJ. Trends and the utilization of transoral robotic surgery with neck dissection in New York State. Laryngoscope 2017;127:1571-6.
Kizhner V, Samara G, Panesar R, Krespi YP. Methicillin-resistant Staphylococcus aureus bacteraemia associated with Lemierre's syndrome: case report and literature review. J Laryngol Otol 2013;127:721-3.
Mateika JH, Millrood DL, Kim J, Rodriguez HP, Samara GJ. Response of human tongue protrudor and retractors to hypoxia and hypercapnia. Am J Respir Crit Care Med 1999;160:1976-82.
Moulton T, Samara G, Chung WY, Yuan L, Desai R, Sisti M, Bruce J, Tycko B. MTS1/p16/CDKN2 lesions in primary glioblastoma multiforme. Am J Pathol 1995;146:613-9.
Nguyen HL, Kadam P, Helkin A, Cao K, Wu S, Samara GJ, Zhang Q, Zucker S, Cao J. MT1-MMP activation of TGF-β signaling enables intercellular activation of an epithelial-mesenchymal transition program in cancer. Curr Cancer Drug Targets 2016;16:618-30.
Razavi C, Pascheles C, Samara G, Marzouk M. Robot-assisted sialolithotomy with sialendoscopy for the management of large submandibular gland stones. Laryngoscope 2016;126:345-51.
Samara G, Sawicki MP, Hurwitz M, Passaro E Jr. Molecular biology and therapy of disease. Am J Surg 1993;165:720-7.
Samara GJ, Lawrence DM, Chiarelli CJ, Valentino MD, Lyubsky S, Zucker S, Vaday GG. CXCR4-mediated adhesion and MMP-9 secretion in head and neck squamous cell carcinoma. Cancer Lett 2004;214:231-41.
Samara GJ, Krespi YP. Endoscopic treatment of nasopharyngeal lesions. In: Blitzer A, Pilsbury H, Jahn A, Binder W, editors. Office Based Surgery of the Head and Neck. Philadelphia: Lippincott-Raven, 1997: 349-52.
Samara GJ, Schaffner AD, Eisenstat J, Nguyen HL. The effects of the plasminogen pathway on scar tissue formation. Laryngoscope 2004;114:46-9.
Sawicki M, Arnold E, Ebrahimi S, Duell T, Jin S, Wood T, Chakrabarti R, Peters J, Wan Y, Samara G, Weier HU, Udar N, Passaro E Jr, Srivatsan ES. A transcript map encompassing the multiple endocrine neoplasia type-1 (MEN1) locus on chromosome 11q13. Genomics 1997;42:405-12.
Sawicki MP, Samara G, Hurwitz M, Passaro E Jr. Human Genome Project. Am J Surg 1993;165:258-64.
Shao X, Tandon R, Samara G, Kanki H, Yano H, Close LG, Parsons R, Sato T. Mutational analysis of the PTEN gene in head and neck squamous cell carcinoma. Int J Cancer 1998;77:684-8.
Suzuki A, Shao X, Song XQ, Hanaoka T, Irie S, Kashiwada M, Samara G, et al. Identification of a 5-cM region of common allelic loss on 8p12-p21 in human breast cancer and genomic analysis of the hEXT1L/EXTR1/EXTL3 gene in this locus. Int J Oncol 1999;15:443-51.
Tsang P, Gilles F, Yuan L, Kuo YH, Lupu F, Samara G, Moosikasuwan J, Goye A, Zelenetz AD, Selleri L, et al. A novel L23-related gene 40 kb downstream of the imprinted H19 gene is biallelically expressed in mid-fetal and adult human tissues. Hum Mol Genet 1995;4:1499-507.
Udar NS, Xu S, Bay JO, Dandekar SS, Patel N, Chen X, Liang TY, Uhrhammer N, Klisak I, Shizuya H, Yang H, Samara G, Nelissen J, Sawicki M, Concannon P, Gatti RA. Physical map of the region surrounding the ataxia-telangiectasia gene on human chromosome 11q22-23. Neuropediatrics 1999;30:176-80.
Wood TF, Srivatsan ES, Chakrabarti R, Ma GC, Kuan N, Samara GJ, Higgins MJ, Shows TB, Johnson CL, Wan YJ, Passaro EP Jr, Sawicki MP. A 1.5-megabase physical map encompassing the multiple endocrine neoplasia type-1 (MEN1) locus on chromosome 11q13. Genomics 1996;38:166-73.
Fellow, American College of Surgeons (FACS)