Associate Professor of Surgery
Certification
Cardiac Surgery (Argentine College of Cardiovascular Surgeons)
Education
Medical School
University of Buenos Aires School of Medicine (1979)
Residency Training
General Surgery, Finochietto Hospital (Buenos Aires, Argentina)
Fellowship Training
Adult Cardiac Surgery, University of Massachusetts Medical School
Adult Cardiac Surgery, Brigham & Women's Hospital, Harvard Medical School
Affiliated Specialty Centers
Clinical Interests/Expertise
Multi-Arterial Bypass Surgery

Off-Pump Coronary Bypass

Hybrid Coronary Revascularization (Bypass + Coronary Stenting; see FAQs)

Minimally Invasive Coronary Surgery

Robotic Assisted Coronary Surgery

Trans-Myocardial Laser Revascularization

Reoperative Coronary Surgery

Transcatheter Aortic Valve Replacement (TAVR)

Surgery for Infective Endocarditis

Minimally Invasive and Robotic Cardiac Surgery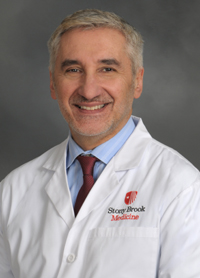 Contact Information
Division of Cardiothoracic Surgery
Department of Surgery, Health Sciences Center T19-080
Stony Brook Medicine
Stony Brook, NY 11794-8191
Tel: 631-444-1820
Fax: 631-444-8963
For patient care information, including insurance participation and practice locations, click here.
Personal Statement
Honors
Publications
Additional
Although my practice encompasses all aspects of adult cardiac surgery, I have focused on and developed a higher expertise in the management of patients with complex ischemic heart disease.

Previous positions as chief of cardiac surgery in the Nashville VA Medical Center, chairman of the hybrid OR room at Vanderbilt University, and co-director of the Ischemic Cardiomyopathy Group at the Italian Hospital of Buenos Aires have added a deeper dimension to my expertise in all aspects of my practice: clinical, academic, research, and teaching.

I completed all my cardiac surgery education in premier institutions of the United States: University of Massachusetts Medical School and Brigham & Women's Hospital, Harvard Medical School. I have an international board certification in adult cardiac surgery
Andrew Foster Award, University of Washington (2007)
Harvard University Officer (2002-04)
Harvard University Officer (1994-97)
CHEST Foundation Young Investigator Award, American College of Chest Physicians (1999)
Balaguer JM, Byrne JG, Cohn LH. Orthotopic pulmonic valve replacement with a pulmonary homograft as an interposition graft. J Card Surg 1996;11:417-20.
Balaguer JM, Davaro R. Tratamiento de la endocarditis bacteriana del siglo XX. Rev Argent Cardiol 1999;67:675-85.
Balaguer JM, Davaro RE. AIDS and the heart [SIDA y corazon]. Rev Argent Cardiol 2003;71:365-71.
Balaguer JM, Perry D, Crowley J, Moran JM. Coronary artery bypass grafting in an achondroplastic dwarf. Tex Heart Inst J 1995;22:258-60.
Balaguer JM, Soto E, Perry D, Moran JM. Postoperative intramyocardial abscess caused by mucormycosis. Ann Thorac Surg 1994;58:1760-2.
Balaguer JM, Umakanthan R, Leacche M, Byrne JG. Minimally invasive cardiac surgery. Curr Probl Surg 2012;49:529-49.
Balaguer JM, Yu C, Byrne JG, Ball SK, Petracek MR, Brown NJ, Pretorius M. Contribution of endogenous bradykinin to fibrinolysis, inflammation, and blood product transfusion following cardiac surgery: a randomized clinical trial. Clin Pharmacol Ther 2013;93:326-34.
Bichell DP, Balaguer JM, Aranki SF, Couper GS, Adams DH, Rizzo RJ, Collins JJ Jr, Cohn LH. Axilloaxillary cardiopulmonary bypass: a practical alternative to femorofemoral bypass. Ann Thorac Surg 1997;64:702-5.
Billings FT 4th, Balaguer JM, C Y, Wright P, Petracek MR, Byrne JG, Brown NJ, Pretorius M. Comparative effects of angiotensin receptor blockade and ACE inhibition on the fibrinolytic and inflammatory responses to cardiopulmonary bypass. Clin Pharmacol Ther 2012;91:1065-73.
Byrne JG, Rezai K, Sanchez JA, Bernstein RA, Okum E, Leacche M, Balaguer JM, Prabhakaran S, Bridges CR, Higgins RS. Surgical management of endocarditis: the society of thoracic surgeons clinical practice guideline. Ann Thorac Surg 2011;91:2012-9.
Elbardissi AW, Balaguer JM, Byrne JG, Aranki SA. Surgical therapy for complex coronary artery disease. Semin Thorac Cardiovasc Surg 2009;21:199-206.
Greelish JP, Ailiwadi M, Balaguer JM, Ahmad RM, Zhao DX, Petracek MR, Byrne JG. Combined percutaneous coronary intervention and valve surgery. Curr Opin Cardiol 2006;21:113-7.
Greelish JP, Eagle SS, Zhao DX, Deegan RJ, Crenshaw MH, Balaguer JM, Ahmad RM, Byrne JG. Management of new-onset mitral regurgitation with intraoperative angiography and intraoperative percutaneous coronary intervention. J Thorac Cardiovasc Surg 2006;131:239-40.
Hocking KM, Brophy C, Rizvi SZ, Komalavilas P, Eagle S, Leacche M, Balaguer JM, Cheung-Flynn J. Detrimental effects of mechanical stretch on smooth muscle function in saphenous veins. J Vasc Surg 2011;53:454-60.
Imventarza O, Lendoire J, R. Rilo H, Balaguer JM, Starzl T. Old donors in orthotopic liver transplant. Rev Argent Cirug 1990; 59: 233-6.
Jaik NP, Umakanthan R, Leacche M, Solenkova N, Balaguer JM, Hoff SJ, Ball SK, Zhao DX, Byrne JG. Current status of hybrid coronary revascularization. Expert Rev Cardiovasc Ther 2011;9:1331-7.
Leacche M, Balaguer JM, Byrne JG. Intraoperative grafts assessment. Semin Thorac Cardiovasc Surg 2009;21:207-12.
Leacche M, Balaguer JM, Byrne JG. Role of cardiac surgery in the post-myocardial infarction patient with heart failure. Curr Heart Fail Rep 2008;5:204-10.
Leacche M, Balaguer JM, Umakanthan R, Byrne JG. Prosthetic valve sparing aortic root replacement: an improved technique. Interact Cardiovasc Thorac Surg 2008;7:919-21.
Lilly KJ, Balaguer JM, Pirundini PA, Smith MA, Connelly G, Campbell LJ, Philie PC, McAdams M, Riley W, Dekkers R, Fitzgerald D, Cohn LH, Rizzo RJ. Early results of a comprehensive operative and perfusion strategy to attenuate the incidence of adverse neurological outcomes in on-pump coronary artery bypass grafting (CABG) patients. Perfusion 2006;21:311-7.
Mahan VL, Balaguer JM, Pezzella AT, Vander Salm TJ, Mady BJ. Successful coronary artery bypass surgery in a patient with AIDS. Ann Thorac Surg 2000;70:1698-9.
Marenchino R, Domenech A, Kotowicz V, Balaguer JM: Double valve replacement associated with mitro-aortic fibrosa reconstruction in patients with prosthetic valve endocarditis (Doble reemplazo valvular asociado con reconstruccion de la fibrosa mitro-aortica en pacientes con endocarditis protesica). Rev Argent Cardiol 2015;83:60-1.
Mozaffarian D, Marchioli R, Macchia A, Silletta MG, Ferrazzi P, Gardner TJ, Latini R, Libby P, Lombardi F, O'Gara PT, Page RL, Tavazzi L, Tognoni G; Opera Investigators [Balaguer JM]. Fish oil and postoperative atrial fibrillation: the Omega-3-Fatty Acids for Prevention of Post-Operative Atrial Fibrillation (OPERA) randomized trial. JAMA 2013 Mar 6 (9): 876.
Nesbitt JC, St Julien J, Absi TS, Ahmad RM, Grogan EL, Balaguer JM, Lambright ES, Deppen SA, Wu H, Putnam JB. Tissue-based coronary surgery simulation: medical student deliberate practice can achieve equivalency to senior surgery residents. J Thorac Cardiovasc Surg 2013;145:1453-9.
Petracek MR, Leacche M, Solenkova N, Umakanthan R, Ahmad RM, Ball SK, Hoff SJ, Absi TS, Balaguer JM, Byrne JG. Minimally invasive mitral valve surgery expands the surgical options for high-risks patients. Ann Surg 2011;254:606-11.
Pirundini PA, Balaguer JM, Lilly KJ, Gorsuch WB, Taft MB, Cohn LH, Rizzo RJ. Replacement of the quadricuspid aortic valve: strategy to avoid complete heart block. Ann Thorac Surg 2006;81:2306-8.
Sanchis JM, Peñarrocha M, Balaguer JM, Camacho F. Cemento-ossifying mandibular fibroma: a presentation of two cases and review of the literature. Med Oral 2004;9:69-73.
Soller BR, Idwasi PO, Balaguer JM, Levin S, Simsir SA, Vander Salm TJ, Collette H, Heard SO. Noninvasive, near infrared spectroscopic-measured muscle pH and PO2 indicate tissue perfusion for cardiac surgical patients undergoing cardiopulmonary bypass. Crit Care Med 2003;31:2324-31.
Tzafriri AR, Garcia-Polite F, Li X, Keating J, Balaguer JM, Zani B, Bailey L, Markham P, Kiorpes TC, Carlyle W, Edelman ER. Defining drug and target protein distributions after stent-based drug release: durable versus deployable coatings. J Control Release 2018;274:102-108.
Umakanthan R, Leacche M, Petracek MR, Kumar S, Solenkova NV, Kaiser CA, Greelish JP, Balaguer JM, Ahmad RM, Ball SK, Hoff SJ, Absi TS, Kim BS, Byrne JG. Safety of minimally invasive mitral valve surgery without aortic cross-clamp. Ann Thorac Surg 2008;85:1544-50.
Umakanthan R, Petracek MR, Leacche M, Solenkova NV, Eagle SS, Thompson A, Ahmad RM, Greelish JP, Ball SK, Hoff SJ, Absi TS, Balaguer JM, Byrne JG. Minimally invasive right lateral thoracotomy without aortic cross-clamping: an attractive alternative to repeat sternotomy for reoperative mitral valve surgery. J Heart Valve Dis 2010;19:236-43.
Zhao DX, Leacche M, Balaguer JM, Boudoulas KD, Damp JA, Greelish JP, Byrne JG. Routine intraoperative completion angiography after coronary artery bypass grafting and 1-stop hybrid revascularization results from a fully integrated hybrid catheterization laboratory/operating room. J Am Coll Cardiol 2009;53:232-41.
Fellow, American College of Chest Physicians (Fellow; FCCP)
Languages
English, Spanish
Memberships
American College of Cardiology
American Heart Association
American Medical Association
Argentine College of Cardiovascular Surgeons
Argentine Society of Cardiology
Asociacion Argentina de Cirugia
Asociacion Medica Argentina
Harvard Club de Argentina
Society of Thoracic Surgeons