Assistant Professor of Surgery
Board Certifications
Education
Medical School
St. George's University (2010)
Residency Training
General Surgery, Brooklyn Hospital Center
Fellowship Training
Trauma/Critical Care, Stony Brook University
Affiliated Specialty Center
Clinical Interests/Expertise
Pre- and post-operative critical care of surgical patients

Surgical management of injured patients—all aspects of traumatology

Basic and advanced minimally invasive and laparoscopic surgery

Management of diseases involving the liver, spleen, upper/lower gastrointestinal systems

Hernia repairs

Surgical treatment of benign soft-tissue tumors

Tracheostomy and tracheotomy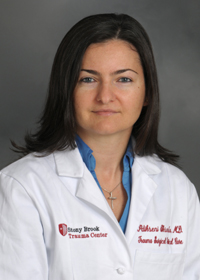 Contact Information
Division of Trauma, Emergency
Surgery, and Surgical Critical Care
Department of Surgery, Health Sciences Center T18-040
Stony Brook Medicine
Stony Brook, NY 11794-8191
Tel: 631-444-8329
Fax: 631-444-6176
For patient care information, including insurance participation and practice locations, click here.
Personal Statement
Publications
Additional
Bai S, Liu H, Chen KH, Eksarko P, Perlman H, Moore TL, Pope RM. NF-kappaB-regulated expression of cellular FLIP protects rheumatoid arthritis synovial fibroblasts from tumor necrosis factor alpha-mediated apoptosis. Arthritis Rheum 2004;50:3844-55.
Eksarko P, Nazir S, Kessler E, LeBlanc P, Zeidman M, Asarian AP, Xiao P, Pappas PJ. Duodenal web associated with malrotation and review of literature. J Surg Case Rep 2013;2013:rjt110.
Liu H, Eksarko P, Temkin V, Haines GK 3rd, Perlman H, Koch AE, Thimmapaya B, Pope RM. Mcl-1 is essential for the survival of synovial fibroblasts in rheumatoid arthritis. J Immunol 2005;175:8337-45.
Liu H, Huang Q, Shi B, Eksarko P, Temkin V, Pope RM. Regulation of Mcl-1 expression in rheumatoid arthritis synovial macrophages. Arthritis Rheum 2006;54:3174-81.
Liu H, Shi B, Huang CC, Eksarko P, Pope RM. Transcriptional diversity during monocyte to macrophage differentiation. Immunol Lett 2008;117:70-80.
Rhew EY, Lee C, Eksarko P, Dyer AR, Tily H, Spies S, Pope RM, Ramsey-Goldman R. Homocysteine, bone mineral density, and fracture risk over 2 years of followup in women with and without systemic lupus erythematosus. J Rheumatol 2008;35:230-6.
Memberships
American College of Surgeons
American Medical Association
Medical Society of the State of New York