DR. CHRISTOPHER S. MURATORE NAMED KNAPP SWEZEY CHAIR IN PEDIATRIC SURGERY
Our Second Endowed Faculty Appointment in the Department of Surgery
STONY BROOK, NY, November 14, 2017 — Today, at the investiture ceremony on the Stony Brook University campus, Christopher S. Muratore, MD, professor of surgery and chief of pediatric surgery, was formally appointed Knapp Swezey Chair in Pediatric Surgery.
Two other Stony Brook professors who are leaders in their fields were appointed as endowed faculty at the ceremony:
Margaret M. McGovern, MD, PhD, professor of pediatrics and physician-in-chief at Stony Brook Children's Hospital, was named Knapp Chair in Pediatrics, and Esther S. Takeuchi, PhD, SUNY distinguished professor of materials science and chemical engineering, was named William and Jane Knapp Chair in Energy and the Environment.
The three new endowed faculty positions were funded by philanthropic gifts from the Knapp family through the Knapp Swezey Foundation, Island Outreach Foundation, and Jane and William Knapp, respectively.
"From the start of my tenure at Stony Brook, it has been my goal to create 100 endowed faculty positions across a wide range of disciplines to help the university compete with our aspirational peers for the best and brightest faculty," said Stony Brook University President Samuel L. Stanley Jr.
"I am most grateful that through the generosity of the Knapp family and others, we are almost there."
We need to make children's healthcare services and
children's surgical services a national priority.
"Chris is new to Stony Brook Children's Hospital," said Kenneth Kaushansky, MD, dean of Stony Brook University School of Medicine, in his introduction of Dr. Muratore. "But he is a longstanding national leader in pediatric surgery and education."
Dr. Muratore joined our faculty in September as our new chief of pediatric surgery. He came to Stony Brook from the Warren Alpert Medical School of Brown University, where since 2013 he had been associate professor of surgery and pediatrics.
While on the faculty at Brown, Dr. Muratore was an attending surgeon at two major hospitals in Providence: Hasbro Children's Hospital, a division of Rhode Island Hospital — the major teaching hospital of Brown's medical school — and Women and Infants Hospital of Rhode Island.
He served as medical director of Rhode Island Hospital's extracorporeal membrane oxygenation (ECMO) program, the only extracorporeal life support program in the region, functioning as a regional referral service and caring for neonatal, pediatric, adult, and cardiac patients in a multidisciplinary fashion.
At Hasbro Children's Hospital, he served as surgical director of the pediatric intensive care unit, and as co-director of the multidisciplinary vascular anomalies clinic treating both pediatric and adult patients.
A dedicated educator, Dr. Muratore had been the program director of Brown's pediatric surgery residency program.
Dr. Muratore brings years of training in pediatric surgical research laboratories investigating the fetal treatment of congenital diaphragmatic hernia (CDH).
He is a key investigator on the FDA-sponsored investigational device exemption for in utero tracheal occlusion for severe CDH, and he collaborated locally and nationally to advance fetal treatment, having served as chair of the fetal diagnosis and treatment committee of the American Pediatric Surgical Association.
A children's hospital as part of a larger hospital system is
the crown jewel in an academic medical center.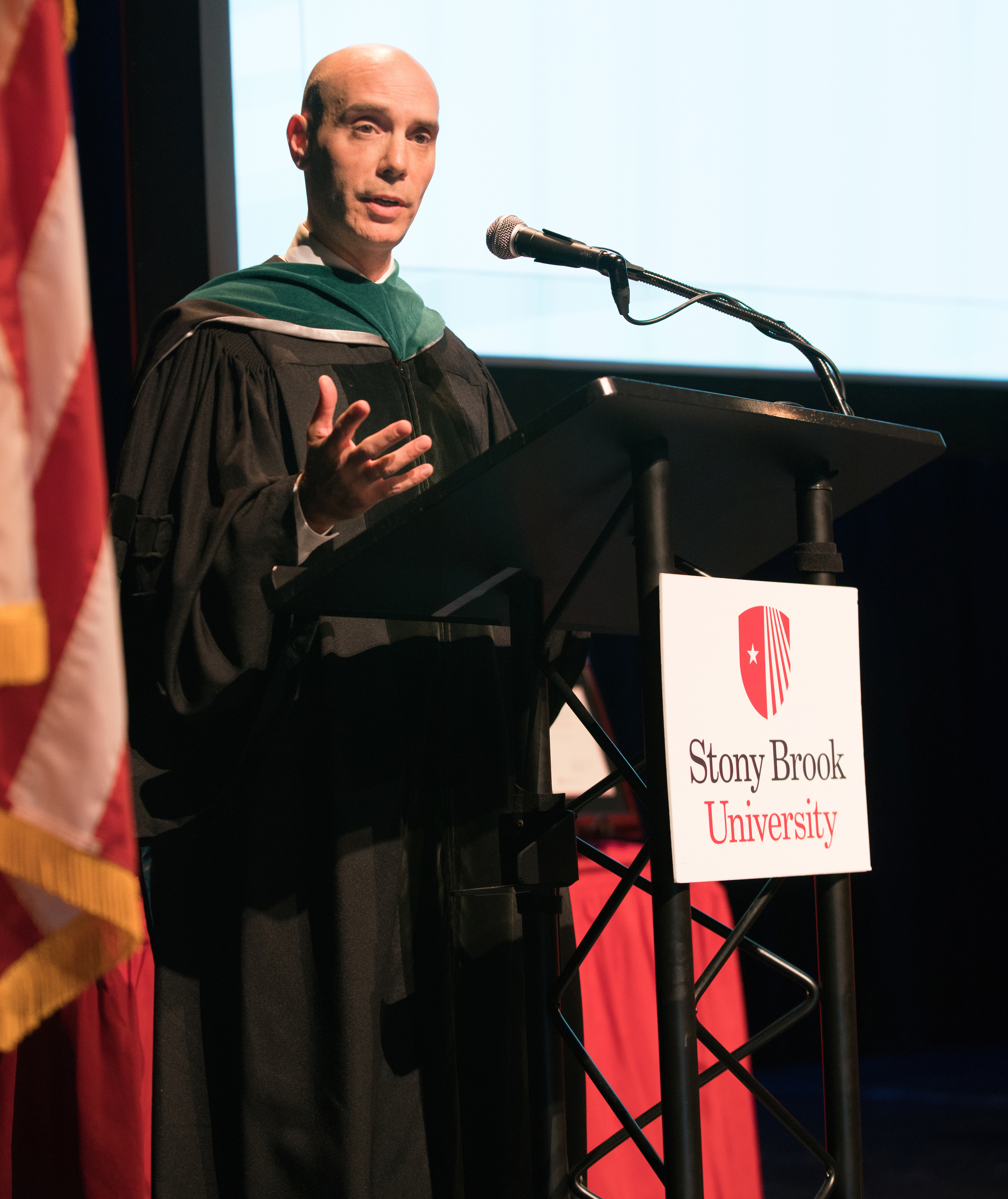 In his remarks, Dr. Muratore noted that across the country, the "vast majority" of children's surgical care is being provided in non-children's hospitals by specialists in adults.
"We need to make children's healthcare services and children's surgical services a national priority," he said.
"A children's hospital as part of a larger hospital system is the crown jewel in an academic medical center.
"The Knapp family and the Knapp Swezey Foundation and all of your collective contributions will no doubt allow Stony Brook Children's Hospital to rise to the occasion and be the stimulus for change."
For more than 25 years, said Dexter A. Bailey Jr., senior vice president for University Advancement, the Knapp family's generosity has impacted areas all across Stony Brook's campus, including the arts, nursing research, alumni programming, and tick-borne disease research, as well as the University's first endowed chair in pharmacological sciences, among others.
Most significant has been the Knapp's transformative investments in children's health, by way of an extraordinary gift in June 2016 to help build a new best-in-class children's hospital that will transform clinical care, pediatric medical education, and research at Stony Brook Children's.
"The Knapps's investment in Stony Brook," said Mr. Bailey, "is a reflection of their confidence in the pioneering spirit of the university."
Addressing the standing-room-only audience, William Knapp revealed his family's motivation for their philanthropy to Stony Brook.
"We have family members who would not be alive today were it not for the world-class medical care available at Stony Brook University Hospital. And we give here so the wider community can share the peace of mind that comes with having this tremendous facility here.
"I do not want to think about what this hospital and university would be like without philanthropic support."
For information on the ways to support the Department of Surgery, please call Emily K. LaClair, director of development for surgery and trauma, at 631-638-2481.