HEART INSTITUTE STAFF HONORED AT EAST HAMPTON ATTORNEY'S "THANK YOU" EVENT
Lenny and Judie Ackerman Celebrate High-Caliber Care with Festivities at Their Home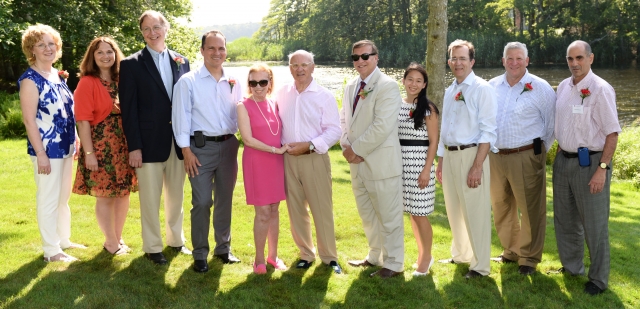 EAST HAMPTON, NY, July 25, 2013 — When Lenny Ackerman's wife faced life-threatening heart complications last year, he put her care in the hands of Stony Brook University Heart Institute. The East Hampton attorney was so impressed and grateful for her care that he held a celebration at his home on July 14 to help inform other East End residents about the importance of having a tertiary care center available close to home.
Mr. Ackerman and his wife, Judie, hosted 200 friends, colleagues and community members at a cocktail party to honor Stony Brook University Hospital (SBUH) staff who cared for Judie during her difficult medical journey. Last year, after suffering a devastating heart attack and stroke, Judie was immediately rushed to a local hospital. But, because her condition was complicated, she was soon transported to Stony Brook University Heart Institute.
"Stony Brook was there for us, and everyone who needs them."
"We were fortunate to be assigned immediately to Stony Brook cardiologist Dr. David Brown. He informed us that there was actually a doctor on staff who specializes in Judie's issues," Mr. Ackerman said, referring to James R. Taylor, MD, chief of cardiothoracic surgery and co-director of Stony Brook University Heart Institute. "I was delightfully surprised to find this level of care so close to home."
Judie had her surgery at Stony Brook University Hospital, followed by a long road to recovery. Drs. Taylor and Brown followed her progress, even after her release to a rehabilitation facility in White Plains, NY.
"We wanted it known that great care is nearby, in Suffolk County, so we hosted this party to introduce the leadership of Stony Brook Medicine to our community," Mr. Ackerman said. "All the staff members who took care of Judie were invited to attend as recognition for a job well done."
"This experience made me realize the important role Stony Brook Medicine plays for the residents of Eastern Long Island," Mr. Ackerman said. "Stony Brook is the sole tertiary care center in Suffolk County and offers many advanced services to the region, such as cardiac care, cancer care, neurosurgery and perinatal care."
"Stony Brook was there for us, and everyone who needs them," Mr. Ackerman said.
Among attendees from Stony Brook were Stony Brook University President Samuel L. Stanley Jr., MD; L. Reuven Pasternak, MD, chief executive officer of SBUH and vice president for Health Systems, Stony Brook Medicine; Carol Gomes, MS, FACHE, CPHQ, chief operating officer, SBUH; and Margaret Duffy, MS, RN, NEA-BC, interim chief nursing officer, SBUH.
Mr. Ackerman expressed special thanks at the party to Dr. Taylor and Dr. Brown, along with Rachel Wong, MD, internist; Donna Albergo, RN, patient service coordinator; Phil Travaglia, RN, and Bernie Barahone, RN. Also in attendance were Harold Fernandez, MD, cardiothoracic surgeon, and William Lawson, MD, cardiologist, who serve with Dr. Taylor as co-directors of the Heart Institute.