The goal of Stony Brook's Urology residency program is to enable you to realize your full potential as a physician and urologic surgeon. Whether you are best suited for a career in general urology or a urological specialty, our training program will give you the broad background necessary for either type of career.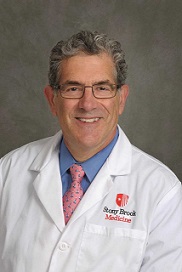 During the course of training, the resident assumes an increasing level of responsibility for the patients under his or her care. This enables our residents to develop clinical judgment and self-confidence at an early stage of their careers. The cognitive progress of the urology resident is measured by the in-service examination. Theoretical aspects of urological training are fostered by carefully structured didactic exercises, in the form of pathology and radiology courses, lectures, a visiting professor program, teaching rounds, and a journal club.
No matter how attractive a residency program appears, it is important that you consider the following questions before making a program selection:
Do I have sufficient information about my abilities and interests so that I can make the best

decision as to which surgical specialties I wish to choose as my life's work?



Will the training program I choose allow me the latitude to explore the urological field in which I can best develop my professional skills and talents?
Do I learn best in a structured and closely supervised environment, or in an environment in which I set my own pace?
Does the size and character of the program allow attention to my needs?
Do I learn and perform best in a highly competitive environment, or do I prefer an educational program, which emphasizes other approaches to ensure that everybody performs at peak capacity?
The final development of an accomplished physician/surgeon depends upon the proper blending of knowledge and technical skills with the ability to care for the patient with compassion and empathy. Our responsibility is to guide and accompany you at the beginning of this journey, and to provide a framework that you can use to measure your progress towards achieving the goal of being fully prepared to successfully assist those patients who are entrusted to your care.
Wayne C. Waltzer, MD, FACS
Professor and Chairman, Department of Urology