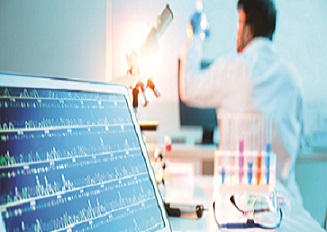 The Department of Urology recognizes the importance of conducting state-of-the-art basic and translational research by our faculty. Our research mission is to develop novel treatment ideas and bring technological advances more quickly to the patients. The Urology Department focuses on research that investigates bladder and prostate tumorigenesis and cancer biomarkers.
Department of Urology Research Faculty
---
Victor Romanov, PhD, Research Assistant Professor, Department of Urology
Terry Whyard, MS, Urology Tech Specialist
Research:
Publications:
1. Gabig T. G., Waltzer W. C., Whyard T. C., Romanov V. (2016) Clostridium perfringens enterotoxin as a potential drug for intravesical treatment of bladder cancer. Biochem Biophys Res Commun. 478: 887-892. PMID: 27520378.
Abstract: The current intravesical treatment of bladder cancer (BC) is limited to a few chemotherapeutics that show imperfect effectiveness and are associated with some serious complications. Thus, there is an urgent need for alternative therapies, especially for patients with high-risk non-muscle invasive (NMIBC)… -Read More
2. Whyard T. C., Waltzer W. C., Waltzer D., Romanov V. (2016) Metabolic alterations in bladder cancer: applications for cancer imaging. Exp Cell Res. 341: 77-83. PMID: 26808412.
Abstract: Treatment planning, outcome and prognosis are strongly related to the adequate tumor staging for bladder cancer (BC). Unfortunately, a large discrepancy exists between the preoperative clinical and final pathologic staging. Therefore, an advanced imaging-based technique is crucial for adequate staging… -Read More
3. Romanov V., Whyard T. C., Waltzer W. C., Gabig T. G. (2014) A claudin 3 and claudin 4-targeted Clostridium perfringens protoxin is selectively cytotoxic to PSA-producing prostate cancer cells. Cancer Lett. 351: 260-264. PMID: 24952257.
Abstract: Prostate cancer is the second leading cause of non-cutaneous cancer-related death in males, and effective strategies for treatment of metastatic disease are currently limited. The tight junction proteins, claudin 3 and claudin 4, serve as cell-surface receptors for the pore-forming Clostridium perfringens enterotoxin [CPE]…-Read More
4. Romanov V., Whyard T. C., Waltzer W. C., Grollman A. P., Rosenquist T. (2015) Aristolochic acid-induced apoptosis and G2 cell cycle arrest depends on ROS generation and MAP kinases activation. Arch Toxicol. 89: 47-56. PMID: 24792323.
Abstract: Ingestion of aristolochic acids (AAs) contained in herbal remedies results in a renal disease and, frequently, urothelial malignancy. The genotoxicity of AA in renal cells, including mutagenic DNA adducts formation, is well documented. However, the mechanisms of AA-induced tubular atrophy and renal fibrosis are largely unknown…-Read More
5. Romanov V., Whyard T. C., Adler H. L., Waltzer W. C., Zucker S. (2004) Prostate cancer cell adhesion to bone marrow endothelium: the role of prostate-specific antigen. Cancer Res. 64: 2083-2089. PMID: 15026347.
Abstract: Bone metastasis is the most frequent complication of prostate cancer (PC). Elucidation of the biological basis of this specificity is required for the development of approaches for metastatic inhibition. We investigated the possibility that the preferential attachment of PC cells to bone marrow endothelium (as opposed to endothelium from other organs) affects this specificity…-Read More
For a full list of publications by Victor Romanov - Click Here
For a full list of publications by Terry Whyard - Click Here
---
Flaminia Talos, MD, PhD, Assistant Professor, Departments of Urology and Pathology, Stony Brook University Cancer Center
Research:
Publications:
1. Talos F., Mitrofanova A., Bergren S., Califano A., and Shen M.M. (2017) A computational systems approach identifies synergistic specification genes that facilitate lineage conversion to prostate tissue. Nature Commun. 8:14662. PMID: 28429718, PMCID: PMC5413950
Abstract: Here we show that a computational systems approach can identify cell type specification genes (master regulators) that act synergistically, and demonstrate its application for reprogramming of fibroblasts to prostate tissue... -Read More
2. Chen, J. C., Alvarez, M. J.,
Talos, F.,
Dhruv, H., Rieckhof, G. E., Iyer, A., Diefes, K. L., Aldape, K., Berens, M., Shen, M. M., and Califano, A. (2014). Identification of causal genetic drivers of human disease through systems-level analysis of regulatory networks.
Cell
159: 402-414. PMCID: PMC4194029.
Abstract: Identification of driver mutations in human diseases is often limited by cohort size and availability of appropriate statistical models. We propose a framework for the systematic discovery of genetic alterations that are causal determinants of disease, by prioritizing genes upstream of functional disease drivers, within regulatory networks inferred de novo from experimental data...
-
Read More
3. Talos, F., Abraham, A., Vaseva, A., Holembowski, L., Tsirka, S., Scheel, A., Bode, D., Dobbelstein, M., Brück, W., and Moll, U. M. (2010). p73 is an essential regulator of neural stem cell maintenance in embryonal and adult CNS neurogenesis. Cell Death Differ. 17: 1816-1829. PMCID: PMC3260880.
Abstract: In this study, we define a novel essential role of p73 in the regulation of the neural stem cell compartment. In both embryonic and adult neurogenesis, p73 has a critical role in maintaining an adequate neurogenic pool by promoting self-renewal and proliferation and inhibiting premature senescence of neural stem and early progenitor cells...-Read More
4. Talos, F., Nemajerova, A., Flores, E. R., Petrenko, O., and Moll, U. M. (2007). p73 suppresses polyploidy and aneuploidy in the absence of functional p53. Mol. Cell 27: 647-659. PMID: 17707235
Abstract: Previous studies showed that p53 plays a central role in G1 and DNA damage checkpoints, thus contributing to genomic stability. We show here that p73 also plays a role in genomic integrity but this mechanism is manifest only when p53 is lost...-Read More
5. Talos, F., Petrenko, O., Mena, P., and Moll, U. M. (2005). Mitochondrially targeted p53 has tumor suppressor activities in vivo. Cancer Res. 65: 9971-9981. PMID: 16267022.
Abstract: Complex proapoptotic functions are essential for the tumor suppressor activity of p53. We recently described a novel transcription-independent mechanism that involves a rapid proapoptotic action of p53 at the mitochondria and executes the shortest known circuitry of p53 death signaling. Here, we examine if this p53-dependent mitochondrial program could be exploited for tumor suppression in vivo...-Read More
For a full list of all publications by Flaminia Talos - Click Here