The Department of Urology is committed to fulfilling Stony Brook Medicine's mission of excellence in patient care, research, teaching, and community service. At our website, you will find resources about our faculty, clinical staff and various urological problems that will provide you with valuable information and assist you in finding a clinician for your specific urological needs. Our department has fellowship trained faculty urologic specialists including Urologic Oncology, Robotic & Minimally Invasive Surgery, Female Urology/Voiding Dysfunction, Infertility and Microsurgery, Stone Disease, Sexual Dysfunction, Pediatric Urology and Renal Transplantation.
We have an ACGME accredited residency program that trains physicians to become tomorrow's urologists. This program has been in existence since 1991 and provides a unique educational experience with a wide depth of surgical cases which can only be provided at a tertiary care center with fellowship trained faculty.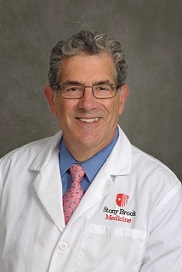 Established in 1980, the Department of Urology has had reputation of providing excellence in patient care, education, research and community outreach. We have been recognized twice in US news and World Reports as being ranked among the top 50 departments in the country. Our community outreach program – Prostate Care goes into the community to provide free screening to all men over the age of 55. This program has received over 7 awards including recognition /proclamation from Senator LaValle for outstanding community service in the fight against prostate cancer. Our faculty and staff are proud of their many accomplishments and demonstrate this daily in the quality of their patient care. We follow the mission of Stony Brook School of Medicine by implementing the three missions of the university: to advance our understanding of the origins of human health and disease, to train the next generation of committed, and highly capable physicians, and to deliver world-class, compassionate medical care. Our departmental goals and missions are:
To provide excellent clinical care
Incorporate leading-edge surgical technologies
To provide the highest quality educational program to our residents
To achieve national recognition as a leading urologic research entity
To play a leading role in our community by providing valued information and outreach programs.
Our faculty provides comprehensive care for both adults and children with a wide variety of urological problems including all Urological Cancers, Endourology/Stone Disease, Robotics, Laparoscopy/Minimally Invasive Surgery, Sexual Dysfunction, Male Infertility, Female Urology/Voiding Dysfunction, Reconstructive Surgery and Renal Transplantation.,
Our graduating Urology Residents have successfully demonstrated the full range competencies expected of a new practitioner. Many have chosen to persue fellowship training at world class institutions. Our residency program has met the requirements for Accreditation Council for Graduate Medical Education standards since 1991 and currently has a 5 year unconditional approval. Commencing 2013, the residency program received approval to increase their complement to eight residents.
Dedicated to our mission of excellence in research, our faculty conducts research in the areas of Urologic Oncology, Pediatric, Kidney Transplantation, Stone Disease, Infertility and Female Urology with the goals of improving healthcare.
The Department of Urology is determined to meet your expectations by providing the highest level of clinical care. When you choose Stony Brook as a patient, you can be assured you will be offered the most advanced urological care available today.
Wayne C. Waltzer, MD, FACS
Professor and Chairman, Department of Urology