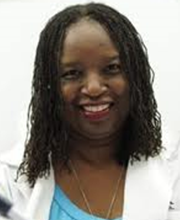 Jennie Williams, PhD
Associate Professor
jennie.williams@stonybrookmedicine.edu
Dr. Williams attended Savannah State University (BS) and Tuskegee University (MS). She received her Ph.D. from Purdue University and did postdoctoral work at Harvard prior to joining the Institute for Cancer Prevention in Valhalla, New York. She joined Stony Brook University as a Research Associate in 2004. She received a number of research grants from the National Institutes of Health/National Cancer Institute. Among these being a K01 career development award; which allowed her to transition from a mentored to an independent researcher. The data generated from this award enabled the acquisition of a R01 award. With the awards funded by NIH, she has investigated the use of gene therapy in the prevention of AIDS and done extensive work on the efficacy of Nitric oxide-donating Non-steroidal Anti-inflammatory drugs (NO-NSAIDs) as chemopreventive/therapeutic agents against cancer progression. Recently, she defined the mechanistic role of NF-κB in colon cancer prevention in response to novel derivatives of NSAIDs (chemopreventive agents). Currently, she is addressing the underlying genetic/regulatory causes associated with cancer racial health disparity; a major health concern in this nation. As such, Dr. Williams' group is assessing the dysregulation of miRNAs (which represent emerging major regulators of gene expression) and aberrant DNA methylation as factors influencing racial health disparity in the incidence and mortality rates of colorectal cancer.
Academic Interests: Cancer Chemoprevention and Racial/Ethnic Heath Disparity; Mentoring undergraduate