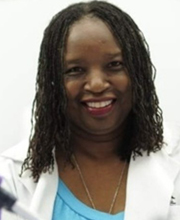 From the Desk of Kenneth Kaushansky, MD, Senior Vice President, Health Sciences, and Dean, Renaissance School of Medicine at Stony Brook University, Stony Brook Medicine
Dear Friends,
It is my pleasure to announce that Dr. Jennie Williams, Associate Professor of Family, Population and Preventive Medicine, will be appointed Assistant Dean for Student Diversity.
As this is a newly created position in the Deanery, Jennie will be the Founding Dean for Student Diversity, a position that will serve as the primary liaison between Stony Brook Medicine and Stony Brook University, acting to encourage our very best undergraduate students of color to seek out and succeed in careers in the health sciences. All too often we have seen incredibly bright students believe that a health sciences career is unattainable, or seek advanced training at other schools. Jennie's role will be to mentor Stony Brook undergraduate and graduate students, attract more than at present into careers in the health sciences, and convince them that the best pathway is to move about 200 meters to their east, to the Stony Brook Medicine campus, for their professional studies. I am absolutely convinced of the need to help such students overcome the hurdles, with information and mentoring, and I am absolutely convinced that Jennie is the ideal person to serve in this role.
Jennie received her Bachelor's degree in Biology at Savannah State University, her Master's in Microbiology at Tuskegee Institute, her PhD in Molecular Biology at Purdue and a post-doctoral fellowship in Infectious Disease at Harvard. Jennie then joined Harvard as a research scientist, and was then recruited to Stony Brook as a Research Assistant Professor, being promoted to Associate Professor with tenure in 2013.
Jennie's research interests focus on the prevention of cancer, and studying disparities in healthcare in the cancer realm. Jennie has secured several research grants to support her work, including two current grants from the NIH, as well as playing a pivotal role in a NIH planning grant designed to bring a large collaborative study to Stony Brook University to study gastrointestinal malignancies in underserved populations. With the aid of NIH support, Jennie was the lead author on the premier journal article defining the efficacy and mode of action of a promising class of chemopreventive agents. Moreover, her contributions to science are numerous, based on her multiple publications in highly regarded peer-reviewed scientific journals. In recognition of her work, Jennie has been an invited speaker to many national, international and local conferences and workshops. Jennie is also a gifted teacher and mentor, participating in 10 different medical school courses that span multiple disciplines, and mentoring and serving as an outstanding role model to a dozen undergraduate and graduate students in the health sciences. And consistent with these activities, and her newly defined role, Jennie serves as a PI on a NIH training grant to strengthen science curricula and student research opportunities at Stony Brook for underrepresented minority students.
It is very clear that we must, as a School, and as an enlightened society, strive to have Stony Brook Medicine reflect the face of New York and of the country as a whole. Moreover, it is clear that we must, at all cost, avoid allowing inadequate opportunities or cultural hurdles to discourage bright, energetic students from historically underrepresented groups from achieving all that Stony Brook Medicine has to offer. And it is equally clear that Dr. Jennie Williams' experience, intellect, enthusiasm and energy are a perfect fit to help Stony Brook Medicine provide healthcare opportunities for all bright and energetic students, regardless of background. While her efforts in the dean's office are designed to seek and assist in the educational and research development of bright and intuitive underrepresented students, so that they may pursue advanced degrees and careers in biomedical research, this effort is limited not only to underrepresented students at SBU and the SOM, but is inclusive of all.
Kenneth Kaushansky, MD
Senior Vice President, Health Sciences
Dean, Renaissance School of Medicine at Stony Brook University
Stony Brook Medicine