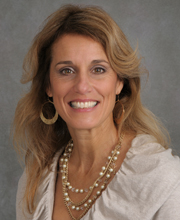 Division Head
Josephine Connolly-Schoonen, PhD, RD
Greetings from the Director:
The Nutrition Division faculty and staff welcome you to our Division. The mission of our Division drives development and implementation of our programs and services.
The mission of the Nutrition Division is to provide quality, evidence-based and integrative nutrition services to our patients, students and community, so as to be a driving force in attainment of optimal health and sustainable community food systems.
We strive to develop, implement, evaluate and revise nutrition programs for patients, students and community members so as to provide cutting-edge and evidence-based programs that make a difference in people's lives and careers. Our faculty and staff provide a diverse and extensive array of nutrition services, including nutrition support in critical care, nutrition therapy for chronic disease prevention and treatment, nutrition education and support of women, as well as their infants and young children, development of policies and physical environments that support healthy food choices and nutrition education and training programs. Whether we are working on our rooftop micro-farm, calculating a tube feeding for a malnourished trauma patient or infant in the NICU, conducting a cooking class or supermarket tour, teaching carbohydrate counting to a patient with type 2 diabetes, or teaching micronutrient metabolism to our students, we are passionate and committed about nutrition and empowering the people we serve.
Click here for our 2018-2023 strategic plan.
Find more nutrition tips and videos on the Nutrition Division YouTube Channel.
Post Baccalaureate Nutrition Education
Division faculty are actively involved in teaching medical students, as well as offering a MS Degree program in Nutrition and an accredited Dietetic Internship.
Graduate Nutrition Programs:

The Nutrition Division offers:

a Master of Science in Professional Nutrition Practice program (50 credits). This program offers concentrations in Advanced Nutrition Therapy & Critical Care and Integrative Nutrition or a generalist track. It can be completed in 17 months and leads to eligibility for the RDN credential. For more information, go to Graduate Nutrition.
a fully online Master of Science in Nutrition degree program (36 credits) as well as an Advanced Certificate in Nutrition program (15 credits). The online MS Program in Nutrition offers two concentrations: Advanced Nutrition Therapy & Critical Care and Integrative Nutrition, as well as a general course sequence. Each option provides a comprehensive course of study in advanced nutrition topics to prevent and manage disease, as well as optimize health through food and nutrition strategies. Expert faculty members, currently working in the field, will provide instruction on evidence-based, timely nutrition therapies, programs and/or policies to facilitate the development of a strong knowledge base and communication skill set. For more information, go to Graduate Nutrition.

Dietetic Internship Program: The core teaching faculty work with the clinical faculty to implement The Stony Brook University Dietetic Internship Program, which has an emphasis in clinical nutrition therapy. The program includes comprehensive clinical rotations, a longitudinal research project, and a robust public health nutrition rotation including hands-on work in economically distressed communities and on our Stony Brook Heights Rooftop Micro-Farm. In addition, our internship program includes a comprehensive orientation and registration examination review. The Internship is 1215 hours in length. The on-site track runs from early September to early June. The distance track runs from mid-July to late April. For more information, go to Dietetic Internship.
| Project Name | Poster | Abstract |
| --- | --- | --- |
| Lessons Learned During COVID-19: Relationships between Macro and Micronutrients and Patient Outcomes | Poster | Abstract |
| Malnutrition Identification and Diagnosis at a University Hospital: Trials and Tribulations | Poster | Abstract |
| Is the Public Aware of the American Heart Association's (AHA) Dietary Fat Recommendations and "The Facts on Fat" Infographic? | Poster | Abstract |
| Overcoming Barriers to Implementing Enteral Nutrition Orders in an Intensive Care Unit | Poster | Abstract |
Public Health Programs
Stony Brook Heights Rooftop Farm
Stony Brook Heights is an innovative micro-farm located on the third floor of the Health Science Center at Stony Brook Medicine. With a "farm to bedside" concept, the farm utilizes organic gardening methods to produce an abundance of vegetables and herbs, which are then used to supplement patient meals at Stony Brook Hospital.
In 2011, the Nutrition Division created the farm through the Healthy Heart Program grant from the New York State Health Department. Originally located on the fourth floor roof of the HSC, the 800 square foot farm yielded approximately 400 pounds of tomatoes, basil, broccoli, peppers, cabbage and herbs. Expanding to 2,200 square feet n 2012, the farm yielded 1,300 pounds of produce, over triple the 2011 yield. The 2015 growing season marked the first year of Stony Brook Heights' new location on the third floor roof, with ample sunshine and room to grow. The new farm boasts 36 raised beds, allowing for 2,242 square feet of gardening space yielding 1,500 pounds of colorful, fresh, organic vegetables, fruits and herbs. While the Nutrition Division manages Stony Brook Heights, a largely student volunteer corps helps the farm to flourish. With additional space, we have been able to donate produce weekly to the Stony Brook University food pantry, Stony Brook Home (a free student-run medical clinic), Stony Brook Women, Infants and Children (WIC) program, and Hope House Ministries in Mount Sinai.
For any questions regarding the farm, please contact Annemarie Ng, MS, RD at 631.444.8245 or Annemarie.Ng@stonybrookmedicine.edu or Cara Cohen, MS, RD at 631.444.3630 or Cara.Cohen@stonybrookmedicine.edu. Follow the farm on Facebook, Stony Brook Heights.
Creating Healthy Schools and Communities Project (2015-2020):
The Nutrition Division is partnering with Western Suffolk BOCES and Sustainable Long Island to implement sustainable wellness policies, systems and environmental changes in communities served by the following school districts – Brentwood, Central Islip, Wyandanch, Roosevelt and Southampton/Shinnecock Indian Reservation. The goal is to improve school and community environments to make them more conducive for healthy behaviors to be modeled and practiced, as they pertain to food choices and physical activity. Creating Healthy Schools and Communities (CHSC) addresses increasing access to healthy, affordable foods and opportunities for physical activity in both the school and community setting. Click here to view the Logic Model for the SBM Nutrition Division's overall plan for this project. Follow the project on it's Facebook page, Healthy Schools and Communities Long Island.
Long Island Center for Pediatric Obesity Prevention (2008-2012):
The goals initially set forth for the Long Island Center for Pediatric Obesity Prevention: Best Practice was to reduce the burden of obesity among children living in Suffolk and Nassau counties by promoting optimal prenatal nutrition and weight gain, as well as maximizing breastfeeding success among infants. The work plan included interventions among healthcare and childcare providers, hospitals, as well as pregnant women and mothers of infants-thereby influencing virtually all environments within which infants early eating habits are established.
The successes associated with the project focus heavily on the promotion of breastfeeding friendly environments, as well as collaborations with other state-funded projects and the widespread marketing of best practices via professional development avenues and mass media. In 2007, at the outset of this project, zero child care providers on Long Island appeared on the list of NYS breastfeeding-friendly child care centers. Within the first two years of the establishment of the LI Center for Pediatric Obesity Prevention, those numbers grew quickly with twelve being a direct result of partnerships cultivated by project staff. This work also resulted in a change in the Suffolk County Department of Health's Centers for Disease Control and Prevention, thereby allowing more convenient practices regarding handling and storage of breast milk.
The Heart Links Project (2000-2010):
The project recruited 20 school districts, inclusive of 129 schools and 89,629 students, over a five-year period of time, 2005-2010. The primary outcome objectives were to decrease the availability of foods of poor nutrition quality in at least one venue on campus (vending, a la carte, classroom), and to increase opportunities for students to be physically activity, by a minimum of one opportunity per school building. The impact objective was to decrease the prevalence of obesity among students in partnering school buildings. Partnerships were strongest with 15 school districts (96 school buildings, 75,630 students).
Clinical Nutrition – University Hospital
Registered dietitians/nutritionists at Stony Brook University provide medical nutrition services in our approximately 600 bed tertiary care facility. Such services are described in the Department's Scope of Services and the individual registered dietitian/nutritionist's scope of practice. Read more.
Lauren Brand, MS, RD
Clinical Instructor and Director of the WIC program
Interests: Nutrition counseling and breastfeeding support to prenatal and postpartum moms, as well as children under five years of age; promotion of positive change in the NYS WIC program through State-level committee work; collaboration on research with the WIC population.
Josephine Connolly-Schoonen, PhD, RD
Clinical Associate Professor and Head of the Department's Nutrition Division and the Executive Director of the Nutrition Service for Stony Brook Medicine.
Interests: Nutritional management of obesity and related chronic illnesses, such as diabetes, hypertension and heart disease, from both the individual and public health perspective; research interests include the impact of the built environment and policies on public health.
Lorraine Danowski, PhD, RD
Clinical Instructor and Dietetic Internship Associate Director
Interests: Nutrition management of obesity and related co-morbidities; research interests are with the ALS (Lou Gehrig's) population and health care team effectiveness and efficiency.
Sotiria Everett (Tzakas), EdD, RD
Clinical Assistant Professor
Interests: sports nutrition
Leah Holbrook, MS, RD
Clinical Instructor and Graduate Nutrition Program Associate Director
Interests: Maternal and child nutrition, local, sustainable food systems, and graduate nutrition education.
| | |
| --- | --- |
| | |