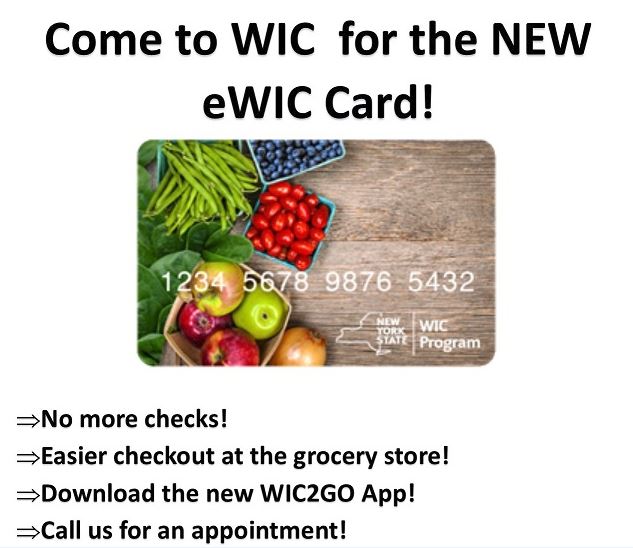 Women Infants and Children (WIC) - Stony Brook WIC Program is an income-based supplemental food program for pregnant, postpartum, and breastfeeding women, infants, and children up to 5 years of age. The Stony Brook WIC Program prides itself on offering participant centered services to the families we serve.
WIC participants receive the following:
Free supplemental food packages that may include: infant formula, baby foods (fruits, vegetables, meat, cereal), milk, yogurt, tofu, cheese, eggs, beans, peanut butter, juice, canned fish, cereal, bread, pasta, rice, tortillas and fresh fruits and vegetables.
Nutrition education for prenatal and postpartum women.
Nutrition education on how to feed infants and children to support healthy growth and development.
Help and support with breastfeeding.
Immunization screening and referrals to health care providers and community resources.
Stony Brook WIC Services are available at 4 locations:

East Setauket

Family Medicine Practice Center
181 Belle Meade Road - Suite 2
East Setauket, NY 11733
Telephone: 631-444-5239
Fax: 631-444-5281

Hauppauge

LINCS Building
60 Adams Avenue
Suite 105
Hauppauge, NY 11788
Telephone: 631-617-6717
Fax: 631-617-6718

Bay Shore

Family Service League
1444 Fifth Avenue
Bay Shore, NY 11706
Telephone: 631-969-5796
Fax: 631-969-7839

Farmingville

Phone: 631-346-3697

Fax: 631-346-3698
Hours of Service:
Monday: 9:00 AM – 5:00 PM, Typically the third Monday of the Month the office is open 11:00 AM --7:00 PM (please call your WIC office to confirm)

Tuesday: 9:00 AM – 5:00 PM (Farmingville closed)
Wednesday: 11:00 AM – 7:00 PM (Famingville closed)

Thursday: 9:00 AM – 5:00 PM

Friday: 8:00 AM – 4:00 PM

Saturday: 1 Saturday per month – Please call the office to confirm Saturday hours.
How to get started:
Call any of the WIC offices listed above for an appointment or to be screened for WIC program eligibility. To access forms that may be needed for your WIC appointment, please CLICK HERE.
To find a store that accepts WIC benefits, click here: https://nyswicvendors.com/find-a-wic-store/
USDA Nondiscrimination Statement: https://www.fns.usda.gov/usda-nondiscrimination-statement
WIC Program Director: Lauren G. Brand, MS, RDN, CLC