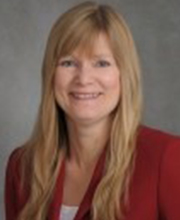 Lorraine Danowski, PhD, RD
Clinical Instructor
lorraine.danowski.1@stonybrookmedicine.edu
Ms. Danowski received her Bachelor of Science Degree in Nutrition from the State University of New York at Oneonta and her Master's Degree in Nutritional Science from Long Island University at CW Post. Ms. Danowski has over 15 years of experience in the field of nutrition, including 13 years in clinical nutrition, 7 years in nutrition support, 2 years in sales of nutrition-related products and 5 years in food service management. She has taught in college and university settings for 4 years. Ms. Danowski was instrumental in the development of the SUNY Stony Brook Dietetic Internship, serving on the Advisory Board and writing curriculum. She served as president of the Long Island Society of Parenteral and Enteral Nutrition. Her areas of interest include nutrition support, pediatrics, diabetes and food service management.