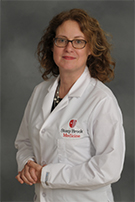 Bettina Fries, MD, FIDSA
Division Chief
Welcome to the Infectious Disease Division of the Department of Medicine at Stony Brook University. Our division is dedicated to enhancing prevention and treatment of infectious diseases. Our mission is enhanced by our strong emphasis on interdisciplinary collaboration, commitment to life-long self-learning, and professionalism.
The mission of the Stony Brook University ID Division emphasizes both a global perspective, as well as maintaining excellence and compassion in every clinical encounter with patients from our community in Suffolk County. There are excellent research opportunities available both through the program faculty as well as through collaborations with faculty of the Department of Microbiology and Molecular Genetics. The Stony Brook Infectious Disease Division is deeply committed to excellence in teaching of medical students, residents, and ID fellows as well as fostering social and intellectual diversity.
Beginning in 2019, we have worked with Tuft's University and the National Institutes of Health on Xenodiagnosis after Antibiotic Treatment for Lyme Disease- Phase 2, a clinical trial aiming to further investigate the utility of xenodiagnosis for identifying persistence of infection with B. burgdorferi in treated human Lyme disease. (https://clinicaltrials.gov/ct2/show/NCT02446626?term=Xenodiagnosis&draw=2&rank=1)
Under the leadership of Dr. Luis Marcos, our division is working on multiple tick borne disease studies. We are currently enrolling patients with tick borne diseases for a research study entitled Biomarkers for Diagnosis and Prognosis of Babesia Infection in New York State sponsored by the New York State Senate. One of the major aims of developing a cohort of Babesia patients is to study the host pathogen interaction by using biomarkers, transcriptome analysis, and phenotypic expression to accurately diagnose and monitor for clearance of infection. A secondary objective is to determine whether the frequency and severity in patients with babesia infection alone differ from babesia/Lyme coinfected subjects, single infected Lyme patients and a non-tick borne disease (COVID-19). Our team also has an IRB approval to develop a Cohort of Patients After a Tick Bite in order to study to study the inflammatory process around the skin bite site and possible etiology if a patient develops a rash or symptoms
Hepatitis C Virus (HCV) Screening and Linkage to Care on Long Island: Beginning in 2017, the Division of Infectious Disease supports HCV screening and linkage to care through FOCUS, an initiative to encourage routine HCV screening in healthcare settings, sponsored by Gilead Pharmaceuticals. The FOCUS Program is a public health initiative that aims to decrease the stigma underlying viral testing and diagnosis and bring HCV screening and linkage to care into alignment with the Centers for Disease Control (CDC), the U.S. Preventative Services Task Force (USPSTF), and state and local health department guidelines. (https://www.gilead.com/purpose/advancing-global-health/hcv-elimination)
At the forefront of the COVID-19 pandemic, the Division of Infectious Diseases has worked tirelessly on new ways to combat the coronavirus. In March 2020, we began working with Regeneron Pharmaceuticals on An Adaptive Phase 2/3, Randomized, Double-Blind, Placebo- Controlled Study Assessing Efficacy and Safety of Sarilumab for Hospitalized Patients with COVID-19. (https://clinicaltrials.gov/ct2/show/NCT04315298)