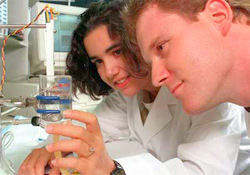 To develop a high level of clinical expertise, fellows spend four to six months in the first two years on an intensive infectious diseases consultation service at University Medical Center at Stony Brook. An additional two-to-three months are spent on the consultation service at the Northport Veterans Affairs Medical Center, the other principal teaching campus of the University. Under the supervision of faculty members, the fellow serves as a consultant to the medical service as well as to other services within the Medical Center. The fellow also supervises and teaches medical residents and fourth year medical students assigned to the infectious diseases elective. Outpatient continuity experience is obtained in the Infectious Diseases Clinics at both the University and Northport VA Medical Centers which are operated by the Division of Infectious Diseases. Continuity of care for HIV-infected patients is provided at the AIDS Treatment Center at Stony Brook. Additional outpatient experience can occur at the Pediatrics Infectious Disease Clinic.
Specific areas of training include:
An appreciation of clinical presentations and pathophysiology of infectious illnesses, including the principal non-infectious syndromes that form part of the differential diagnosis
An understanding of the importance and nature of the host-organism interactions that shape the appearance, management and outcome of infectious illnesses
The application of diagnostic modalities in a cost-effective manner for various infectious diseases
The use of anti-infective and immunomodulatory agents with recognition of their indications, toxicities, pharmacokinetics and cost
The principles and practice of hospital epidemiology and infection control
The clinical training prepares the fellow broadly by virtue of exposure to a diverse population of inpatients and outpatients including, but not limited to, acute care patients who are on:
Intensive Care Units (Medical and Surgical)
Renal Transplantation Service (Medical and Gynecologic)
Oncology and Bone Marrow Transplantation Programs
Cardiothoracic Surgery Service
Burn and Trauma Units
Diabetes Treatment Unit
High-Risk Obstetrics Unit.
The VA also provides chronic and intermediate care for veterans in three recently built state-of-the art nursing home facilities. An option available for the interested fellow is a rotation on the Pediatric Infectious Disease Inpatient Service.