Research carried out by members of the division in the following areas:
Mycology Research Group: Dr. Fries has an active NIH funded mycology research program that actively collaborates with faculty members in Microbiology.
Nosocomial infection Research Group: Dr. Diago-Navarro and Dr. Fries study Anti-infective antibodies to Klebsiella strains. In addition, our ID division is a crackle II study site. This NIH funded study is a large epidemiological study on emergence of carbapenem resistant enterobacteriaceae. Fellows will do their quality and safety research with these patient cohort.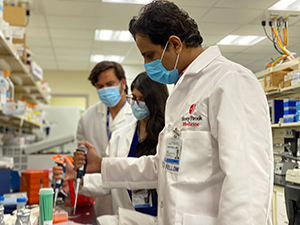 Lyme Disease Research Group: Stony Brook is situated at the epicenter of Lyme disease in North America. Our University Hospital sees several hundred patients per year. Under leadership of Dr. Benjamin Luft, the Division of Infectious Diseases is at the forefront of an interdepartmental research program, using cutting edge molecular biological techniques to develop reliable diagnostic tests, multivalent vaccines and innovative therapies.  
Tick-Borne Diseases and Global Health Research: Suffolk County reports the highest number of tick-borne diseases in NY state. There are currently prospective cohort research studies on patients with these infections conducted by Dr. Luis A. Marcos. In addition, Global Health Research is ongoing with Peru in the area of diagnosis of Neglected Tropical Diseases.

Our ID division is seeking to increase patient access to specialists in infectious diseases with complicated tick-borne diseases, especially Lyme disease. With the support of NYS Senate, our aims are to improve early diagnosis of Lyme disease and to avoid its complications, to develop a translational research program to improve diagnosis and follow up over the course of tick-borne disease treatment, to continue expanding our current research portfolio on the pathogen discovery research after a tick bite, and to provide world-class seminars of tick-borne diseases to more than 1,000 primary care providers to improve clinical skills on early recognition and diagnosis of tick-borne diseases. Suffolk County and Nassau County harbor a population of 1.6 million people and Stony Brook University has a 30+ year record of experience in tick-borne diseases.

Tick Borne Disease Research sponsored by NYS senators (Senator Monica R. Martinez and Senator Sue Serino.) 
HIV Group: Under the direction of Dr. Jack Fuhrer, Stony Brook Medicine¹s HIV program is one of 8 sites around the country that participates in the HIV Outpatient Study (HOPS). With greater than 25 years of experience, the HOPS program has published broadly and has been a leader in advancing our knowledge of real life clinical outcomes of patients with HIV. Opportunities for fellows to participate are strongly encouraged. Recently, our local HIV group has embarked on a clinical study of the treatment of HCV infection in co-infected individuals.