The Tropical Medicine and Global Health Program offers research and clinical expertise in the diagnosis and management of travel-related illnesses ( e.g. diarrhea, fever of unknown origin, malaria, arboviral infections), and infectious diseases acquired abroad as well as locally (e.g. Neurocysticercosis, Strongyloidiasis, Chagas Disease, Babesiosis, Borreliosis, Erlichiosis, Anaplasmosis, Tularemia, Rocky Mountain Spotted fever).
Our main research focus is on neglected tropical diseases including soil-transmitted helminthiasis (STH) in Peru, cysticercosis and Chagas disease in Long island. During 2016-2018, we carried out several research projects in Madagascar with SB medical students focused on improving diagnosis of STH (https://www.ncbi.nlm.nih.gov/pmc/articles/PMC6695198/) and how best deliver medications to very remote areas of Madagascar by the use of drones. In 2019, we continued with the Global Health Research in the amazon region of Peru focused on the training of healthcare workers on point-of-care diagnosis for STH. Studies of this nature will continue to expand as we strive to fight against neglected tropical diseases that affect the poorest people in the world.
Larvae of Strongyloides stercoralis in the Amazon in Peru during Global Heath Research in Iquitos, Peru 2019 (courtesy of medical students Eve A. Ameen Simon Zhu).  
We also have strong connections and ongoing research activities in LatinAmerica. Dr. Luis Marcos, in collaboration with Universidad Peruana Cayetano Heredia in Lima, Peru, is currently working on several research projects including bioinformatics and parasitic infections, drug-resistance in parasites, animal models, infectious diseases-related cancers, etc. Dr. Marcos is currently an Associate Investigator of the Institute of Tropical Medicine Alexander von Humboldt in Lima, Peru. 

Global Health Research in Peru
Funded by the Stony Brook Medicine International Research Fellowships, New York Academy of Medicine (2019 David Rogers Fellowship), IDSA (2019 GERM award) and ASTMH (2019 Benjamin H. Kean Travel Fellowship in Tropical Medicine). 
The goal of this research titled "Evaluating the efficacy of smartphone-assisted point-of-care diagnosis by training local health promoters in soil-transmitted helminthiasis (STH) identification in the Peruvian rainforest while comparing urban and rural understanding and prevalence of STH etiology, symptomatology, prevention and treatment" is to evaluate the effectiveness of a smartphone-assisted microscopy for point of care diagnosis in poor-resource settings where STH are an important public health problem; and to evaluate knowledge, attitudes and perceptions of local health promoters in the use of smartphones to diagnose the most common STH. This study was carried out by first-year medical students of Stony Brook University: A Eve Ameen and Simon Nin Zhu under the supervision of Dr. Luis A. Marcos.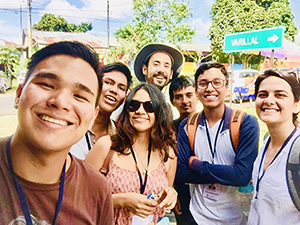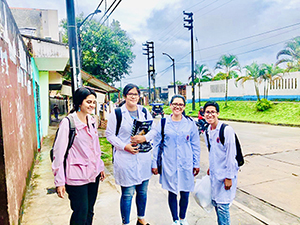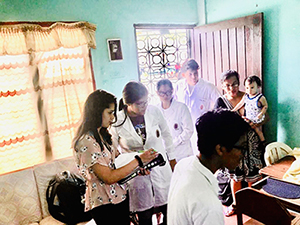 Pictured below: Kenneth Kaushansky, MD, Dean, Renaissance School of Medicine, Stony Brook Medicine; Dr Theresa Ochoa, Director of the Institute of Tropical Medicine Alexander von Humboldt in Lima Peru; and Dr Luis A. Marcos, Stony Brook Medicine, meet in Lima, Peru to continue strengthening the collaboration in global health research between both institutions.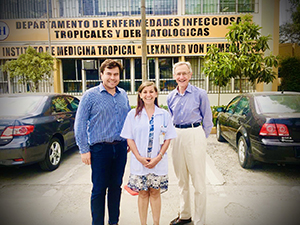 Dr. Luis A. Marcos, Dr. Theresa Ochoa and Dean Kenneth Kaushansky.
Our outpatient practice provides clinical service and expertise in Parasitic and Vector Borne Infectious Diseases on Tuesdays. We are conveniently located at 205 N Belle Mead Ave East Setauket, NY 11733. For appointments call 631-444-3669. Our doctors are fluent in English and Spanish.
* Photo credits to medical students: Paul Castle, Koeun Choi, Jaydon Kiernan, and Hakami Lee.