Tick-borne infectious diseases are an epidemic on Long Island, and Stony Brook Medicine is leading efforts to understand and treat them.
To share scientific data and educate the public, Stony Brook Medicine hosted a recent symposium about the diagnosis and treatment of tick-borne diseases. Stony Brook University President Samuel L. Stanley Jr., MD, an infectious disease specialist, said insect-borne illnesses are a significant cause of morbidity and mortality around the world.
"The University has actively been engaged in combatting these illnesses," he told a packed lecture hall filled with clinicians and researchers at Stony Brook University Hospital.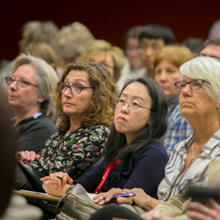 "When we think of these diseases, we tend to think of malaria, which infects millions of people and kills millions of children annually. Everyone is aware of Zika virus. And there is an outbreak of yellow fever right now in South America," Dr. Stanley said. "But we don't have to travel to those countries, to contract insect-borne disease. You can simply go in your backyard on Long Island and contract a tick-borne disease."
"In fact, a disproportionate amount of tick-borne diseases in the United States and in the world takes place right here," he said. "Thousands of our citizens on Long Island have suffered from them."
Stony Brook Medicine has also welcomed a recent gift of $1 million dollars for research on tick-borne diseases. The gift, from the Island Outreach Foundation, established the Tick Borne Disease Fund. The Fund will enable Stony Brook scientists to study illnesses carried by ticks, and other infectious diseases, in new and expanded ways.
The gift will fund the hiring of an additional researcher, who will focus on tick-borne diseases. It will also fund the creation of an insectarium in Stony Brook Medicine's new Laboratory for Comparative Medicine. The insectarium will enable scientists to study ticks that are live and infected, which hasn't been possible in the University's current facilities.
Philanthropists David and Michele Knapp are president and vice president, respectively, of Island Outreach.
In the 1980s, Stony Brook researchers pioneered efforts to create a diagnostic test for Lyme disease and other bacterial infections carried by ticks. Jorge L. Benach, PhD, Distinguished Professor in the Department of Molecular Genetics and Microbiology at Stony Brook University, in collaboration with scientists at the National Institutes of Health, discovered and isolated the spirochete bacterium that causes Lyme disease.
As Suffolk County's only academic medical center, Stony Brook sits at ground zero for the epidemic of tick-borne diseases. Suffolk County has the highest number of cases of tick-borne illness in New York State.
In 2016, Suffolk County led the state with 600 cases of Lyme disease, 153 cases of Babesiosis and 84 cases of Human Moncytic Ehrlichiosis. Lyme disease and Babesiosis are carried by the deer tick, and Ehrlichiosis is carried by the
Lone Star tick. It is likely many other people were infected, but their illnesses went unreported.
At the symposium, Dr. Benach recommended monitoring the spread of these diseases, calling them "a public health problem, a volcano almost, waiting to erupt underneath our own feet."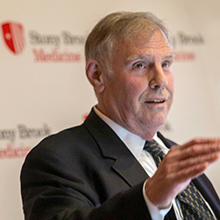 Jorge L. Benach, PhD, Distinguished Professor in the Department of Molecular Genetics and Microbiology at Stony Brook University
Anaplasmosis, Babesiosis and Ehrlichiosis are most frequent in the elderly and in patients who are immunosuppressed or have immune deficiencies, Dr. Benach said.
Lyme disease and Rocky Mountain Spotted Fever are most prevalent in children, particularly in boys.
Christy Beneri, DO, Assistant Professor in the Department of Pediatrics, Division of Pediatric Infectious Disease, at Stony Brook Children's Hospital, presented data on children and adolescents treated at Stony Brook for Lyme disease. She said complications of pediatric Lyme disease include Bell's Palsy (a temporary facial paralysis) and arthritis. Both conditions can be resolved with antibiotic treatment.
Regarding Lyme-associated arthritis, Beneri said that if a child or teen complains of knee swelling on one side that is not painful, clinicians should consider testing for Lyme disease. If the diagnosis is positive, anti-inflammatory medication should be added to the course of antibiotics.
Dr. Beneri recommended more research on post-Lyme syndrome, a condition in which patients are still symptomatic long after their infections have been treated and resolved. The syndrome, experienced by 10 percent of those who contract Lyme disease, is not well-understood, she said.
Luis Marcos, MD, MPH, Associate Professor of Clinical Medicine in the Division of Infectious Diseases, Department of Medicine, said it can be complex to understand and interpret diagnostic tests for tick-borne diseases. The consequence is disease that goes untreated for too long, he said, which may result in complications such as Bell's Palsy, carditis, nerve pain, vision loss and severe ear pain, even after the patient eventually takes a course of antibiotics.
Eric D. Spitzer, MD, PhD, Associate Professor in the Department of Pathology and Director of Clinical Laboratories, said better diagnostic tests are needed.
"Early Lyme disease is still difficult to diagnose using standard antibody detection methods," he said, pointing out that current laboratory screening tests sometimes produce false-negative or false-positive results due to necessary tradeoffs between the specificity and sensitivity of the tests.
"Changes in tick ecology, and recognition of additional potential pathogens in ticks, poses additional challenges to clinicians and laboratories," Dr. Spitzer said.
David Thanassi, PhD, Professor and Interim Chair of the Department of Molecular Genetics & Microbiology, who moderated the panel discussion, said Stony Brook's work on insect-borne diseases is "a representation of the intersection between basic science and clinical science."
The symposium was sponsored by the Departments of Medicine, Molecular Genetics & Microbiology, Pathology and Pediatrics.
Learn more about how Island Outreach Foundation Empowers Stony Brook Researchers in Fight Against Tick-Borne Diseases