For more information about Ticks in Long Island, please see the following education video:
Staying Safe from Ticks on Long Island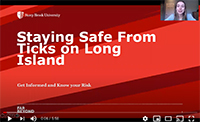 Interested in participating in research? 
If you have been bitten by a tick recently, you may be eligible to participate in cutting edge research helping clinicians to better manage and treat tick borne diseases in the future. Please see the following video or reach out to Dr. Luis Marcos at luis.marcos@stonybrookmedicine.edu for more information.
Link for research study:
Tick Borne Diseases Research