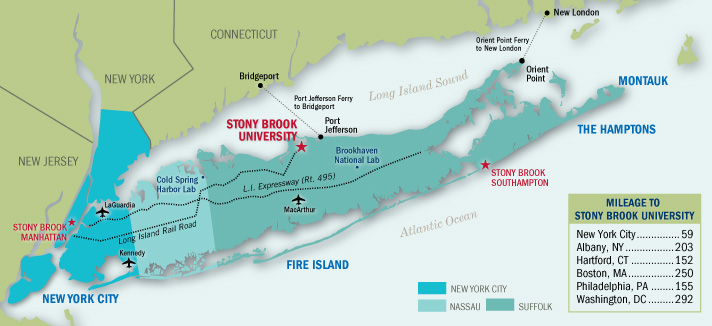 Located 50 miles from NYC and on the beautiful North Shore of Long Island (LI), Stony Brook Medicine is adjacent to Stony Brook University. In addition to access to outstanding academic programs at the University, staff and faculty can take advantage of fine arts programs (including film series, music events, ballet, opera) at the Staller Center, NCAA Division 1 athletics, lecture series by world renown speakers, and a state of the art recreation center.
In addition to easy access to NYC, Stony Brook residents can take advantage of the pristine white sand beaches of the south shore and Hamptons, the LI vineyards situated on the North Fork,  or travel across LI sound by ferry and enjoy the beauty of New England. If you enjoy sports, there are many running and bicycle trails, beaches for swimming or other water sports, private and public golf courses as well as gyms and athletic fields to use. In the winter, you are only 3 hours away from some of the best Alpine skiing in New England. 
Boasting some of the best school districts in New York and the nation, residents with families can rest assured that their children will receive the finest in public education. There's no shortage of shopping venues on LI and range from large indoor and outdoor retail and outlet malls to quaint family owned stores in some of Long Island's quaint hamlets. Home to a very diverse population, LI boasts some of the finest ethnic  restaurants in the Northeast. Public bus transportation is available but limited, and residents are encouraged to own their own car. The Long Island Railroad runs an extensive railway system throughout Long Island and offers riders transportation to Manhattan, Brooklyn, Queens and JFK airport. Stony Brook is 20 minutes away from Islip Macarthur Airport, and an hour away from JFK and LaGuardia airports.
Further information is available at https://medicine.stonybrookmedicine.edu/longisland