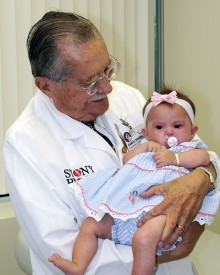 Dr. Priebe with Patient
The launch of our campaign to establish the Cedric J. Priebe Jr., MD, Endowed Pediatric Surgery Lectureship took place in the spring of 2010. The Priebe Lectureship will support an annual visiting professor's presentation centering on a current clinical or research issue in pediatric surgery.
This lecture presentation, to be given as part of our Surgical Grand Rounds program, will focus on new methods to improve patient care, as well as new research in the field of pediatric surgery.
Support the Priebe Lectureship and help advance the education of surgeons caring for children!
Support of the lectureship fund with charitable donations to the Stony Brook Foundation will help recognize the contribution of the late Dr. Cedric J. Priebe Jr. to pediatric surgical care for Long Island children and his long-standing educational commitment.
Dr. Priebe, who retired in 2007 from our full-time faculty, was the founding chief of our Division of Pediatric Surgery (see description of current clinical service). He started this division in 1982, and served as its chief for 25 years.
Now, with more than 3,000 outpatient visits and more than 1,000 surgeries annually, we have the largest pediatric surgery program in Suffolk County.
Today, because of Dr. Priebe's leadership, we educate tomorrow's surgeons to provide the best care to children.
Dr. Priebe's sustained desire to constantly improve the surgical care of children was the dominant force guiding his life.
Our goal is to establish a $100,000 fund, ensuring the longevity of the lectureship. All donations are tax-deductible, and all donations — large or small — will be recognized.
Lectureship's Inauguration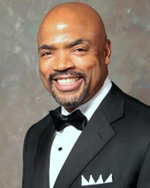 Dr. Henri R. Ford, First Visiting
Professor, Priebe Pediatric
Surgery Lectureship
On March 27-28, 2012, the Priebe Pediatric Surgery Lectureship presented its first program, featuring visiting professor Henri R. Ford, MD, surgeon in chief of Children's Hospital Los Angeles and vice dean of the Keck School of Medicine at the University of Southern California.
A world-renowned pediatric surgeon, Dr. Ford has demonstrated truly exceptional leadership in pediatric surgery, and has conducted the definitive studies on pediatric trauma in the United States.
Dr. Ford was active in Haiti in the post-earthquake rescue, for which his expertise in trauma was vital to saving the lives of many there just after the disaster occurred in 2010 (see video clip, A Haitian Doctor Returns to His Homeland to Help). He remains active in the recovery and rebuilding efforts there.
Dr. Ford's investigative studies have generated new insights into the pathogenesis of necrotizing enterocolitis, the most common and the most lethal disorder affecting the gastrointestinal tract of newborn infants.
The two-day program started with Dr. Ford participating in a case presentation conference with our medical students and surgical residents. On the morning of the second day, he gave the Cedric J. Priebe Jr., MD, Endowed Pediatric Surgery Lecture, titled "The Molecular Basis for the Pathogenesis of Necrotizing Enterocolitis," as part of our weekly Surgical Grand Rounds lecture series.
Dr. Priebe himself participated in all the events with Dr. Ford, further demonstrating his tireless commitment to the education of our students and residents on subjects related to pediatric surgery.
Subsequent Priebe Lectureship Visiting Professors / Lecture Topics

2013 (Mar. 6): Kevin P. Lally, MD, MS, Professor and Chairman, Department of Pediatric Surgery, University of Texas-Houston / "Congenital Diaphragmatic Hernia — the Past 25 Years"

2014 (Apr. 2): Jessica J. Kandel, MD, Professor of Surgery, Surgeon-in-Chief, The University of Chicago Medicine, Comer Children's Hospital, Chief, Section of Pediatric Surgery / "Serendipity: Translational Research and Academic Surgery"

2015 (Nov. 18): Craig W. Lillehei, MD, Associate Professor of Surgery, Harvard Medical School; Director, Pediatric Surgery Training Program, Boston Children's Hospital / "Pediatric Inflammatory Bowel Disease"

2016 (Nov. 16): Joseph P. Vacanti, MD, Professor of Surgery, Harvard Medical School; Chief, Pediatric Surgery, Emeritus, Massachusetts General Hospital / "The History, Present, and Future of Tissue Engineering and Regenerative Medicine"

2017 (Nov. 8): Gail E. Besner, MD, H. William Clatworthy Professor of Pediatric Surgery and Chief, Department of Pediatric Surgery, Nationwide Children's Hospital / "Saving Your NEC: Research Challenges and Opportunities"
Make a gift to support the Priebe Lectureship fund using our secure online gift form, or call the Stony Brook Medicine Advancement Office at 631-444-2899.