By Mark A. Talamini, MD, MBA, Chairman of Surgery, Stony Brook Medicine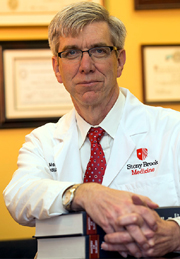 Here's a question you might not have been pondering: If you have a hernia repair with mesh, are you less likely to have children than someone who has not had such an operation?
Why would this question even be a consideration? When you fix an inguinal (groin) hernia, the operation of necessity involves the blood vessels, nerves, and structures that transport sperm from the testicle "out." They are only very rarely injured during a hernia repair (particularly a first-time hernia repair).
But now that mesh is used so frequently, could it be having an effect overall on fertility?
These are the types of questions for which we can now begin to get at least partial answers by using large databases. These databases are the fruit of electronic medical records and government care systems.
By using large databases in our research, we can answer many questions
about operations and better inform patients about them.
A group from the Department of Surgery at the University of Copenhagen used a set of five linked comprehensive registers to look into the effect of hernia repair upon male fertility. They just reported their findings.
These researchers examined the records of over 32,000 men between the ages of 18 and 55 who had undergone one or more hernia repairs between 1988 and 2012. They specifically looked at two types of repairs that both use mesh, a groin incision-based (Lichtenstein) approach and a laparoscopic approach.
Bottom line: neither type of hernia repair decreased the number of children fathered by the patients compared to the population that did not have a hernia repair.
As surgeons, having information like this helps us better inform patients as they consider surgery as an option, in this case for a hernia.
"Although the effect of inguinal hernia repair on male fertility has previously been investigated through indirect measures, no previous studies have evaluated the final measure of male fertility, which is the number of children fathered by patients. Analyzing data from five comprehensive Danish linked registers, we found that patients who underwent inguinal hernia repair using Lichtenstein technique or laparoscopic approach did not father fewer children than expected. Thus, inguinal hernia repair using these approaches did not impair male fertility." — Kohl AP, Andresen K, Rosenberg J. Male fertility after inguinal hernia mesh repair: a national register study. Ann Surg 2017 Jul 12. Epub ahead of print.
Read about RECORD: The REporting of studies Conducted using Observational Routinely collected health Data, and how such data are increasingly used for research to advance evidence-based medicine.