DR. RICHARD SCRIVEN WINS 16TH ANNUAL MAFFETONE AWARD FOR COMMUNITY SERVICE
Helping Communities Here and Abroad since Joining Our Faculty
STONY BROOK, NY, February 4, 2019 — Today, the announcement was made that Richard J. Scriven, MD, associate professor of surgery and pediatrics, is the winner of the 16th annual Michael A. Maffetone Community Service Award for his "tireless work in communities in need here and in Africa, Ecuador, and Puerto Rico."
Board certified in both general surgery and pediatric surgery, Dr. Scriven is a member of our Pediatric Surgery Division, and also serves as the pediatric trauma medical director and the program director of the general surgery residency program.
The Maffetone Award recognizes a current employee of Stony Brook Medicine or the Long Island State Veterans Home who demonstrates outstanding community service in education, healthcare, human services, arts and culture, diversity, safety, or injury prevention.
Preference is given to activities directed at eliminating disparities in access to quality healthcare. Partisan political activities, sectarian religious activities, or service that is part of the nominee's normal job responsibilities are excluded from consideration.
The individual chosen for this honor is recognized with a $1,000 award.
"Tireless work in communities in need here and in Africa, Ecuador, and Puerto Rico"
Dr. Scriven has a long history of community service outside his normal job responsibilities ever since joining our faculty in 2001. Upon his arrival he joined the Stony Brook Fire Department as a volunteer firefighter, doing work details and fighting fires. He currently serves as the fire department's medical director and on its board of directors.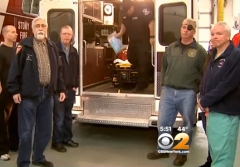 Dr. Scriven has served for several years as a board member of Blanca's House, the Long Island-based organization of volunteer healthcare professionals who provide free medical treatment to people without access to good healthcare, largely in Latin America.
Blanca's House has coordinated numerous medical missions to Ecuador, with Dr. Scriven on many of them. There, he has provided care for patients of all ages who require general surgery procedures, often hernia repairs and gallbladder removals.
In 2011, Dr. Scriven went on a medical mission to Africa with colleagues in the Department of Pediatrics to help children there.
Dr. Scriven was recognized by the Village Times Herald newspaper as the 2006 Man of the Year in Medicine for his dedication to his patients and for his contributions to the local Three Village community.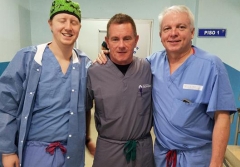 In 2016, he received the service award from Blanca's House for "support, commitment, and dedication to the vision and mission of Blanca's House" (i.e., medical missions in Latin America).
In 2017, he received the Leonard Tow Humanism in Medicine Award for demonstrating "both clinical excellence and outstanding compassion in the delivery of care" and showing "respect for patients, their families, and healthcare colleagues."
Soon after Hurricane Maria devastated the Caribbean islands, in 2017, Dr. Scriven took part in Stony Brook Medicine's 16-day medical mission in Puerto Rico, which was crippled by the hurricane.
Dr. Scriven, who was one of three physicians from Stony Brook on the mission, contributed his expertise as a pediatric trauma specialist (read more).
Together, Dr. Scriven's nearly two decades of multi-faceted activity helping communities here and abroad, since joining our faculty, clearly justify his winning this year's Maffetone Award.
Dr. Scriven received his MD in 1990 from the Albert Einstein College of Medicine, and then completed his training in general surgery and pediatric surgery at the SUNY Health Science Center at Brooklyn.
Recognized as a top pediatric surgery specialist, Dr. Scriven has been selected for inclusion on New York Magazine's "Best Doctors" list, representing the top 2% of physicians in the greater New York metropolitan area, and also selected for inclusion in the Castle Connolly Guide, Top Doctors: New York Metro Area.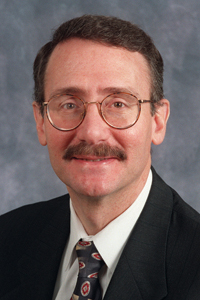 Dr. Scriven was nominated for the Maffetone Award by Christopher S. Muratore, MD, chief of pediatric surgery; Helen Hsieh, MD, PhD, and Michelle L. Ceo, CPNP, Pediatric Surgery Division; Eric Niegelberg, NREMT-P, MS, Christine Nastasi, RN, and Erin A. Zazzera, RN, MPH, Trauma, Emergency Surgery, and Surgical Critical Care Division; Alexander B. Dagum, MD, chief of plastic and reconstructive surgery and board member, Blanca's House; Elizabeth Markey, Emergency Department; and Denis Lynch, Stony Brook Fire Department, and past commodore, Stony Brook Yacht Club, where Dr. Scriven is an officer and serves as fleet surgeon.
Michael A. Maffetone, DA, served as director and chief executive officer of Stony Brook University Hospital from 1994 to 2000. Dr. Maffetone was deeply committed to community service, especially for the underprivileged and underserved, and was instrumental in expanding the hospital's community service programs.
Among his many achievements were helping to develop the annual Walk for Beauty, a community event to raise funds to benefit patients with cancer and to support cancer research; opening a magnetic resonance imaging center; planning the Ambulatory Surgery Center; and establishing the relationship that led to the opening of the Carol M. Baldwin Breast Care Center in 1997.
Dr. Maffetone passed away in 2003 at the age of 52. To honor his memory and legacy, Stony Brook University Hospital instituted the annual Michael A. Maffetone Community Service Awards, one for an individual and one for an organization.
The four-fold mission of Stony Brook Medicine — as originally mandated in the late 1960s by New York State's Department of Health for our Health Sciences Center (HSC) — is patient care, education, research, and community service. At that time University Hospital, then planned and eventually opened in 1980, was an integral part of the HSC. Thus, community service in relation to patient care and population health has long been central to what we are all about here at Stony Brook.
The award ceremony will be held this spring in the HSC Galleria. For details, please call Yvonne Spreckels, MPA, director of community relations, at 631-444-5250.