Volume 27 Number 1
Stony Brook, NY

<

January 2017

>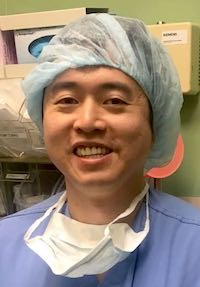 James P. Dilger, PhD
We welcome
Dr. Monte Chin
who joins our department as Assistant Professor in the Pediatric Anesthesiology Division. Dr. Chin obtained his MD from St. George's University in 2009. He completed a PGY-1 residency in the Department of Surgery at the Soundshore/Danbury Program in New Rochelle, NY. This was followed by a PGY-2 residency in Surgery at Stony Brook. Dr. Chin then began his anesthesiology career with a Residency at Baylor College of Medicine in Houston and a Fellowship in Pediatric Anesthesiology also at Baylor. In 2015, he entered private practice at Southside Hospital in Bayshore, NY.
Dr. Chin received the "Bleeding Heart Award" as Outstanding Resident in Pediatric Cardiovascular Anesthesiology at Baylor. He is first author on several poster presentations that were presented at ASA meetings. At Baylor, he participated as a clinical instructor in the Honors Premedical Academy. He is an avid runner!
We are delighted to welcome Dr. Chin back to Stony Brook!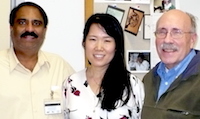 James P. Dilger, PhD
Dr. Li Ma
joined our department in November 2014 as a Research Scientist in
Dr. Lixin Liu's
lab. She is leaving to become Assistant Professor of Pharmacology at Hofstra Medical School. We wish her the best in her new position! Her two office neighbors will miss her friendly smile and cheery conversation!

Diane Towler
The Center for Pain Management would like all to welcome our new employees,
Heather Eggermann
and
Autumn Lawson
to our practice. Heather works as a medical secretary at our front desk and Autumn is a Medical Assistant in our Pain Center located on the 2nd floor of the Cancer Center, 3 Edmund D. Pellegrino Road, Stony Brook.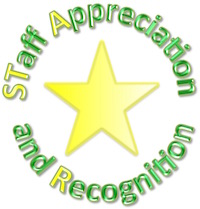 Patient comments about the Ambulatory Surgery Center staff from the Press Ganey questionnaires:
The Surgery Center is a perfect alternative to a hospital experience. The surgery that is performed at the center seems more elective in nature and creates a very comfortable atmosphere.
Anesthesia/Anesthesiologist: He was genuine in his approach. Answered the hard question as easily as the simple ones.
People are so different; but clearly the staff at the center can handle a wide variety of humanity.
Nursing staff exceptionally good!
This was my second surgery, (first time at ASC) and both times I always felt cared for and everything was explained in detail. I would HIGHLY recommend Stony Brook.
My overall assessment of this facility - It's staff and my surgeon is - Phenomenal. This is an extremely caring and efficiently run facility. Don't change a thing.
I was treated with complete respect.
Anesthesia/Anesthesiologist: The anesthesia team completely relaxed me with their kindness and professionalism.
Anesthesia/Anesthesiologist:
Dr. Martin Redmond
is a genius.
Anesthesiologist was so warming and gentle I did not even feel anything but a slight pinch.
Anesthesia/Anesthesiologist:
Dr. Steve Chen
was amazing, the first time an anesthesiologist really listened to me. I always get sick after anesthesia, Dr. Chen gave me an alternative to the usual narcotic, it was so much better waking up and I did not get sick.
Anesthesia/Anesthesiologist: Our anesthesiologist was great, very informative and had great "bedside" manner with my son.

Dr. Demetrios Tzimas from the Department of Medicine cited attendings
Drs. Amy Gruen, Michelle DeLemos, Sofia Geralemou
and CRNAs
Natalie Newman and Nataliya Holod
for their "heroic efforts" to help us with a patient with gastric/esophageal variceal bleed. "When the patient was extubated she had a stable hemoglobin after the emergent TIPS. We had a normal conversation and she was lucid and feeling well. I gave her a 0.5% chance of surviving after she left the endoscopy suite. They owe you!"

Bharathi Scott, MD
Our technician,
Nicole Mac
, is doing a great job in the heart rooms. She has been covering these rooms for the last few months. She is reliable, hardworking and always willing to go the extra mile. I am very impressed with her work ethic.

Dr. Ralph Epstein
received a letter from the sister of a patient with special needs who also had significant cervical spine issues. He and
Dr. Jason Park
cared for this patient during her recent visit for tooth extractions. The patient's sister wrote, "I remain deeply grateful to you for your kindness, compassion, and expertise in the administration of anesthesia".

Dr. Jun Lin
has been promoted to the role of Section Editor of the of "General Pharmacology and Pharmacokinetics" section of
BMC Anesthesiology
. He has been an Associate Editor for the journal since March 2016.

Ralph Epstein, DDS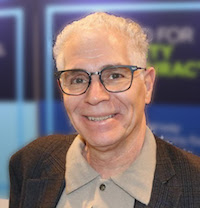 The Division of Dental Anesthesiology is happy to welcome
Dr. Martin Boorin
back to the main operating room to supervise anesthesia care to pediatric and adult patients receiving dental and oral surgery care. Dr. Boorin received his anesthesia training at LIJ from 1985-1987. He was a full-time anesthesiologist at LIJ with dual appointments in the Department of Anesthesiology and Dental Medicine from 1992 – 2002. After leaving LIJ, Marty went into mobile dental anesthesia practice providing care to patients in New York City, Westchester, Connecticut and on Long Island. We are lucky to have Marty share his techniques with our dental and physician anesthesia residents.
As many of you know, Stony Brook is in the process of building on its partnership with Southampton Hospital. Due to the waiting list of greater than a year for treatment of dental patients with special needs, the dental school is developing a plan to treat these patients on Thursdays at Southampton Hospital. By adding Thursdays at Southampton to our current schedule at Stony Brook, we will hopefully decrease the waiting list and provide care before the delay in treatment leads to emergencies and systemic infections. Included in this plan will be a rotation of our dental anesthesia residents to Southampton.
This past November, the Division of Dental Anesthesiology interviewed applicants for the start of our next academic year, July 1, 2017. The number of applicants who applied were fewer than normal as it was for the other programs in the United States. Fortunately, the decrease in the number of applicants applying to the program did not harm our ability to rank the applicants or affect our match. In other words, we did extremely well and we are looking forward to another year of outstanding residents!
Dr. Hasan Zia
will be developing a monthly alumni newsletter for the Dental Anesthesiology Division. We will keep you in suspense as to the name of the publication as we have not yet decided upon one. If any of your feel creative, please submit a name for consideration to Hasan.
In other news related to New York State and the ability of dentists to administer moderate sedation, deep sedation and general anesthesia, the Board of Regents of the NYS Education Department approved updated anesthesia regulations on December 12, 2016. Compared to the practice of Medicine in NYS, which is regulated by the Department of Health, dentistry is regulated by the Education Department. The regulations for dentists to administer moderate sedation, deep sedation and general anesthesia are very comprehensive and detailed. These regulations include two major sections; education and training (effective January 1, 2018) and practice requirements (effective July 1, 2017). As soon as these regulations are published I will provide a link to the NYS Education Department's web site. Because I was very involved with the development of these updated regulations, I can answer many of the questions you may have. Please feel free to contact me if you have any questions.

Shivam Shodhan, MD
As is every year, our departmental representation at the 2016 PGA70 was high! Our residents and attendings mustered together 16 Medically Challenging Cases, 4 Posters, 8 Problem-Based Learning Discussions, 7 Scientific Panels, 2 Focus Sessions and 2 Workshops.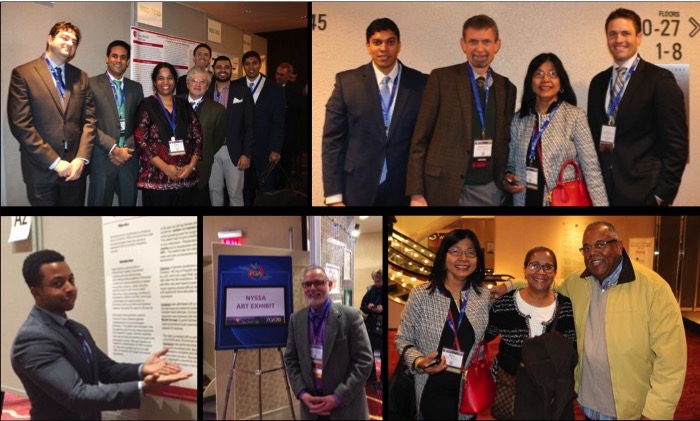 Editor's note (SS): This past month, I was able to have a wonderful sit-down with

Dr. Ellen Steinberg

to learn more about her background, family, and career. Allow me to share a summary of what I learned!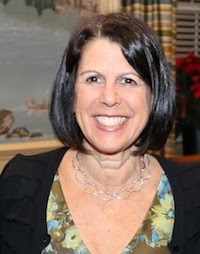 Shivam Shodhan, MD
Our very own
Dr. Ellen Steinberg
has enjoyed an amazing career with us thus far. Born in Queens, NY, she was raised and has since spent most of her life on Long Island. Upon completing her bachelor degree in physics at SUNY Albany, she attended New York University's School of Medicine. Afterwards, she completed her anesthesiology residency and obstetrics-anesthesiology fellowship at Columbia University. Through a crazy story of right time-right place, Dr. Steinberg took her first job out of training and joined Stony Brook Medicine in 1987 under our Emeritus Founding Chairman Dr. Paul Poppers.
Throughout the years, Dr. Steinberg's involvement with Stony Brook Medicine and our department developed to a great extent, far more than she had ever originally anticipated, and she has loved every bit of it. She taught in the medical school, as well as, served on numerous committees with the hospital, notably being the only physician involved with the planning and building phases of the new Labor & Delivery from start to finish. Within our department, she has served as the Residency Program Director, Vice Chair of Education, and held multiple committee roles, all while being the Division Chief of Obstetrics Anesthesia since 1993. When asked which of these all is her favorite, she shares that the most cherished aspect of her career is the day-to-day working with and teaching of the residents, especially through the multiple generations of resident classes since joining Stony Brook Medicine.
Dr. Steinberg describes obstetrics anesthesia as unique in that all of the patients are awake. Therefore, it is crucial for clinicians to pay attention not only to the patient's vital signs and stability, but also to be vigilant of and continually assess other needs the patient. In addition to caring for the patient, clinicians must care for their company as they are immersed into the family dynamics of the patient, as family and friends all have the opportunity to share in the child delivery experience within the OR. Her division has the opportunity to take care of a lot of very complicated deliveries, especially now with the increased frequency of advanced age pregnancies and patients with comorbidities.
Dr. Steinberg has been an essential member in are the Safe Motherhood Initiative and the High Risk Pregnancy Clinic. For the last few years, she has been actively involved with the American Congress of Obstetricians and Gynecologists (ACOG) and the New York State District of the Safe Motherhood Initiative, which has developed and implemented standard approaches in all NY hospitals for handling three leading causes of maternal death--obstetric hemorrhage, venous thromboembolism, and severe hypertension in pregnancy. Additionally, once a month, Dr. Steinberg holds a clinic day at Tech Park where she sees high risk pregnancy patients to best optimize their safety for when they deliver. Moving to a very entertaining facet of Dr. Steinberg's activities, this year marked the NYSSA PGA's "18th Annual Bragging Contest: Any Case You Have Done, I Have Done a Better One", where different representatives from teaching hospitals throughout NY State are invited to present their most amazing case. She was first recruited to participate in this event under Emeritus Chairman Dr. Peter Glass over a decade ago. During this time, she has presented cases in all sorts of captivating performances including slideshows, movies, and theatrical plays!
(Editor's Note (SS): If you haven't had a chance to attend the contest, you certainly must! It really is a lot of fun and definitely the most entertaining way one can present a case.)
When she's not taking care of obstetric patients at the hospital, Dr. Steinberg is very active in her synagogue, where she serves on the Board. Additionally, she avidly enjoys reading, walking and hiking, cooking, and getting together with her beloved family and friends. She met her husband, Jay, on the very first day of orientation in medical school, and they have since been a constant strong support for each other and have happily raised 4 wonderful children together, one of whom is currently a 3rd year medical student at their alma mater.
Having witnessed and cared for well over 10,000 births, Dr. Steinberg has truly dedicated her whole career to providing safe anesthesia care to mothers and babies--a mission that is of the utmost importance to her.
"I never get tired of it [OB anesthesia]. I still think every time I see a birth that it must be some kind of miracle. It's just an amazing experience, and I feel very blessed to have chosen a career where I could be part of something so beautiful all the time--everyday.
"
~Ellen Steinberg, MD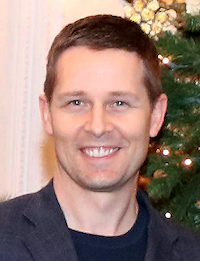 Shivam Shodhan, MD
Can you tell us a little about your background (hometown, college, dental school, etc.)?
I was born in Montreal, Canada, but I grew up in Provo, UT (about 40 miles south of Salt Lake City, UT). I did my undergraduate work at the University of Utah with a double major in Business Finance and Business Management. I worked as a financial controller for several Marriott Hotels until suddenly I had the irresistible urge to work in people's mouths. From there I applied to dental school and went to University of Nevada, Las Vegas (UNLV).
What attracted you to dental anesthesiology?
I wasn't aware of dental anesthesiology until my 3rd year of dental school when I got involved in moderate sedation cases at UNLV and I absolutely loved it.
How did you come to be a resident at Stony Brook (Why SB)?
Stony Brook has a solid reputation of providing top notch training, and I wanted to go somewhere that would give me the skill set and the confidence to do anesthesia in an office based setting.
What do you like most about being a resident?
I enjoy learning anesthesia from many different attendings. I get to see different ways of providing safe and effective anesthesia.
What do you like least about being a resident?
Tough question! The schedule can be pretty demanding at times. It's hard to juggle residency, family, and social (what's that?) time.
What pearls of wisdom would you like to share with your fellow junior residents to help them succeed in their time here and future careers?
The door leading to the PACU from the hospital hallway opens slowly if you swipe your badge and push the door open button too soon. Swipe your badge then wait for the beeps to stop...THEN push the door open button. You're welcome. (
Editor's Note (SS): WOW! Thank you so much! I ALWAYS wondered how to fix this!!!)
Another thing, I had a former resident tell me to learn 3 new things each day during residency and you will accumulate a wealth of knowledge and skills during your time here at Stony Brook. I thought it was solid advice.
How would you describe our Stony Brook Medicine Dental Anesthesiology Residency Program?
I am probably biased, but I think we have the best program in the country. I have spoken to many of my friends in other programs and they are not doing as many complex cases as we do. Also, we receive way more mobile anesthesia experience.
What advice do you have for dental students looking to pursue a career in dental anesthesiology?
Do externships. Do as many as you can. Be involved in as much anesthesia as you can.
So what's the next step (fellowship, attending, research) you will be taking as you transition from the role of a resident to fellow/attending next summer?
I am currently in the process of looking for jobs. I have opportunities in Texas, Nevada, and Utah. I am trying to narrow it down to where would be best for my family and me.
As you're soon to enter the real world of dental anesthesiology, what do you find most daunting?
I have always heard that the first year out is a bit daunting, because there's no one standing beside you to help you out anymore.
If you could do it all over again (become a dentist), would you?
I'd definitely become a dentist if I had to do it all over again. I still enjoy dentistry and hope to do more of it in the future. I really miss extracting teeth. The only thing I definitely would have done differently was to choose my career path sooner in life.
If you hadn't chosen to go into dentistry, what career path might you have followed?
I was interviewing for a position of a financial controller of Hotel Park City when I decided to pursue dentistry. I would probably be doing something in finance or along those lines. I am pretty goal oriented, so I definitely will use my business background to manage my future investments.
What has been your favorite residency memory of your 3 years here at Stony Brook?
The end of the day. Just kidding!!! I guess there are too many to choose from.
When you aren't running on around the hospital saving lives, how do you like to spend your free time?
I spend it with my wife and 3 kids. We can either be found throwing rocks in Port Jefferson Harbor or at a playground. Exciting, right? Are you jealous, yet?!?
What do you like the most (and least) about living on Long Island?
I love living in Port Jefferson. It's a fun place to live with a lot of things to do with my family. I also love NY pizza!
I dislike the winters. I'm not a cold person. I won't miss that when we move.
What is your favorite type of food?
I'm not a picky eater. I'll eat anything. I don't turn my nose to much. Honestly, I've loved spaghetti since I was a little kid. I could literally eat it every day of my life.
What's your favorite restaurant in LI/NYC?
I love Pasta Pasta in Port Jefferson. Get the lobster stuffed ravioli. You won't regret it.
Houston's restaurant in Garden City. BBQ pork ribs with the traditional salad (buttermilk garlic dressing)...awesome.
The Halal Guys food cart in NYC is solid.
Where would you love to travel to next and why?
I'd love to travel to London, England or Paris, France. Really cool places with a lot of history.
What's your favorite Tourist Activity in LI/NYC?
Central Park with the kids.
Describe yourself in three words.
Honest, loyal, friendly!
Who is your role model and why?
Tommy Corrado. His humor, sarcasm, and wit is on point. Plus, he's easy on the eyes.
If you could make one wish, what would it be?
I don't know. Probably world peace lol.
If you could leave us with one of your favorite quotes, what would that be?
People are often unreasonable, illogical and self centered;
Forgive them anyway.
If you are kind, people may accuse you of selfish, ulterior motives;
Be kind anyway.
If you are successful, you will win some false friends and some true enemies;
Succeed anyway.
If you are honest and frank, people may cheat you;
Be honest and frank anyway.
What you spend years building, someone could destroy overnight;
Build anyway.
If you find serenity and happiness, they may be jealous;
Be happy anyway.
The good you do today, people will often forget tomorrow;
Do good anyway.
Give the world the best you have, and it may never be enough;
Give the world the best you've got anyway.
You see, in the final analysis, it is between you and your God;
It was never between you and them anyway.
~Mother Teresa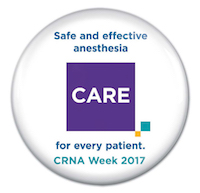 Joseph Gnolfo III, MS, CRNA
January 22-28 is National CRNA Week and celebrates the practice of the 50,000+ CRNAs of this great nation. Here at Stony Brook Medicine we have more than 40 outstanding CRNAs and growing who work within the anesthesia care team. I would like to recognize their hard work and dedication to the department and their patients.

Stephen A Vitkun, MD, MBA, PhD
On Saturday Dec 10th Dr. Gan hosted a
Departmental Alumni Reception
at the Yale Club in New York City. The event was well attended by both resident and faculty alumni. The venue worked very well and everyone had a good time. It was nice to catch up with many colleagues, and to appreciate the how many residents and attendings have been affiliated with Stony Brook Anesthesiology over the past 37 years!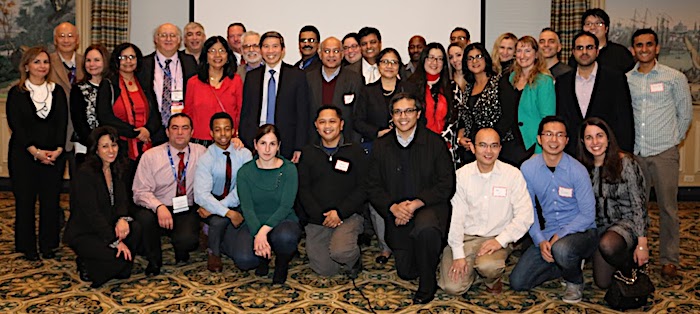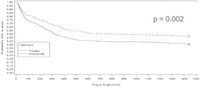 Min-Yi Tan, M.D.
These photos were taken in Oslo, Norway in November. The first photo was taken while reindeer sledding led by Sami, the indigenous reindeer herders that inhabit in the arctic. Unfortunately there were no snow that day. The second photo shows an aurora dancing over a Norwegian Fjord in the star lit sky.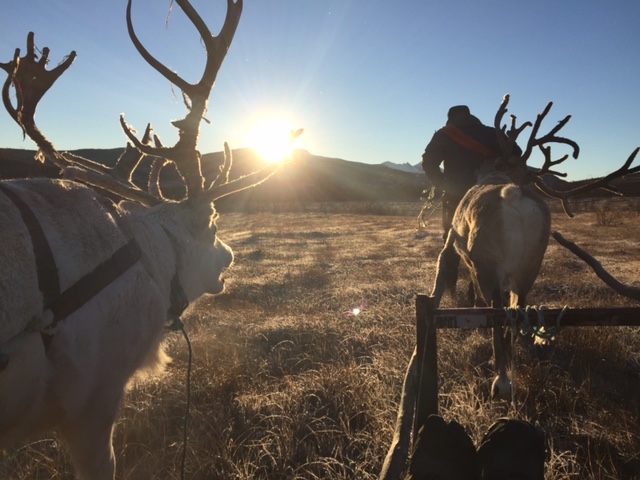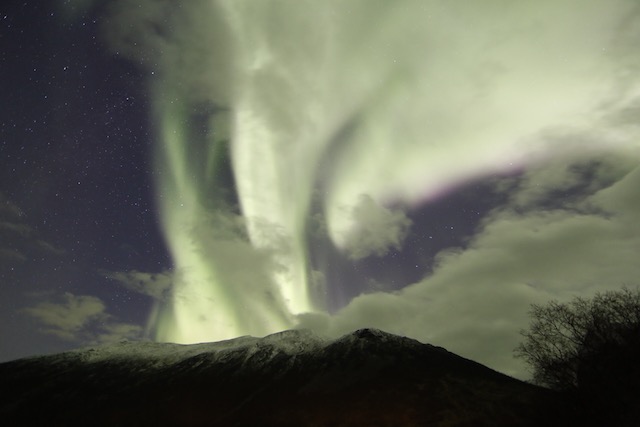 James P. Dilger, PhD
The
mural of the Staller Center
from last month can be found in the basement of the Melville Library (just to the left of the area shown in the mural). It is one of a series of campus murals painted by students. I came across it while looking for the campus FedEx and Amazon stores which are also in that basement!
This month's photo is from the East Campus - closer to home for most!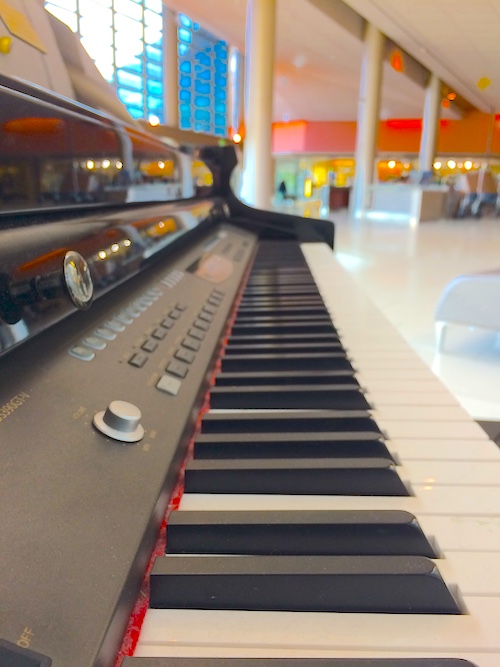 Shivam Shodhan, MD
For this month's muscle chillaxant of fun, we showcase our exciting
annual departmental holiday party
hosted by
Dr. & Mrs. Gan
! Held at the beautiful Villa Lombardi's, the evening was filled with a wonderful spread of people, food, music, and dancing! The event was a great chance for everyone to gather together for celebration and to share in comradery. It was such a joyous way to wind down and wrap up last year and kick off this year with a strong spirit!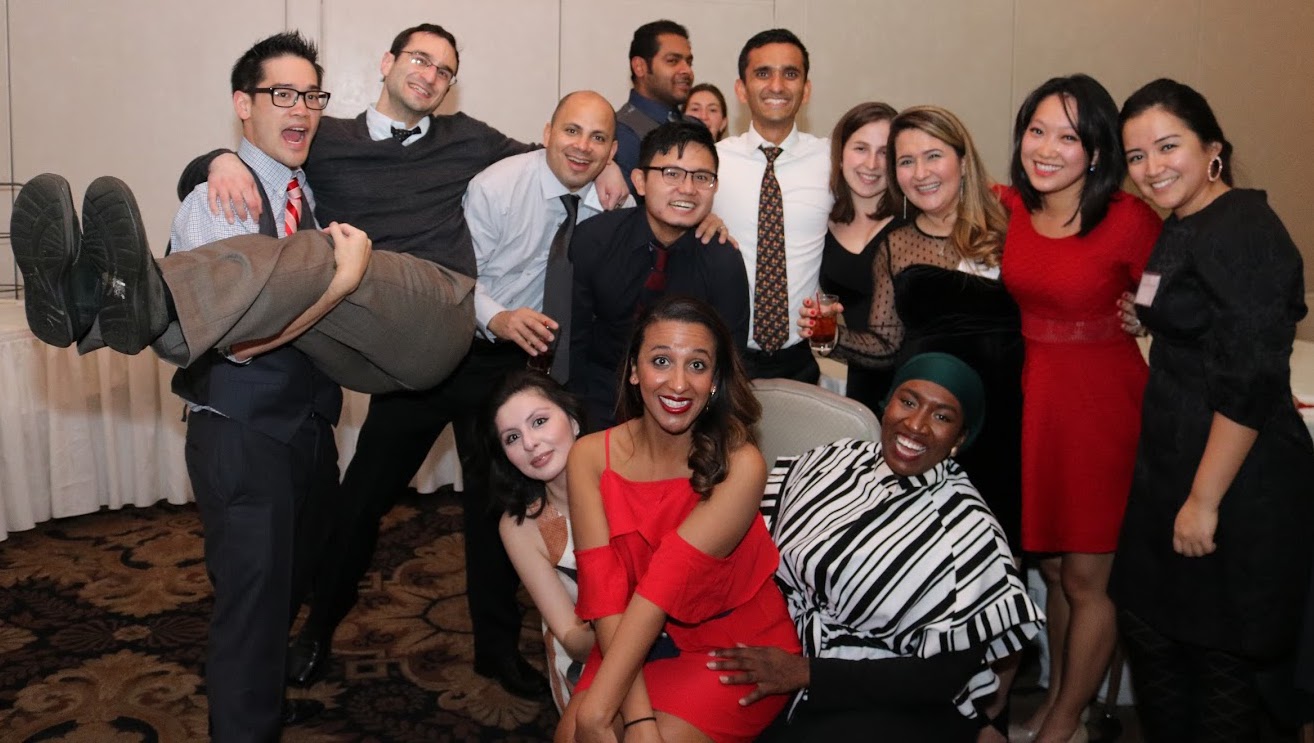 View the rest of the Holiday Party photos here!

SleepTalker, the Stony Brook Anesthesiology Newsletter is published by the Department of Anesthesiology
Stony Brook Medicine, Stony Brook, NY
Tong Joo Gan, M.D., Chairman
Editorial Board: James P. Dilger, Ph.D.; Stephen A. Vitkun, M.D., M.B.A., Ph.D.; Marisa Barone-Citrano, M.A.; Shivam Shodhan, M.D.