Volume 26 Number 6
Stony Brook, NY

<

December 2016

>
James P. Dilger, PhD
We are pleased to welcome Dr. Joseph Gerald (Jerry) Reves as our Visiting Professor this month. Dr. Reves recently retired after a distinguished career in Cardiovascular Anesthesiology. He earned his medical degree from the Medical University of South Carolina and completed a medical internship and anesthesiology residency at University of Alabama Hospital and Clinics. Dr. Reves obtained an MS in Physiology and Biophysics from the University of Alabama at Birmingham. He followed this with a postdoctoral research fellowship.
Dr. Reves was a clinical instructor of anesthesiology at several institutions including the National Naval Medical Center in Bethesda, Maryland before returning to Birmingham as an Associate Professor in 1975. Within three years, he had been appointed Director of Anesthesiology Research and was promoted to Professor. Dr. Reves help to launch the Cardiac Anesthesiology subspecialty, served as the second President for the Society of Cardiovascular Anesthesiologists and received their outstanding service award in 2006. In 1984, Dr. Reves joined the Department of Anesthesiology at Duke University Medical Center and was appointed Director of Cardiothoracic Anesthesia. He helped found the Duke Heart Center and was its director from 1987 to 1997. Dr. Reves served as Chairman of the Department of Anesthesiology from 1991 until 2001. At that time, he became Dean of the College of Medicine and Vice President of the Medical University of South Carolina He held these positions until his retirement in 2010.
Dr. Reves' research has focused on Aging and Cognition after Cardiac Surgery; this work was supported by grants from the NIH from 1993-2001. He has over 300 scientific publications and has authored or edited 15 books. In recent years, he has published articles on medical education, interdisciplinary research program, and making cardiac surgery safer.
Dr. Reves will present two lectures during his visit to Stony Brook:
Resident Lecture, Tues, Dec 13, 5:00-6:00 PM. "History of the Society of Cardiovascular Anesthesiologists"
Departmental Lecture, Wed, Dec 14, 7:00-8:00 AM. "Geriatric Anesthesia"

Stephen Vitkun, MD, MBA, PhD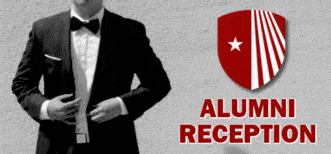 SAVE the DATE and SPREAD the WORD!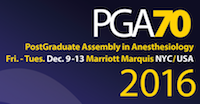 The Annual Stony Brook Anesthesiology Alumni Reception!
Saturday December 10th 2016 (PGA Saturday) from 5 to 7 pm
Venue:
The Yale Club, NYC
All Stony Brook Anesthesiology Faculty, Residents and Alumni are invited to attend.
Please spread the word to the alumni you know!
RSVP to the Alumni Committee by
email
or phone 631-444-2904 by November 28.

The Annual Stony Brook Anesthesiology Holiday Party!
Friday, December 16th 2016 from 7 to 11 pm
Venue:
Villa Lombardi's
All Stony Brook Anesthesiology Faculty, Residents, and Staff are invited to attend.
RSVP to Mrs. Marisa Barone-Citrano by
email
by December 2nd.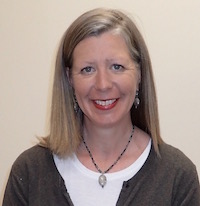 Shivam Shodhan, MD
Martha O'Brien
joined our department in June 2015. During her time with us, she served as Assistant to Dr. Elliott Bennett-Guerrero and managed the department's continuing education and grand rounds as the CME coordinator. Now she will be taking on a new role and opportunity on West Campus as the Assistant to Dr. Marisa Bisiani, who is the new the Assistant Vice President for Student Health, Counseling and Outreach Services. Martha has been a wonderful asset to our department, and we wish her best of luck on her new position!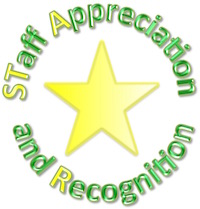 Patient comments about the Ambulatory Surgery Center staff from the Press Ganey questionnaires:
They explained everything before, they started with the anesthesia.
Dr. Paul Willoughby
was fantastic - He was friendly & put me in ease for my first surgery. I also very much appreciated that he put me in the IV himself & tried his best to use the forearm for most comfort/less pain. He made a difference.
Dr. Steve Chen
was fantastic!!
Anesthesiologist went out of her way to make me feel calm and comfortable. Meant everything to me getting ready for procedure.
Dr. Barry Florence
excellent. Very nice bedside manner also.
Aesthesiologist, surgeon and OR nurse. They worked like a well-oiled machine. Would rate an excellent team!
Excellent doctor,
Dr. Eleanor Romano
.
Dr. Frank Stellaccio
was very nice to me & any concerns I had he took care of. He was very friendly & put me at ease. Everyone in operating room was wonderful.
The anesthesiologist was outstanding! I always have trouble getting an IV because of my veins. He was so patient & told me what he was doing every step of the way. He really put me at ease!
Anesthesiologist was great. I am a very hard stick and she got my vein right away.

A grateful patient sent the following handwritten note to

Dr. Deborah Richman

:
Thank you very much for your help in securing for me a safer alternative to propofol. I also thank you for your wonderful staff anesthesiologists:
Dr. Michelle Delemos
for my pre-op and
Dr. Ramon Abola
for my colon surgery. This note is a little late but nevertheless full of gratitude. You are wonderful and I can't thank you enough!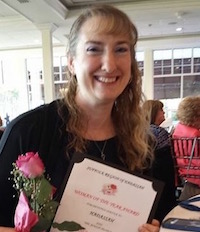 Dr. Ursula Landman was honored with the Woman of the Year award from Suffolk Hadassah on Thursday November 17th. She was chosen for her devoted service and contributions to the spirit and traditions of Hadassah. It was a beautiful day shared amongst amazing talented women from the Suffolk Hadassah Region.

Ruchir Gupta, MD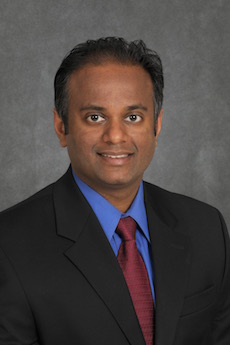 On January 1, the Department of Anesthesiology, in conjunction with the Department of Surgery, will launch the "Enhanced Recovery After Surgery (ERAS) for Colorectal procedures" initiative at Stony Brook University Hospital. This is a multidisciplinary program that brings together physicians, nurses, pharmacists, and nutritionists to provide a seamless perioperative experience aimed at best practices to promote rapid recovery and quicker return of baseline function while minimizing complications.
The ERAS experience will begin in the surgeon's office, where the surgical department will introduce the patient to the concept of ERAS and provide the patient with a personalized "patient diary" that will educate the patient about ERAS. The patient diary will also contain checklists for the patient to fill so that they can log in important compliance information such as ambulation, smoking cessation, and nutritional information. The surgeon's office will also provide the patient with a "carbohydrate beverage," which would be taken the night before and the morning of the surgery. The literature supports that a preoperative carbohydrate beverage taken the morning of surgery reduces postoperative insulin resistance, hypotension on induction, and overall fluid status. Furthermore, these beverages are considered "clear liquids," so their ingestion 2 hours prior to surgery does not increase the risk of aspiration.
From the surgeon's office, the patient's ERAS experience moves to the preoperative surgical clinic run by our very own, Dr. Deborah Richman. Here, the patient will be further educated on the patient diary and its various components. Reasonable expectations with respect to pain, ambulation, and PO intake postoperatively will be reviewed. Specifically, the patient will receive more detailed information regarding nerve blocks, whether they qualify for an epidural, and when they are expected to begin PO intake.
On the day of surgery, the patient will be expected to have taken their preoperative beverage prior to arrival to the hospital. Compliance with "preoperative instructions" related to beverage consumption and surgical site infection guidelines (which were presented to the patient at the surgeon's office previously) will be reviewed. In the preoperative holding area, the patient will receive gabapentin and depending on their surgery, possibly an epidural. Intraoperatively, the patient will receive multimodal pain management techniques which consist of IV Tylenol and IV Caldalor. The patient's fluid management will be guided via the cheetah cardiac output monitor to employ goal directed fluid therapy (GDFT). Postoperative nausea and vomiting prophylaxis will be accomplished via the scopolamine patch preoperatively, and ondansetron and dexamethasone intraoperatively.
In the PACU, the patient will receive the next dose of gabapentin, IV caldalor, and IV acetaminophen as per dosing guidelines. The patient's epidural infusion, assuming an epidural was placed, will continue. The patient's intravenous fluids will be limited to "KVO – Keep vein open."
The next destination on the patient's journey will be the medical floors where in the subsequent days, the patient will be encouraged to ambulate and begin clears on postop day 1. The goal is to discharge the patient once the patient's pain can be managed with just PO medications, the patient can effectively ambulate, and the patient has no significant symptoms of nausea/vomiting.
To achieve the goals of ERAS, an immense level of cooperation is required between the various members of the ERAS team. For the anesthesia personnel (attending physician, CRNA, resident) assigned to the colorectal, it is imperative to be knowledgeable about the various elements of the patient's ERAS journey. To care for a patient within an ERAS framework is akin to carrying a baton and care must be taken to ensure continuity of appropriate medical care. Specifically, goal directed fluid therapy is a very new concept to many in our department and adhering to its principles may be challenging in the beginning. For the most part, intraoperative anesthesia care will be protocolized but if there are areas where the clinician feels deviation from the protocol is necessary, a thorough analysis of the situation should be made and the deviation should be recorded and discussed with more senior members of the ERAS program (Drs. Gan and Bennett-Guerrero).
Lastly, the ERAS protocol will be amended from time to time based on the data obtained and new findings in the literature. Thus, every clinician working with the ERAS colorectal patients is in a position to contribute their findings to the other members so that the best practices can be incorporated into the protocol for future use.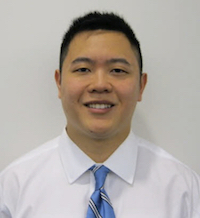 Shivam Shodhan, MD
Can you tell us a little about your background (hometown, college, medical school, etc.)?
I grew up in the suburbs of Boston and stayed in the area for college and medical school at Tufts University. After being in the Boston area for so long, I decided that I needed to branch out and live somewhere else for a bit.
What attracted you to anesthesiology?
I like working with my hands and doing procedures like intubations and lines. In addition, being able to see a patient through an operation so that they are awake and comfortable in the PACU is always gratifying.
What do you like most about being a resident?
Now that I am a CA-3, being able to work more independently and do more advanced cases but still having someone more experienced to back me up just in case.
What advice do you have for medical students looking to pursue a career in anesthesiology?
As a fourth year, consider doing an ICU rotation as well as pulm and cardiology electives.
So what's the next step (fellowship, attending, research) you will be taking as you transition from the role of a resident to fellow/attending next summer?
I will be looking for a job in private practice.
As you're soon to enter the real world of anesthesiology, what do you find most daunting?
Trying to figure out the different aspects and priorities I want in a job.
If you hadn't chosen to go into medicine, what career path might you have followed?
I think it would be pretty cool to join a tech start-up company.
What is your favorite type of food?
I like a good bowl of ramen! It's cheap and delicious, and there are a lot of great ramen joints in LI/NYC.
Where would you love to travel to next and why?
I would like to visit all the national parks someday. I went to Yosemite last summer, and there was literally something awe-inspiring and beautiful at every turn.
Who is your role model and why?
My parents for their hard work and sacrifices in raising my brother and I.
If you could make one wish, what would it be?
I hope for a happy and fulfilling career.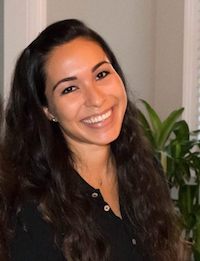 Shivam Shodhan, MD
Paty Kanjiya
is a Senior Research Support Specialist who joined our Anesthesiology Department in October 2015. She works in Dr. Martin Kaczocha's lab and is currently working on joint research projects with Dr. Michelino Puopolo as well.
Paty was born and raised in Mexico, and as a teenager moved with her family to Los Angeles, CA. After finishing high school, she attended California State University, Long Beach, where she discovered her passion for research laboratory work. As an undergraduate she worked in a behavioral neuro-endocrinology laboratory with Dr. Kevin Sinchak, in projects created to understand and map the neuropathways that lead to sexual receptivity and behavior in rodents. A couple of months after joining the lab, she got her own project with a fellow classmate, Shrey Kanjiya, who would later become her husband. She graduated with a Bachelor's in Biology-Physiology and stayed as a Laboratory Tech in the Sinchak lab for about a year and a half. She got married and moved to Vermont where her husband started medical school at UVM in 2011. Shrey matched here in Stony Brook's Orthopedic Surgery residency program, so they moved to Nesconset in June 2015. They are excited and getting ready to welcome their first baby, a boy, in February 2017!

Michelle Hewett
and her husband Dave, welcomed their new baby daughter, Peyton, on November 20. Big sister, Skylar, is delighted to have a sib!

Rany Makaryus, MD

The Society for Neuroscience gives a whole other perspective on the idea of a national conference (November 2016, San Diego, CA). After having gone to multiple ASA meetings among other anesthesia conferences, it is a whole different story to go to the SfN conference. It is impressive in that it combines people from all neuroscience research backgrounds in one unique conference. A top NIH funded researcher may be sitting next to a neurosurgeon, a lab methodologist, and even an anesthesiologist. Not only do people come from all branches of research related to the brain, but also from all parts of the country and all over the world, including Great Britain, Sweden, and as far as Australia.
The conference engenders a great way to learn about new technologies used in research, new ideas emerging from cutting edge studies, and the sharing of ideas among the top minds in this field of study. Topics covered ranged from synapse formation, connectomics, and memory circuits, to traumatic brain injury, Alzheimer's disease, and the dynamics of the unconscious brain under general anesthesia. This is a great way to learn about these various topics, while having the opportunity to meet the leaders in these fields. Discussing and sharing results of research in various fields provides ideas that can help improve the understanding and the work of both those presenting and those learning. With such new ideas being bounced around and discussed in real time, there is a sense of community and as such, constructive criticism helps improve the quality of research work.

I had the opportunity to present a poster at this conference, sharing the recent results in our lab. Specifically, we have demonstrated that animals who had multiple short anesthesia exposures, as opposed to a single long exposure, tended to display more memory problems and anxiety type behavior than the controls. There was a lot of interest in our results at this meeting, generating a lot of conversation about the safety of anesthesia in children. Among the interesting aspects of this study is that none of these animals had any surgeries, and so it is clear that this is related to anesthesia effects only. While this is concerning in itself, one of the questions that came up is whether inflammatory mediators from surgery would alleviate or exacerbate the effects seen. While this remains unknown, there is a definite change in the brain after anesthesia exposures. While there, others shared their results, demonstrating changes in the brain using advanced imaging techniques in non-human primates, and this is quite similar to what we have discovered in our spectroscopy results as well.

One of the best aspects of this conference was where it was held – San Diego! The weather there was very predictable everyday: perfect temperature, mostly sunny skies, and with a nice breeze from the bay. It was great to walk back and forth from the convention center along the port, and the San Diego Zoo, celebrating their 100th year anniversary, is always a crowd pleaser. Although the conference was great, it was the In-N-Out burgers that will have me going back to San Diego in the future!


The New York State Society of Anesthesiologists hosts its 70th Annual Post Graduate Assembly (PGA) in New York City this month. The meeting takes place from Fri. Dec 9 through Tues. Dec 13 at the Marriott Marquis. Members of our department will be presenting 16 Medically Challenging Cases, 4 Abstracts, 8 Problem-Based Learning Discussions, 7 Scientific Panels, 2 Focus Sessions and 2 Workshops. Please visit our Presenters while you are at the meeting. And, please don't forget to take photos of department members standing in front of posters! We can use these in future issues of
SleepTalker
, on our website and in the library display case.
Medically Challenging Cases
•
Abrahams E, Scott B
. Pulmonary Hemorrhage after Cryoballoon Ablation for treatment of Atrial Fibrillation: A Case Report.
•
Adsumelli R, Fischl A
. Paradoxical vocal cord motion disorder: Atypical cause of postoperative stridor presents a diagnostic dilemma for anesthesiologists.
•
Bancroft J, Oleszak S, Kowal R
. Dramatic emergency complex airway management for a prematurely extubated patient with a known difficult airway.
•
Fischl A, Loh SA, Bilfinger TV, Izrailtyan I
. Removal of an Unstable IVC Thrombus Refractory to Medical Treatment in a Patient with Heparin Resistance.
•
Josma J, Schabel J, Shah S
. Management of a Parturient with Brugada Syndrome.
•
Kagan M, Scott B
. Anesthetic Management of a Patient with Shy Drager Syndrome.
•
Kogan A, Fradlis A
. Anesthesia management of a parturient with a large newly diagnosed  cerebellopontine angle schwannoma.
•
Molinari W, Josma J
. Ketamine for EBUS with biopsy procedure in a Patient with Impaired Ventricular Function.
•
Park J, Adsumelli R, DeMarco A
. Cerebral Autosomal Dominant Arteriopathy with Subcortical Infarcts and Leukoencephalopathy (CADASIL): Postoperative care complicated by Unexpected Pseudoseizures.
•
Patel N, Szafran M
. Transient Sciatic Nerve Weakness after TKA with Continuous Adductor Canal Block.
•
Sharma A, Kagan M, Parikh P, Izrailtyan I
. The Anesthetic Management of a Patient having a Balloon Valvuloplasty for Severe Mitral Stenosis with Intraoperative Event of a Third Degree AV Block.
•
Soohoo D, Kowal R, Grecu L, Oleszak S
. Presentation of Post Operative Cardiogenic Shock Secondary to Enlarging Right Atrial Mass.
•
Stanley S, Abrahams E, Schabel J
. Management of a Parturient with Platelet Storage Pool Deficiency for Cesarean Section.
•
Walton G, Poppers J, Gallagher C
. Emergent Management of a Patient with a Known History of Difficult Intubation and a Bleeding Neck.
•
Zia H, Oleszak S, Andraous W
. Complex Airway management for neck dissection, tonsillectomy and removal of vocal cord lesion combined.
Abstracts
•
Fradlis A, Scott B, Seifert F
. Impact of morbid obesity on cardiac surgery resource utilization and complications.
•
Gupta R, Reinsel R
. Career Development and Mentorship in Anesthesia Residency Programs.
•
Richman D, Licata S
. Using the EMR – This is a Bear, or Perhaps a Dragon?
•
Sadean M
. Test Infusion of Propofol to determine the Initial Infusion Rate for sedation using the Marsh pharmacokinetic model with short thke0.
Problem-Based Learning Discussions
•
Adsumelli R
. Maternal Hemorrhage.
•
Adsumelli RSN
. Obstetric Analgesia in the Patient with Previous Back Surgery.
•
Beg T
. Interventional Endoscopy: Who Is Too Sick for the GI Suite?
•
Moller D
. Massive Transfusion Protocol.
•
Poovathoor SP, Gupta R
. New Techniques for Fluid Management from Operating Room to ICU.
•
Rosenfeld K
. Maximizing Scheduling and Operating Room Efficiency.
•
Steinberg E
. The Pregnant Patient for Non-Obstetrical Surgery.
•
Stellaccio FS
. Unusual Complications of Difficult Intubations in the Morbidly Obese: Recognition and Management .
Scientific Panels
•
Bennett-Guerrero E
. Alternatives to Allogeneic Blood - Do We Have Enough Evidence?
•
Bennett-Guerrero E
. The Cardiac Patient Presenting for Non-Cardiac Surgery.
•
Gan TJ (pro)
. Pro/Con Debate 2: Goal Directed Fluid Therapy is an Essential Element of an Enhanced Recovery Protocol for Major Surgery.
•
Gan TJ
. New and Novel Drugs in the Ambulatory Setting.
•
Gan T
. Acute Pain Management in Enhanced Recovery Pathways: What the Evidence Tells Us.
•
Rosenfeld K, Gupta R
. Neuromuscular Blockade: Past, Present, Future and Pediatric.
•
Steinberg E
. 8th Annual Bragging Contest: Any Case You've Done, I've Done a Better One.
Focus Sessions
•
Gan TJ
. Clinical Pathways to Success: What are the Basics of ERAS?
•
Richman DC
. Update on AHC and AHA Guidelines on Adult and Pediatric Resuscitation - Adult Guidelines.
Workshops
•
Oleszak SP, Vitkun S, Stellaccio FS
. Difficult Airway Management.
•
Vitkun SA, Cimino L
. Advanced Cardiac Life-Support (ACLS).

James P. Dilger, PhD
On November 29,
Dr. Srinivas Pentyala
presented a research seminar about his investigations with Biomarkers. Srini's initial interest in biomarkers stemmed from a clinical discussion he heard among some OB anesthesiologists. They were lamenting how difficult it was to determine whether they had gotten a "wet tap" during epidural needle insertion. A "wet tap" results from the accidental puncture of the dura and subsequent leakage of cerebral spinal fluid (CSF) and, often, a headache for the mother. Srini wondered whether there might be a protein, specific to CSF, that could be used as a biomarker to indicate CSF leakage. He went on to identify such a protein and to develop a device for the detection of the protein that could be used right at the bedside. The device is currently in clinical trials. Applications for the device extend beyond the delivery suite to any case where CSF leak might be suspected.
Srini then went on to describe his development of a biomarker for prostate cancer. He concluded his presentation with information about his current project - a versatile method for the detection of trace biomarkers in urine. The initial impetus was to find a quick and easy way to screen urine for drugs. The initial lab tests involved detecting a metabolite of nicotine. But it soon became clear that the high sensitivity of the method, detecting nanogram levels, opened the possibility for much more, including screening for diseases. Srini has taken the initial steps for patenting the idea and device.

Ursula Landman, DO
The Stony Brook Anesthesia Interest Group met on Monday, November 14th.
Dr. Thomas Corrado
gave a terrific presentation on the practice of anesthesiology. The students loved it. We held elections for new officers. The new co-Presidents are: Bhinay Tumati, Joseph Cannizzo, and Anthony Schramm.
The NYIT-COM group met on November 1. I gave a presentation to the group on IV fluids. This was followed by an IV workshop. The students were able to practice administering IVs to the mannequin arms. This was a first for many of the students.

Francis S. Stellaccio, MD; Director of Cultural & Social Affairs, NPLD-GHI
The World Health Organization's (WHO) global survey on maternal and perinatal health in its 2007– 08 REPORT detailed methods of delivery and pregnancy outcomes in Asia. The data showed that nearly half of all births in China were delivered by cesarean section. Since its first Global Health Initiative (GHI) to China in 2008,
"No Pain Labor & Delivery (NPLD)"
has been vigorously addressing this issue through education.
Founded in 2006 by Ling Qun Hu, MD (Associate Professor of Anesthesiology at Northwestern University), the goal of NPLD-GHI has been to focus on reducing the unnecessarily high cesarean delivery rate and the extremely sparse utilization of neuraxial labor analgesia in China. NPLD-GHI assists local hospitals in the establishment of self-sustaining obstetric anesthesia systems that will allow provisions for safe and effective labor analgesia. The organization uses a multidisciplinary approach to achieve its goal of increasing the usage of epidural neuraxial labor analgesia in China by at least 10% through the establishment of 10 obstetric anesthesia training centers over a 10 year period (by 2018). Statistical data collected to date shows the NPLD-GHI hypothesis is correct, that is, the increased availability of labor analgesia would result in reduced requests for unnecessary cesarean delivery and better labor outcomes for mother and baby.
An eight-minute documentary video entitled
"No Pain Labor & Delivery - Global Health Initiative"
has recently been placed on the YouTube website. The premier showing of this video occurred at the 16th World Congress of Anaesthesiologists in Hong Kong this past August. NPLD-GHI's efforts and success at the Boa`an Maternal and Child Health Hospital in Shenzhen, China is showcased in this video. This hospital was specifically selected, as it is not only a hospital dedicated solely to the health needs of women and children, but also because it is a regional training center for thirty other hospitals in Guangdong province - located immediately north of Hong Kong.
The video highlights the 2012 NPLD-GHI Shenzhen team, which includes Stony Brook Medicine volunteers
Drs. Francis Stellaccio and Yuchen Liu
(a Stony Brook medical student at the time, who is now an CA-1 in our department).
Further details regarding the 2012 NPLD-GHI, as well as, trip reports for the 2011 and 2010 NPLD-GHIs to China can be found on our department's website in the Global Health Section.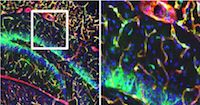 Noll E

, Diana M, Charles AL, Singh F,

Gan TJ

, Pottecher J, Moussallieh FM, Namer IJ, Geny B, Diemunsch P. Comparative analysis of resuscitation using human serum albumin and crystalloids or 130/0.4 hydroxyethyl starch and crystalloids on skeletal muscle metabolic profile during experimental haemorrhagic shock in swine: A pilot study.

Eur J Anaesthesiol. 2016 Oct 27

Licht T, Rothe G, Kreisel T, Wolf B, Benny O, Rooney AG, Ffrench-Constant C,

Enikolopov G

, Keshet E. VEGF preconditioning leads to stem cell remodeling and attenuates age-related decay of adult hippocampal neurogenesis.

Proc Natl Acad Sci U S A. 2016 Nov 14

Bennett-Guerrero E

, Lockhart EL, Bandarenko N, Campbell ML, Natoli MJ, Jamnik VK, Carter TR, Moon RE. A randomized controlled pilot study of VO2 max testing: a potential model for measuring relative in vivo efficacy of different red blood cell products..

Transfusion. 2016 Nov 23

James P. Dilger, PhD
EGOTIST, n. A person of low taste, more interested in himself than in me. - Ambrose Bierce, the Devil's Dictionary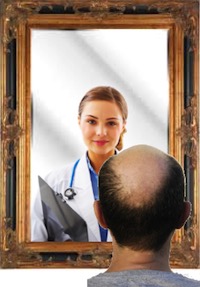 It is so easy to become an egotist these days. In the past few months, people (or bots?) from cyberspace have been busy bestowing upon me much unexpected kudos! It's getting to the point where I do not recognize myself. A sampling. A few months ago I was nominated for the "America's Best Physicians" directory. They cited my "exceptionally high patient reviews" (hmmm... high scores or high patients?) and my "full-time practice with over 4 years of experience". People who know me, know that I am not a clinician. People in the department who "know of" me, may have noted my absence from clinical areas while wearing scrubs. People who can read, note that there is PhD but not MD, DO or any other medical degree after my name. But the clinical awards just keep on coming. Just the other day, I was nominated for a "Best in Health Care" award by the American Health Council. I'm a little bummed out that it's only a nomination, but if I end up being among the "100 Best Healthcare Professionals in New York", jealousy in the department will run as thick as jello.
I'm not sure how I feel about mentioning this next award; it's a bit personal. My membership in the International Women's Leadership Association was pre-accepted! This group cited my "stellar reputation in networking sites such as Twitter, Facebook and LinkedIn". (Of the three, I have only a Twitter account and my rare posts are more nutty than networky). I won't go into detail, but unlike Helen Reddy, I am NOT woman! And c'mon bot! In 1990 (the latest year for which I could find US Census Bureau data), there were 4.8 million males with the first name "James" and (surprisingly) 15,000 females. The odds of a woman "James" are only 0.3%; surely you could have filtered this out.
And so I wonder. Are there actually doctors and other professionals who are so vain as to think that these "recognitions" are real? But then I remember my father's sage words: "half of the practicing doctors graduated in the lower 50% of their medical school class!" (Feel free to substitute another profession if and when the occasion merits). I understand how people in despair might be taken in by such scams, but ... Oh, well.
Beware of smokescreens, mirrors and faux-toshop! They're not only in my inbox!

James P. Dilger, PhD
I scored a personal best with last month's campus photo by stumping the family of
Dr. Deborah Richman
! These seasoned explorers, particularly Biking Ben, frequently make SBU campus excursions. I have a feeling that they will stump me some day. By the way, the
Piano Steps
are at the entrance to Tabler Quad, across from Engineering Drive. The
project of painting the steps
was conceived by students and the painting was done by students.
This month's challenge is below. You may recognize the location depicted by the mural, but where is the mural? Hint: it is in the basement of a building. Good luck!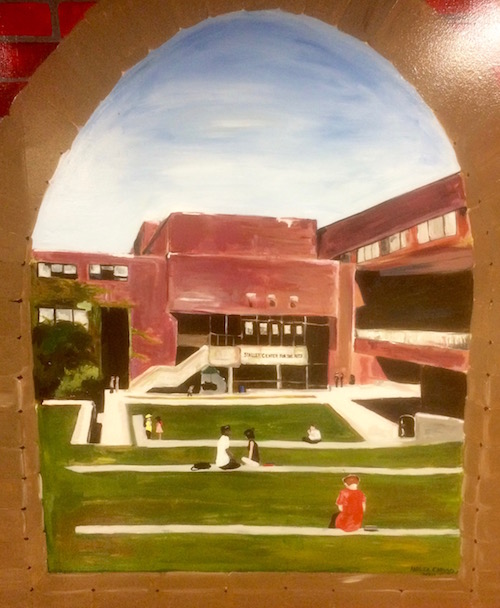 Shivam Shodhan, MD
In observance and celebration of Diwali, the annual Hindu festival of lights, much of the NYC and Long Island community got together to put on a show with youth performances.
Diwali Stony Brook
began as an opportunity to provide our children with a platform to showcase their cultural talent, and further instill their cultural roots. The event has been established and organized by none other than our beloved
Dr. Srinivas Pentyala
!
This year marked the 9th year of the Diwali Stony Brook event. It was the largest thus far with over 150 kids performing! In fact, since its inception, more than 1200 kids have graced the stage and made the community feel proud of what they have accomplished. From the youngest child at three years of age to the graduating seniors, everyone did a marvelous job!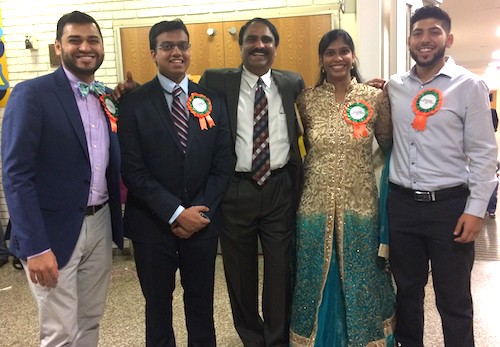 The event is completely run by volunteers, and this year we had a good turn out with the help from our department members as pictured. Next year, 2017, will mark a special 10 year anniversary for the Diwali Stony Brook, and the planning has already begun to make it the biggest celebration thus far!
Please check out the 2016 Diwali Stony Brook
Website
,
Videos
,
Photos
!

Shivam Shodhan, MD
Let's all kick off the holiday season this year with observance and celebration of the
National Cookie Day
this weekend on
December 4th
!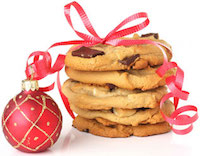 From tulips to windmills, the Dutch heavily impacted society, but their greatest contribution might possibly be the word: cookie. See, our English word "cookie" is actually originally derived from the Dutch word "koekje" which means little cake. Of note, outside of America, cookies are most often referred to as biscuits. History shows that the first cookie came to existence around the 7th century in Persia as the introduction of sugar to the region had been not long before. In the journey of their conquest of Spain, the dessert was spread throughout Europe. By the 17th century, cookies had arrived to America! Originally the macaroons and gingerbread cookies were the most popular ones amongst Americans. However nowadays, chocolate chip cookies top of the list of the desserts that we bake and consume most. In fact, a national survey found that
Americans eat an average 18,928 cookies in a lifetime!!!
That's about one cookie every single day from the age of 18 to 70--and remember we're not even counting all the cookies we ate as a kid!
Be sure to whip up or pick up a delicious set of cookies to enjoy this weekend!
What's your favorite cookie?!
#NationalCookieDay

SleepTalker, the Stony Brook Anesthesiology Newsletter is published by the Department of Anesthesiology
Stony Brook Medicine, Stony Brook, NY
Tong Joo Gan, M.D., Chairman
Editorial Board: James P. Dilger, Ph.D.; Stephen A. Vitkun, M.D., M.B.A., Ph.D.; Marisa Barone-Citrano, M.A.; Shivam Shodhan, M.D.