Paul J. Poppers, MD - June 30, 1929 – June 10, 2019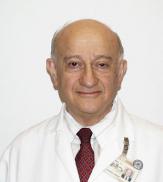 With deep regrets we report the passing of Dr. Paul J. Poppers at the age of 89. Paul Poppers came to Stony Brook Hospital in 1979 as the founding chair of the Department of Anesthesiology. At that time, he decided to emphasize all three aspects of an academic department: clinical care, teaching, and research.
Paul was born in the Netherlands where he received his BS degree in 1949. He graduated with a medical degree in 1955 from the University of Amsterdam. He completed his internship in 1959 from Brookdale Hospital and his residency in Anesthesiology from Columbia Presbyterian in 1961.
Prior to starting the Anesthesiology Department at Stony Brook, Paul served as the PGA General Chair for the NYSSA from 1977-79. He is also a lifetime fellow of the New York Academy of Medicine.
In 1989, when the department celebrated its 10th anniversary, the department had grown under Dr. Poppers' leadership to 34 clinical faculty members, 37 residents, and four basic scientists with NIH-funded ongoing research.
In 1999, after 20 years, Dr. Poppers retired as the chair of the department. The family asks that in lieu of flowers, contributions can be made to the Chabad of Stony Brook.
Welcome
This is an exciting time for anesthesia as well as the Department of Anesthesiology at Stony Brook University. Anesthesia as a specialty continues to expand beyond the confines of the operating room.
[full message]
Tong Joo (TJ) Gan, MD, MHS, FRCA, MBA, Chairman.
Healthgrades report
Stony Brook University Hospital has been named one of "America's 100 Best Hospitals™" for 2019, according to a national report by
Healthgrades
– the first organization in the country to rate hospitals based on actual clinical outcomes. [
Read more
]
Recent News
Contact Us