Stony Brook Anesthesiology Responds to the Coronavirus Crisis!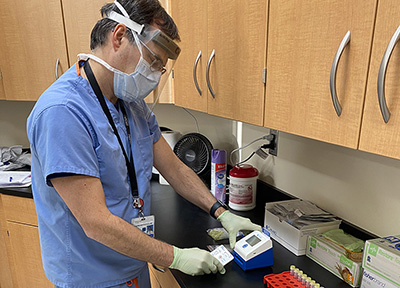 Volunteers Needed to Donate Blood Plasma to Help Those with Severe Coronavirus
As part of a research study to determine if blood plasma from people who have recovered from COVID-19 can help treat hospitalized patients with active COVID-19 infection,
Dr. Elliott Bennett-Guerrero
and his colleagues are collecting the convalescent serum (blood plasma) to use in an experimental treatment strategy in those battling the disease. [
Read more
] [
Blood plasma donation application website
]
Engineering a New Ventilator
Dr. Christopher Page
and colleagues from the College of Engineering and Applied Sciences, Renaissance School of Medicine and School of Health Technology and Management designed, built, tested and refined a new ventilator over the course of 10 days in response to the COVID-19 crisis. [
Read more
]
Stony Brook Anesthesiology Video
Welcome
This is an exciting time for anesthesia as well as the Department of Anesthesiology at Stony Brook University. Anesthesia as a specialty continues to expand beyond the confines of the operating room.
[full message]
Tong Joo (TJ) Gan, MD, MHS, FRCA, MBA, Chairman.
Healthgrades report
Stony Brook University Hospital has been named one of "America's 100 Best Hospitals™" for 2019, according to a national report by
Healthgrades
– the first organization in the country to rate hospitals based on actual clinical outcomes. [
Read more
]
Recent News
Contact Us