The 'New Kid on the Block' in the Department of Anesthesiology is the Division of Non-Operating Room Anesthesia. Traditionally, anesthesiology services have been provided in the safe environs of the hospital operating rooms. However, in recent years there has been a paradigm shift towards more minimally or non-invasive procedures (both therapeutic and diagnostic) being done outside of the OR. Our department has responded by creating a Division that specializes in the care of these patients. We have a group of dedicated faculty who work as part of a multidisciplinary team in tandem with the proceduralists to provide the highest quality patient care and satisfaction outside of the operating rooms. For our anesthesiologists, patient safety undoubtedly takes the top priority!

NORA services are provided at the recently renovated state-of-the-art six-room Interventional Advanced Endoscopy/ Bronchoscopy Suite, two Electrophysiology procedure rooms, a TEE Lab and four Radiology interventional procedure rooms. In addition, we perform services for ECT and Radiation Oncology. The NORA Division is keeping up with the challenge presented by the advances in technology and the increases in the complexity of these interventional procedures. With more than 8,000 procedures performed in the endoscopy center, one of the busiest Electrophysiology services in NY and hundreds of interventional radiology procedures per year, off-site anesthesia services are in high demand and will continue to expand.


Division Members
Residency Training
With the recent mandatory introduction of a two week NORA rotation for residents last July, we have introduced an exceptional quality educational curriculum that includes lectures and exposure to a wide variety of cases. Our patient population is diverse. During the course of a day you may be taking care of a healthy ASA 1 patient getting a screening colonoscopy or an ASA 4 patient getting therapeutic tracheal or biliary stent for inoperable obstructive cancers! We certainly have our share of difficult airways and other challenging cases with advanced GI/Pulmonary and interventional cardiology procedures. During this rotation you will learn how to provide safe anesthesia with cultural and operational barriers that exist in such seemingly far off places. And once the residency is over, and your first assignment as a brand new attending is in the EP lab, you will certainly be the one and only confident anesthesiologist who has 'been there, done that'!
Recent Division Activity
| | | |
| --- | --- | --- |
| Dr. Stellaccio at the 2017 PGA Meeting | | Resident Dr. Wetcher and Prof. Lin at the 2017 PGA Meeting |
Recent Publications
Resident authors denoted by bold type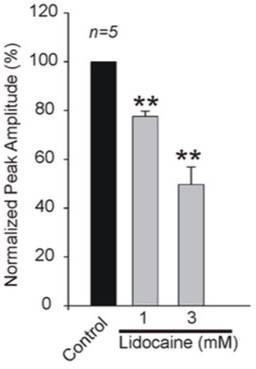 Lin J

. Substance Abuse. In: Chestnut Anesthesia Principles and Practice, Chinese Translation, 5th Edition (People's Medical Publishing House, Beijing).
Leng T, Lin S, Xiong Z,

Lin J

. Lidocaine suppresses glioma cell proliferation by inhibiting TRPM7 channels. Int J Physiol Pathophysiol Pharmacol. 2017 Apr 15;9(2):8-15.

Lin J

, Xiong ZG. TRPM7 is a unique target for therapeutic intervention of stroke. Int J Physiol Pathophysiol Pharmacol. 2017 Dec 25;9(6):211-216.
Li R, Xiao C, Liu H, Huang Y, Dilger JP,

Lin J

. Effects of local anesthetics on breast cancer cell viability and migration. BMC Cancer. 2018 Jun 19;18(1):666.
Li R, Liu H, Dilger JP,

Lin J

. Effect of propofol on breast cancer cell, the immune system, and patient outcome. BMC Anesthesiol. 2018 Jun 26;18(1):77.
Cai ZY, Hu LQ,

Stellaccio FS

, Wang DX. Recognizing the Chinese Pioneer of Neuraxial Labor Analgesia: Dr Guang-Bo Zhang and Her Unpublished Manuscript From More Than a Half-Century Ago. Anesth Analg. 2018 Oct 8.
Recent Presentations
Hu LQ, Cai ZY, Wang DX,

Stellaccio F

, Qu Y. Rediscovering the Chinese pioneer of epidural labor analgesia, Dr. Guang¬Bo Zhang (张光波), and her unpublished manuscript completed more than a half-century ago. SOAP 2017

Georges R

, Schabel J,

Wang M

. Convulsive Syncope vs Eclampsia. ASA 2017

Wetcher A, Bacon J

, Azim S,

Beg T

. Pulmonary and Brain Fat Embolism Syndrome. PGA 2017

Stellaccio F

. How many Basal Cell Carcinomas do you have!?-Gorlin Syndrome. PGA 2017

Fleischer L

, Richman DC,

Brown A

. 23 And You: How Genetics Can Impact Your Anesthetic and Your Life. Perioperative Medicine Summit Fort Lauderdale FL Mar 2018
Li R, Li M, Liu H, Huang Y, Dilger JP,

Lin J

. Comparing Volatile and Intravenous Anesthetics in a Mouse Model of Breast Cancer Metastasis. American Assoc for Cancer Research meeting, April 2018

Georges R

, Schabel J,

Wang M

. Convulsive Syncope vs Eclampsia. ASA 2017