We invite our Alumni to keep up-to-date on what is happening at Stony Brook Anesthesiology.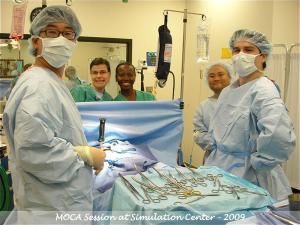 Dr. Christopher Gallagher organized the first ASA-endorsed Maintenance of Certification in Anesthesiology (MOCA®) program in simulation in 2009. The Center for Clinical Simulation and Patient Safety at Stony Brook Medicine offers one day simulation training courses in anesthesia crisis management. We are approved by the American Society of Anesthesiologist's (ASA) Committee on Simulation Education to provide simulation training for ABA Diplomates seeking to fulfill their Practice Performance Assessment and Improvement (PPAI) requirement for MOCA®. Please consult the ABA website, www.theABA.org, for a list of all other MOCA® requirements.

For more information, contact Joan Claeson at (631)-444-2904
or visit the Clinical Skills Center website.



MOCA® and Maintenance of Certification in Anesthesiology Program® are registered trademarks of The American Board of Anesthesiology, Inc.



Alumni Reception at PGA 2018


The 3rd Annual Alumni Reception was held on the day of Santacon, as usual! No Santa's visited us, but we did see some faces we hadn't seen in quite some time. Our pianist not only provided background music during the event, but also led us in a Holiday Sing-Along. Steve Vitkun again asked questions to the attendees for prizes. This year, the questions were not so easily answered with Google!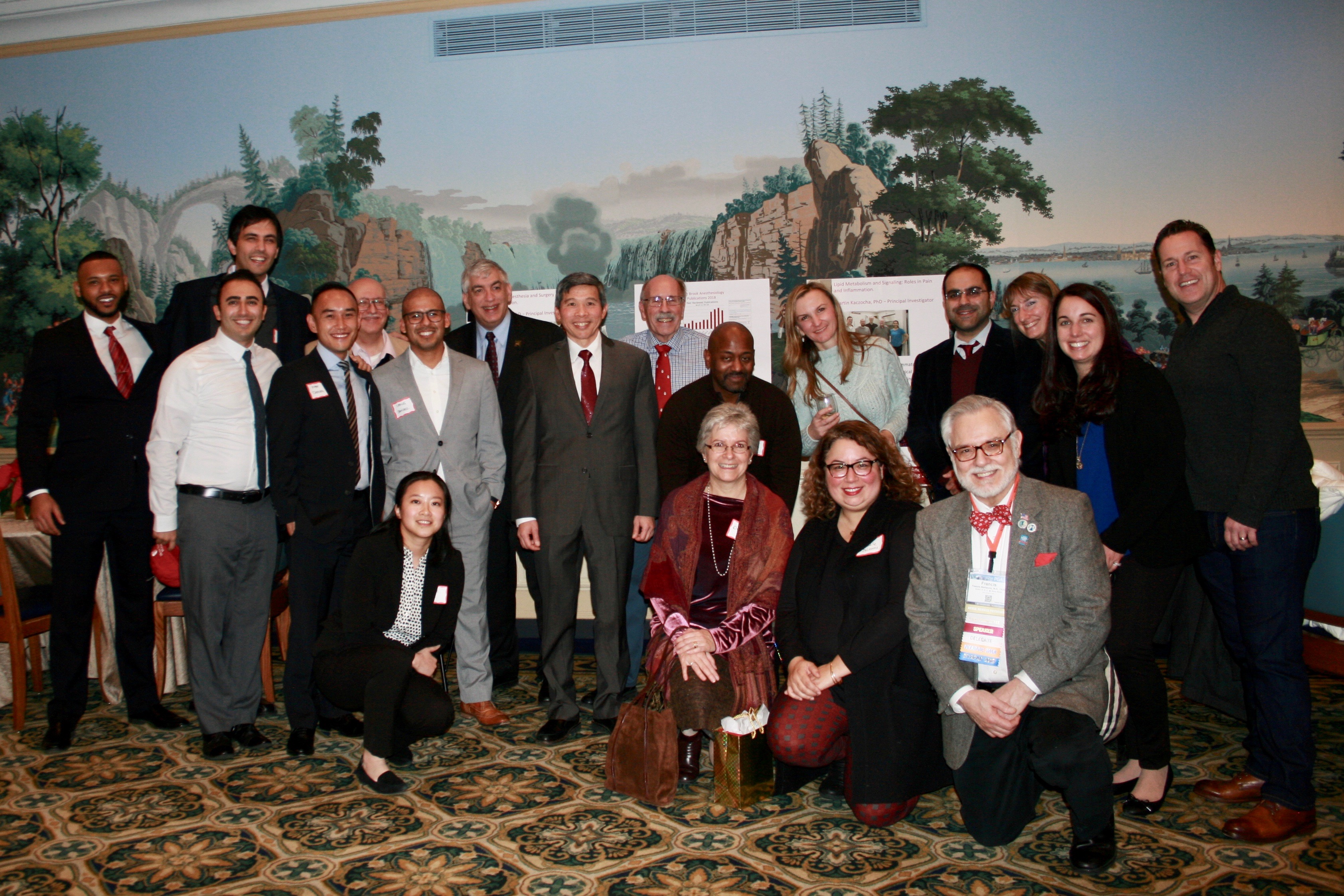 Alumni Reception at PGA 2017


The 2nd Annual Alumni Reception was held on the snowy Saturday evening during the PGA. About 60 former and current members of the department gathered for food, wine, beer and memories. This year, we were treated to pleasant background piano music during the event. Our department's research successes were illustrated by a series of posters displayed around the room. Dr. TJ Gan spoke on the highlights of 2017 for the department. Dr. Stephen Vitkun quizzed the group with anesthesia history-related questions and awarded prizes to those with good memories (or rapid googling skills). Friendships were renewed, contacts were exchanged and a good time was had by all!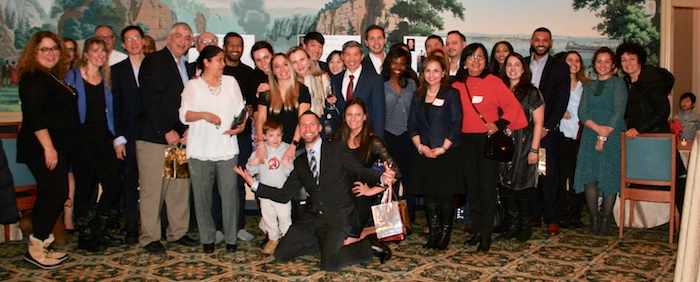 Alumni Reception at PGA 2016


On Saturday Dec 11, 2016 Dr. Gan hosted a

Departmental Alumni Reception

at the Yale Club in New York City. The event was well attended by both resident and faculty alumni. The venue worked very well and everyone had a good time. It was nice to catch up with many colleagues, and to appreciate the how many residents and attendings have been affiliated with Stony Brook Anesthesiology over the past 37 years!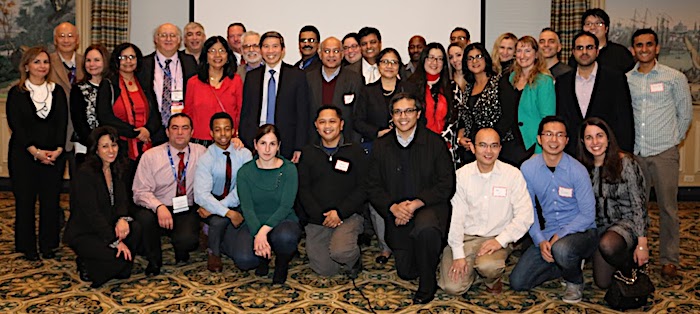 Name

Current Position

Demetri Adrahtas, M.D.
Adult Cardiac Anesthesia Fellowship, Rutgers Medical Center, Newark NJ
Antanique Brown, M.D.
Anesthesia Practice, Mountainside Hospital, Montclair, NJ
Joseph Caballero, M.D.
Anesthesia Practice, Northport VA Hospital
Tinsae Demissie, M.D.
Anesthesia Practice, Houston, TX
Diana Escobar, M.D.
Saint John's Health Center, Santa Monica, CA
Michael Khalili, M.D.
Pain Fellowship, Columbia University Medical Center
Justina Lekhraj, M.D.
Anesthesia Practice, Hackensack University Medical Center
Yuchen Liu, M.D.
Anesthesia Practice, Walnut Creek, California
Sana Na Javeed, M.D.
Anesthesia Critical Care Fellowship, Cornell
Andie Smestad, M.D.
Anesthesia Practice, Hackensack University Medical Center
Gina Chen, D.D.S.
Private Practice in Northeastern Pennsylvania
Ryan Cheung, D.D.S.
Private Practice for mobile anesthesia group in San Francisco Area





Name

Current Position

Adrian Fischl, M.D.
Cardiac Fellowship, Penn State
Ricardo Georges, M.D.
Pain Fellowship, Bay State Health
Betty Hua, M.D.
Huntington Hospital
Jeff Josma, M.D.
Pain Management Fellowship, Texas Tech University
Kseniya Khmara, M.D.
Pediatric Anesthesiology Fellowship, University of Colorado
Ethan Kim, M.D.
Cardiac Anesthesiology Fellowship, University of Southern California
Anupam Sharma, M.D.
Pain Medicine Fellowship, Cedars-Sinai Medical Center, Los Angeles
Justin Smith, M.D.
Private Practice, New Jersey
Richard Thalappillil, M.D.
Cardiac Anesthesia Fellowship: Tufts Medical Center
Minxi Weng, M.D.
Private Practice, Queens, NY
Jonathan Bacon, D.D.S.
Howard University College of Dentistry
Tyler Tomkinson, D.M.D.
Private Practice, Arizona
Hasan Zia, D.D.S.
Private Practice, Texas





Name

Current Position

Eldhose Abrahams, M.D.
Pain Medicine Fellowship, Emory University

Alina Fradlis, M.D.
Private Practice, Huntington, NY

Aylin Gonzalez, M.D.
Private Practice, Miami, FL

Mikhail Kagan, M.D.

Pediatric Anesthesiology Fellowship, St. Christopher's Hospital for Children, Drexel University College of Medicine

Scott Licata, M.D.

Pediatric Anesthesiology Fellowship, Children's Hospital of Pittsburgh, University of Pittsburgh Medical Center

Rey Llenes, M.D.

Private Practice, Fort Lauderdale, FL

Jonathan Moy, M.D.

Private Practice, Hoboken, NJ

Nehul Patel, M.D.

Pediatric Anesthesia Fellowship:
University of Michigan

David Soohoo, M.D.

Private Practice, Huntington, NY

Jonathan Bancroft, D.M.D.

Private Practice, Texas

Jason Park, D.M.D.

Private Practice, Edmonton, Canada

David Pfeffer, D.D.S.

Stony Brook Dental School

Greg Walton, D.M.D.

Private Practice, Texas






Name

Current Position

Alan Caces, M.D.
Morris Anesthesia Group, Denville, NJ

Brian Cho, M.D.
Long Island Anesthesia Physicians, John T. Mather Memorial Hospital

Kevin Lee, M.D.
Long Island Anesthesia Physicians, John T. Mather Memorial Hospital

Roger Moon, M.D.

Pain Medicine Fellowship: Cedars-Sinai Hospital

Rosanna Nunziata, M.D.

Pediatric Anesthesia Fellowship: Yale School of Medicine

Aimee Pak, M.D.

Acute Pain Management and Regional Anesthesia Fellowship:
Massachusetts General Hospital at Harvard Medical School

Alexander Praslick, M.D.

Pediatric Anesthesia Fellowship: Children's Hospital of Pittsburgh

Jason Pollack, M.D.

Pediatric Anesthesia Fellowship:
Monroe Carell Jr. Children's Hospital at Vanderbilt University

Samir Shah, M.D.

Morris Anesthesia Group, Denville, NJ

Malwina Wloch, M.D.

Winthrop University Hospital

Kevin Dincher, D.D.S.

Private Practice, Pennsylvania

Brandon Fitzgerald, D.D.S.

Private Practice, East Coast

Shelly Levln, D.D.S.

Private Practice, Florida

Breanna Weiland, D.D.S.

Private Practice, Pennsylvania




Name

Current Position

Daniel Brezina, M.D.
Pediatric fellowship. Case Western Reserve University, Cleveland, OH
Siddharth Dave, M.D.
Critical care fellowship. Vanderbilt University, Nashville, TN
Eric DeVeaux, M.D.
Private practice. New Jersey
Carol Eisenstat, M.D.
Private practice. New Jersey
Beata Evans, M.D.
Pediatric fellowship. Case Western Reserve University, Cleveland, OH
Ahmed Haque, M.D.
Chronic Pain fellowship. University of Vermont
Brett Moses, M.D.
Pediatric fellowship. University of Pittsburgh
Sherwin Park, M.D.
Stony Brook faculty
Julia Sverdlova, M.D.
Private Practice, Suffolk County, NY
Vassilios Tsafos, M.D.
Morris Anesthesia Group (private practice in NJ)
Isabel Wu, M.D.
UT Southwestern Medical Center
Michael Alanes, D.D.S.

Teaching & Private Practice, California

Yuen Hu, D.D.S.

Teaching & Private Practice, California

Lily Wu, D.D.S.

Teaching & Private Practice, Massachusetts




Name

Current Position

Wesam Andraous, M.B., Ch.B.
Stony Brook Faculty
Diana Besleaga, M.D.
Pain Fellowship, Wake Forest University
Katherine Chiu, M.D.
Pediatric Anesthesia Fellowship, UCLA
Chinedum Enyinna, M.D.
Mount Kisco, NY

Catherine Gruffi, M.D.
Pediatric Anesthesia Fellowship, University of Michigan
Samantha Joseph, M.D.
Brooklyn, NY
Eugene Kim, M.D.
Pediatric Pain Fellowship, Cincinnati Children's Hospital
Ryan Marcelino, M.D.
Pediatric Anesthesia Fellowship, Children's Hospital of Pittsburgh
Usman Shah, M.D.
Pediatric Anesthesia Fellowship, Children's Hospital of Pittsburgh
Christopher Tam, M.D.
Pediatric Anesthesia Fellowship, Children's Hospital of Pittsburgh
Meng Wang, M.D.
Stony Brook Faculty
Ashley Catalano, D.D.S.

Private Practice, Pennsylvania

Mitchell Duckworth, D.D.S.

Private Practice, Montana

Hadi Nassar, D.D.S.

Private Practice, California

Jon Wong, D.D.S.

Private Practice, Virginia




Name

Current Position

Sherin Azmy, M.B., Ch.B.
University of Pittsburgh, Pittsburgh, PA. Acute Pain Fellowship
Ylena Babenko, M.D.
Brooklyn, NY. Private Practice
Anjali Dogra, M.D.
Johns Hopkins, Baltimore, MD. Critical Care Fellowship
Qiao Guo, M.D.
Stony Brook Faculty at VA Medical Center, Northport
Thomas Helsby, M.D.
Modesto, CA
Mark Kim, M.D.
Thomas Jefferson University Hospital, Philadelphia, PA
Sang Le, M.D.
Children's Hospital of Los Angeles, Los Angeles, CA. Pediatric Fellowship
Hadi Moten, M.D.
Mount Sinai, New York, NY. Pain Fellowship
John Nguyen, M.D.
St. Anthony's Hospital, St. Petersburg, FL.
Jonathan Tan, M.D.
Pittsburgh Children's Hospital, Pittsburgh, PA. Pediatric Fellowship
William Vuong, M.D.
Stony Brook Faculty
Andrea Bell, D.D.S.

Teaching, Illinois

Jennifer Hays, D.D.S.

Private Practice, California

Jason Joseph, D.D.S.

Private Practice, New York

Mohit Sharda, D.D.S.

Private Practice, Texas




Name

Current Position

Erin Brown, MD
Oregon Anesthesiology Group, Portland, OR
Jason Cordero, MD
Flushing Hospital Medical Center, Flushing, NY
Christine Curcio, MD
University of Michigan's Mott's Children's Hospital, Peds Anesthesia Fellowship
Robert Eldridge, MD
Washington University, St. Louis, MO, Critical Care Fellowship
Asher Emanuel, MD
Children's Hospital Of Los Angeles, Peds Anesthesia Fellowship
Crista-Gaye Foster, MD
Cornell, Pain Fellowship
Robert Kyureghian, MD
Cornell, Pain Fellowship
Victor Milloul, MD
South Nassau Communities Hospital, Oceanside, NY
Arjun Reddy, MD


Rebecca Sangster, MD
Children's Hospital of Los Angeles, Peds Anesthesia Fellowship; Allied Anesthesia Medical Group, Santa Ana, CA
Kevin Croft, D.D.S.

Teaching and Private Practice, Utah

Timothy Orr, D.D.S.

Private Practice, Texas

Stephanie Rashewsky, D.D.S.

Specialized in Pediatric Dentistry, Michigan

Matthew Yezersky, D.D.S.

Private Practice, Tennessee






Name

Current Position

Dominick Coleman, MD
Valhalla Medical Center
Joseph Conrad, MD
Northport VA Medical Center
Kathleen Dubrow, MD
Cleveland Clinic, Pediatric Anesthesiology fellowship
Sofia Geralemou, MD
Stony Brook Faculty
Cherrie Jose, MD
Greater Houston Anesthesiology Group
Anna Kogan, DO
Stony Brook Faculty
Michael Mondloch, MD
Helena, Montana
Matthew Neal, MD
Thomas Memorial Hospital, Charleston, West Virginia
Qazi Siddique, MD
North American Partners in Anesthesia, Melville, NY
Jonida Zeqo, MD
Pediatric Anesthesiology Fellowship, Arkansas Children's Hospital
Michael Austin, D.D.S.

Specialized in Pediatric Dentistry, West Coast

Lucy Park, D.D.S.

Private Practice, Texas

Rob Schiller, D.D.S.

Medical School, Anesthesia, Duke University

Bryan Waxman, D.D.S.

Private Practice, Toronto




Name

Current Position

Ramon Abola, MD
Stony Brook Faculty
Louis Y. Chun, MD
Surgical Services, Seattle, WA
Jason Daras, DO
Morris Anesthesia Group, Parsippany, NJ
Michelle DiGuglielmo, MD
Brookhaven Anesthesia, Islip, NY
Rany R. Makaryus, MD
Stony Brook Faculty
Khoa N. Nguyen, MD
Childrens Hospital, Pittsburgh, PA
Marco Palmieri, DO
Pain Fellowship, Mt. Sinai School of Medicine
Stony Brook Faculty
Andrew D. Rozbruch, DO
North American Partners in Anesthesia, Melville, NY
Todd A. Samter, MD
North American Partners in Anesthesia, Melville, NY
Shiena Sharma, MD
Mercy General Hospital, Sacramento, CA
Tate Montgomery, D.D.S.

Private Practice, Oklahoma

Jane Yi, D.D.S.

Private Practice, West Coast




Name

Current Position

James Bell, MD
Steve Chen, MD
Thomas Corrado, MD
Stony Brook Faculty
Ramtin Cohanim, MD
Los Angeles, CA
Vedan Djesevic, MD
North American Partners in Anesthesia, Melville, NY
Renata Kowal, MD
Stony Brook Faculty
Mathew Tito, MD
Stony Brook Faculty
Ming Tsang, MD
Misako Sakamaki, MD
University of Pennsylvania



Name

Current Position

Anshul Airen, MD
Princeton, NJ
Benjamin Greenberg, MD
University of Louisville School of Medicine, Louisville, KY
Kyungrok Kim, MD
Los Angeles, CA
Christian Martin, MD
Southside Hospital, Bay Shore, NY
Jeffrey Pan, MD
Guilford, CT
Igor Pikus, MD
Morris Anesthesia Group, Parsippany, NJ
Stephen Probst, MD
Stony Brook Faculty
Jessica Roman, MD
Review Washington Hospital Center, Washington, DC



Name

Current Position

Andres Bustos, MD
Valley Anesthesiology Consultants, Scottsdale, AZ
Robert Chavez, MD
Valley Anesthesiology Consultants, Scottsdale, AZ
Wai Gong Chin, MD
Long Island Anesthesiologists, West Islip, NY
John Coleman, MD
Christopher Collado, MD
Queens Physicians Assoc, Queens, NY
Michelle DeLemos, MD
Stony Brook Faculty
Myungsa Kang, MD
Chapel Hill, NC
Jian Lin, MD
Pompton Plains, NJ
David Lo, MD
Christopher Page, MD
Stony Brook Faculty
Maryam Rahimzadeh, DO
East End Anesthesiologists, Southampton, NY
Robert Trainer, DO



Name

Current Position

Jatinder Bhangoo, MD
Anesthesia Assoc/St Francis PC, Poughkeepsie, NY
Ashita Chandra, MD
Norwalk, CT
Hasan Khawaja, MD
Long Nguyen, MD
Seong Park, MD
Rakesh Patel, MD

Private Practice,

Long Island Anesthesiologists PLLC.

Craig Scannevin, MD
Jennifer Whittemore, DO
Keith Witt, DO



Name

Current Position

Kenneth Chua, MD
James Dana, MD
Brian Durkin, DO
Vidhata Malhotra, MD
Richard Melucci, MD
Milija Milic, MD
Brian Reilly, MD
Jerry Santos, MD
Kulwinder Sehmbey, MD



Name

Current Position

Tazeen Beg, MD
Stony Brook Faculty
Donghui Chen, MD
Qiping Chen, MD
Jonathan Edelman, MD
Igor Izrailtyan, MD
Stony Brook Faculty
Zvi Jacob, MD
Stony Brook Faculty
Lixin Liu, MD
Stony Brook Faculty
Paul Scarola, DO
Private Practice, Long Island Anesthesiologists PLLC.
Jairo Vedra, DO

Private Practice,

Long Island Anesthesiologists PLLC.



Aziz Wahab, MD
Eduard Yost, MD



Name

Current Position

Shiva Danda, MD
Denise Haberle-Kroog, MD
Sanjeev Kapuria, MD
Gazi Mohsin Shahid, MD
Magdy Yacoub, MD
Shao H. Yang, MD



Name

Current Position

Kalid Ahmad, MD
Dessislava Buchkova, MD
Dominique Deltor, MD
Abdel Aziz Gaber
Wei-Xing Guo, MD
Tolga Kapusuz, MD
Josette Legaspi Tamayo, MD
Gregory McNamara, MD
Madhumita Saikia, MD
Stony Brook Faculty at Northport VA
Mukul Singh, MD
Vasudha Viswanathan, MD



Name

Current Position

Harjinder Dhaliwal, MD
Sue Han, MD
Maher Ibraihim, MD
Bo Liu, MD
Jaffer Mobeen, MD
Daryn Moller, MD
Stony Brook Faculty
Michael Shaffer, MD