Overview
The Stony Brook Pain Fellowship, is a 12-month (August 1 - July 31), ACGME-accredited program that provides a comprehensive curriculum for training the next generation of leaders in Interventional Pain Medicine. Our mission is to provide future practitioners the knowledge and skills needed to practice compassionate independent pain medicine in either academic or private practice.
To incorporate a multi-modal approach to pain management, fellows will rotate with collaborating departments including Neurology, Psychiatry, Physical Medicine and Rehabilitation, Anesthesiology, and Palliative Care.
After completion of training, fellows will be eligible to take the American Board of Anesthesiology Pain Medicine boards, provided they are currently board-certified in their respective specialty.
Weekly Teaching
Fellows have protected weekly teaching time throughout the year, regardless of their clinical responsibilities.
Every Monday, Tuesday, and Thursday morning from 7:00 - 8:00 am, fellows will have weekly didactic sessions. A wide array of topics will be covered based ABA and ACGME objectives. Other topics during these days will be Journal Club, Board Review and Business Management.
During the other core rotations such as Neurology, Psychiatry, Physical Medicine and Rehabilitation, Anesthesiology, and Palliative Care, the didactic schedule may differ.
Every Wednesday morning from 7:00 - 8:00 am there is Anesthesiology Grand Rounds, which fellows are invited to attend.
Salary and Educational Allowance
Stony Brook Hospital Fellows receive a
salary according to their PGY status
.
Fellows are given a generous educational allowance to help support their learning. More information can be found on
Stony Brook's GME website
.
Conferences
Conferences We encourage our fellows to attend local and national conferences in order to meet other leaders in Pain Medicine. Some conferences that fellows may wish to attend are:
New York & New Jersey Societies of Interventional Pain Physicians' Pain Medicine Symposium
North American Neuromodulation Society Annual Meeting
American Society of Regional Anesthesia and Pain Medicine Annual Pain Medicine Meeting
American Academy of Pain Management Annual Meeting
Application
Our Pain Fellowship program participates in the National Resident Matching Program (NRMP) for fellowships. Applications are accepted only through the
Electronic Residency Application System (ERAS)
. Applications are accepted on ERAS from December 1 through April 15.
Program Director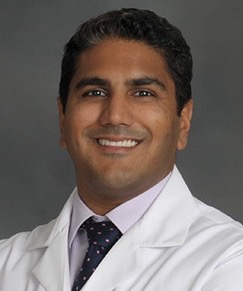 Amit K. Kaushal, MD
Assistant Professor of Clinical Anesthesiology
Program Director, Stony Brook Pain Medicine Fellowship
Department of Anesthesiology,
Renaissance School of Medicine,
Stony Brook University
Stony Brook, NY 11794-8480
Please email all pain fellowship queries to the Fellowship Coordinator,
Diane Towler at painfellowship@stonybrookmedicine.edu
Faculty
Current Fellows
2023-2024
Roman Patwary, DO
2023 Resident Graduate,
SUNY Downstate Department of Anesthesiology

2023-2024
Evan Cohen, DO
2023 Resident Graduate,
Johns Hopkins PM&R
Past Fellows
2022-2023
Elizabeth Watson, MD
2022 Resident Graduate,
Stony Brook Department of Anesthesiology
Additional Links
Sample Contract
Benefits Summary
Salary Scale