There are a few openings for 2023-SARAS. For registration materials:
E-mail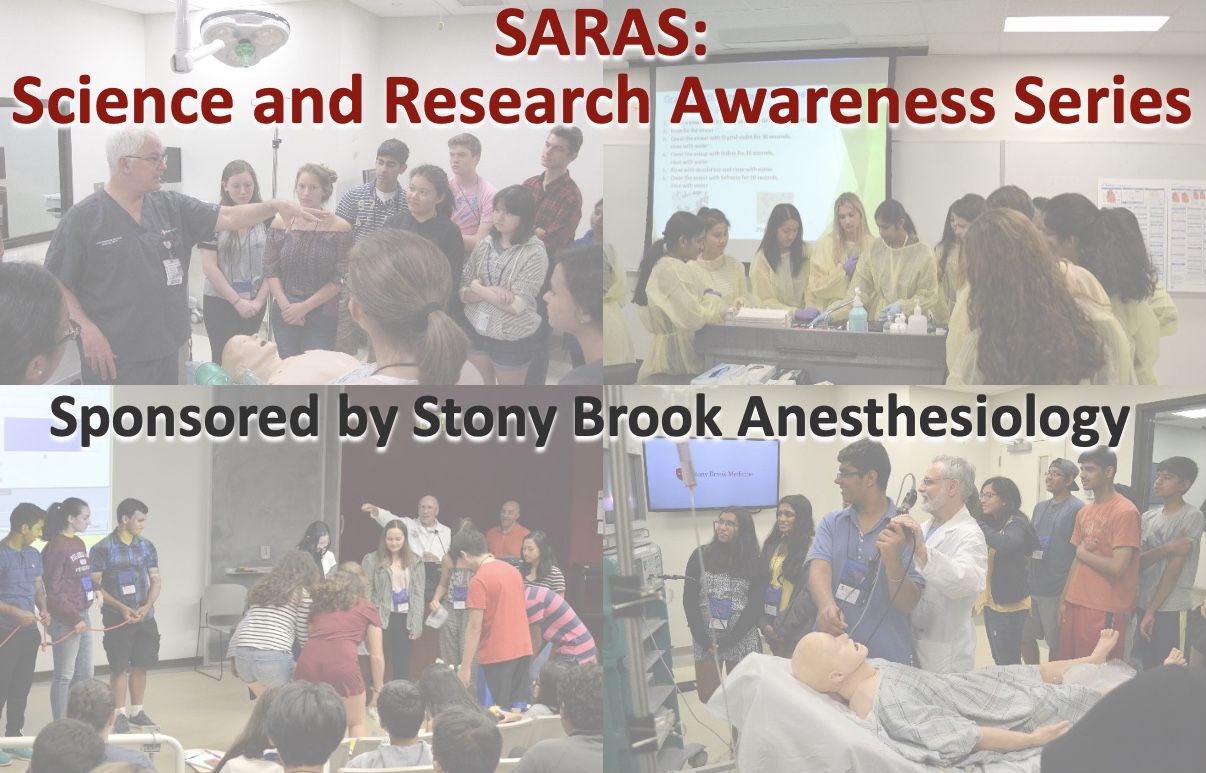 The latest information about SARAS 2023 - 19th Annual Event
The SARAS 2023 Reservation System is open with a few spots remaining. If you are interested, contact the director by E-mail .
Admission into the program is on a first-come first-serve basis.
Transcripts and reference letters are not needed.
Students must be in high school (must finish at least 9th grade by June 2023) or college to attend SARAS.
Following COVID safety guidelines from NY State and Stony Brook University/Hospital/Medical Center, 19th Annual SARAS will be organized as a full day (10:00 AM to 3:45 PM), In-person, commuter event, from July 10 to 28, 2023.
2023-SARAS is a commuter program. Regrettably, on-campus housing is NOT available.
All students must be fully vaccinated against COVID-19. Proof of COVID vaccination must be submitted along with the application form.
Special Bus service to and from the SARAS venue will be available to commuter students traveling by LIRR train at the Stony Brook LIRR train station. Eastbound Morning train arrives at Stony Brook LIRR train station at 9:12 AM and Westbound train departs Stony Brook LIRR station at 4:36 PM. (LIRR Train timings may subject to change in summer. SARAS Program timings will be modified as needed).
Students who are being driven to SARAS venue must be dropped at 9:45 AM and picked up at 3:50 PM in front of the venue (Venue will be either Stony Brook Hospital main entrance or MART Building entrance. (Venue will be decided soon)
Parking will not be provided to SARAS participants at the venue. There is only paid parking at the Hospital.
Lunch will be provided. (Lunch options are Veg and Non-Veg. No Special diets).
There is a non-refundable Program Fee of $900.
Parents/guardians must complete a Health Consent Form (providing emergency contact and health insurance info).
Students/parents must adhere to CDC/NY State/Stony Brook University mandated safety precautions and submit COVID safety consent form.
The SARAS 2023 program fee is $900.
If you have questions, please E-mail us.
Workshops, Lectures, Discussions & Expert's Views on Topics in Biomedical Sciences
Lab Safety Sessions leading to Certification to Work in a Research Lab
Exam prep sessions to get ready for SAT/ACT/MCAT
much, much more!
---
The 18
th
Annual SARAS was held as an In-person event with 110 students following CDC/NY State/ Stony Brook University/ Medical School/Hospital COVID-19 guidelines July 11-29, 2022
The 17
th
Annual SARAS was held as an In-person event limited to 60 students following CDC/NY State/ Stony Brook University/ Medical School/Hospital COVID-19 guidelines July 5-23, 2021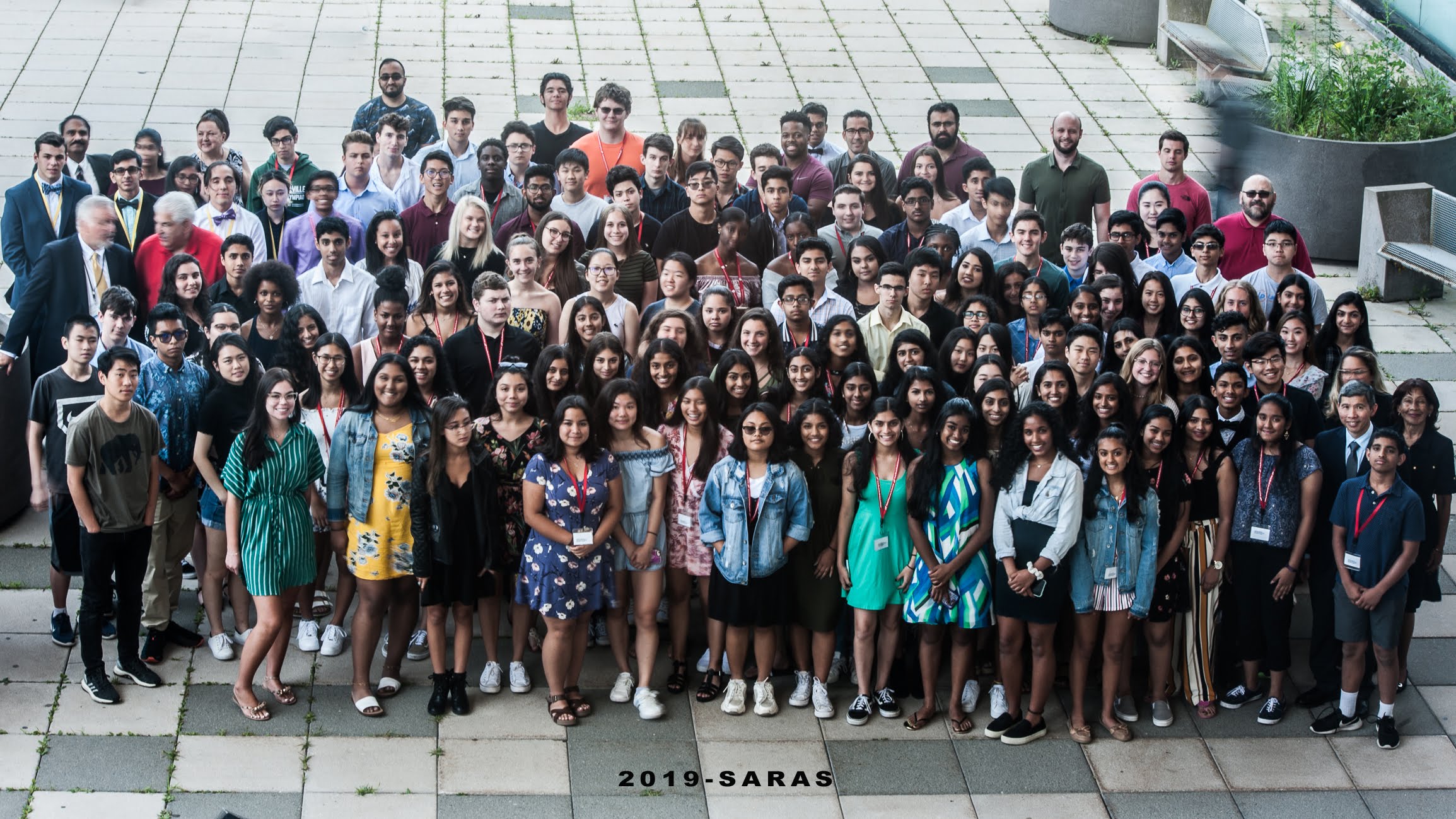 Group Photo from 2019 - SARAS attended by 120 students
---
▶

F

requently

A

sked

Q

uestions

W

hat is SARAS?

SARAS is a 3-week, summer program designed to heighten the awareness of High School and Undergraduate students in many aspects of Biomedical Science. The program has been offered since 2004.

W

here is SARAS held?

SARAS takes place in the Health Sciences Center at Stony Brook University.

W

hat will I learn by attending SARAS?

What you get out of SARAS depends on the effort you exert.
Read about the experiences of SARAS graduates on the Feedback page.
View photos and videos taken at SARAS over the years and see smiling, inquisitive students!

H

ow can I get more information about SARAS?
---
▶

P

hotos and

V

ideos










---
▶

F

eedback

Here's what SARAS graduates and their families have to say about the program