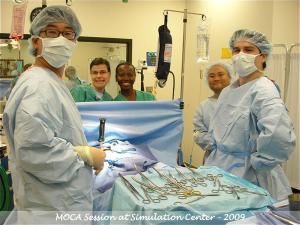 Dr. Christopher Gallagher organized the first ASA-endorsed Maintenance of Certification in Anesthesiology (MOCA®) program in simulation in 2009. The Center for Clinical Simulation and Patient Safety at Stony Brook Medicine offers one day simulation training courses in anesthesia crisis management. We are approved by the American Society of Anesthesiologist's (ASA) Committee on Simulation Education to provide simulation training for ABA Diplomates seeking to fulfill their Practice Performance Assessment and Improvement (PPAI) requirement for MOCA®. Please consult the ABA website, www.theABA.org, for a list of all other MOCA® requirements.
For more information, contact Joan Claeson at (631)-444-2904
or visit the Clinical Skills Center website.
MOCA® and Maintenance of Certification in Anesthesiology Program® are registered trademarks of The American Board of Anesthesiology, Inc.