Volunteers Needed to Donate Blood Plasma to Help Those with Severe Coronavirus
As part of a research study to determine if blood plasma from people who have recovered from COVID-19 can help treat hospitalized patients with active COVID-19 infection, Stony Brook researchers are collecting the convalescent serum (blood plasma) to use in an experimental treatment strategy in those battling the disease.
If you have recovered from COVID-19 and want to help others with the disease by donating your blood plasma, please visit: stonybrookmedicine.edu/COVID_donateplasma
Led by Elliott Bennett-Guerrero, MD, Medical Director, Perioperative Quality and Patient Safety and Professor and Vice Chair, Clinical Research and Innovation, Department of Anesthesiology at Stony Brook Medicine, the clinical trial is expected to enroll up to 500 patients who are hospitalized with COVID-19.
"All of our talented physician-researchers, nurses and entire medical staff are focused on identifying every pathway possible to help change the course of this devastating virus," said Kenneth Kaushansky, MD, MACP, Senior Vice President, Health Sciences and Dean, Renaissance School of Medicine at Stony Brook University. "Having a network of physician-scientists in place allows us to contribute on both a local and global scale to accelerate the fight against COVID-19 and save lives."
Fast-Tracking This Large-Scale Trial
The U.S. Food and Drug Administration (FDA) began allowing healthcare providers to request the use of convalescent plasma in patients with serious or immediately life-threatening COVID-19 infections on March 27. Less than a week later, on April 2, Stony Brook University Hospital received FDA approval to offer the treatment to its patients through a randomized, controlled study (the gold standard in research). The approval comes at a time when New York's coronavirus crisis deepens on Long Island.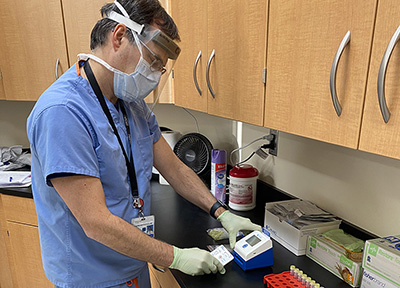 "We are fast-tracking this large-scale clinical trial, as every second counts when seeking lifesaving treatment for these critically ill patients," said Dr. Bennett-Guerrero. "The study will assess the safety and efficacy of convalescent plasma versus standard plasma in hospitalized adult patients with a confirmed COVID-19 diagnosis."
Maximizing the Opportunity of Benefit
To maximize the opportunity of benefit, 80 percent of patients enrolled in the trial will receive the convalescent plasma. Normally, clinical trials have a 50/50 split (50 percent with treatment and 50 percent in the control group).
Plasma is the almost clear liquid that remains after red and white blood cells and platelets are removed from the blood. It contains antibodies that can fight disease. In people who have had COVID-19, their blood plasma contains SARS-CoV-2 (the virus that causes COVID-19) antibodies.
"Plasma from someone who has recovered from COVID-19 contains antibodies that can potentially be used to kill the virus," said Dr. Bennett-Guerrero. "Transferring this antibody-rich plasma into someone who is still fighting the disease may give that person the antibodies needed to recover, which is especially important during the initial weeks of contracting the virus."
Seeking Solutions to Help Flatten the Curve and Save Lives Sooner
Convalescent plasma therapy is a century-old treatment that has been used in patients with varying results during the Spanish flu pandemic of 1918, the diphtheria epidemic in the U.S. in the 1920s and more recently, the Ebola outbreak in 2014.
A Journal of the American Medical Association study of the treatment shows promise from a team of Chinese scientists describing the use of convalescent plasma in five patients with COVID-19. Now, Stony Brook physician-researchers and researchers across the globe are looking to answer the question of whether this therapy can successfully help flatten the curve and save lives sooner than expected.
How Can You Help?
If you have recovered from COVID-19 and want to help others battling the disease by donating your blood plasma, please visit:
stonybrookmedicine.edu/COVID_donateplasma
After filling out the online survey, potentially eligible people will be asked to participate in a screening visit at a Stony Brook Medicine site. The screening visit will take approximately 30 minutes. You do not need to be a Stony Brook University Hospital patient to participate, but you must meet required criteria for plasma donation and have high levels of antibodies to the virus that causes COVID-19.
If eligible, the process for donating plasma is similar to donating blood and takes about one hour.