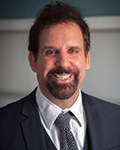 It is a pleasure to welcome you to our department. Everyone feels they are unique, as does every department, but having worked around the world I can confidently say Radiology at Stony Brook is unique.
We are one of the very few departments that is co-located within an exceptional university. Stony Brook has arguably the finest physics and mathematics departments in the world, with biomedical engineering not far behind. Many of the most important advances in imaging including the inventions of MR, CT colonoscopy, and computer aided image diagnosis were made here.
Chair's Welcome
---
Stony Brook Radiology Overview-
Based centrally on Long Island, Stony Brook Department of Radiology leverages cutting-edge diagnostic imaging and Interventional services to deliver personalized radiology. Our Board-Certified, specialized Radiologists train the next generation of Radiology experts from physicians, technologists, and research specialists to advance the science of medical imaging.
We provide comprehensive Radiology services, including PET/MRI, PET, ultrasound, the latest low-dose CT scanners, bone densitometry, Virtual CT Colonoscopy, lung cancer screening, breast imaging including mammography, whole breast ultrasound and breast tomosynthesis, as well as specialized imaging for pediatrics, for cancer and for neurodegenerative diseases such as Alzheimer's disease.