Chuan Huang, PhD, in collaboration with Neurology, received the Stanley Fahn Junior Faculty Award by the Parkinson's Foundation for "Imaging Cholinergic Biomarker of Cognitive Decline in Parkinson's Disease Dementia".
This study will be the first to use the novel PET tracer [18F]VAT to study PD patients with mild cognition impairment. Given that VAChT is a reliable biomarker for cholinergic neurons, it can be used to image the cholinergic deficits observed in PD and PD dementia patients. This will provide us with better understanding of the cholinergic pathophysiology in PD and PD dementia. The results from this study may reveal novel targets for intervention in the progression of PD-related cognitive impairment.
---
• Editor of a Special Issue for the Journal of Visual Computing for Industry, Biomedicine and Art on the topic of "Medical Imaging Modeling"
• Gave a Keynote Speech at the IEEE International Conference on Signal, Information and Data Processing. His speech was titled "DEEP TEXTURE ANALYSIS: An Answer to Why CNN Goes with Experts' Scores, not the Pathological Reports"
• He is now the Physics Subcommittee Chair of the Scientific Program of the Radiological Society of North America (RSNA)
---
Moses and Sylvia Greenfield Award
Dr. James Scheuermann, Adrian Howansky and Dr. Wei Zhao from Radiology received the Moses and Sylvia Greenfield Award for the best imaging paper published in the Journal of Medical Physics in 2018. Their paper entitled "Toward Scintillator High-Gain Avalanche Rushing Photoconductor Active Matrix Flat Panel Imager (SHARP-AMFPI): Initial Fabrication and Characterization," coauthored with collaborators from Japan and Canada, presents a novel prototype x-ray detector for radiation dose imaging. The award was presented to the authors at the American Association of Physicists in Medicine's annual meeting this year in San Antonino, TX on July 15, 2019.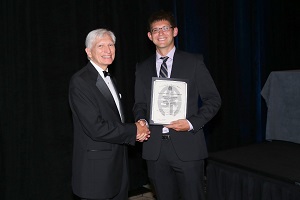 ---
Grand Rounds
Friday, August 16th, 2019
Topic: "Medical Malpractice"


Ben B. Rubinowitz, Esq.
Managing Partner
Gair, Gair, Conason, Rubinowitz,
Bloom, Hershenhorn, Steigman & Mackauf
New York, New York
Ben Rubinowitz is the Managing Partner of Gair, Gair, Conason, Rubinowitz, Bloom, Hershenhom, Steigman & Mackauf, one of the most well respected plaintitrs law firms in the country. To date, Ben has tried over 200 cases. Prior to joining his firm, Ben served as an Assistant District Attorney in Nassau County. During the entire time that Ben has been a lawyer, he has taught trial advocacy both nationally and internationally at law schools including Harvard, Yale, Cardozo, Hofstra, Emory, and Fordham as well as courses in Scotland and Japan. Ben has lectured to law students, lawyers, and physicians throughout the country on trial practice and medical malpractice and has participated in more than 500 CLE/CME lectures and programs. Ben serves on the Board of Directors for the National Institute for Trial Advocacy (NITA) and, in 2019, will be the Board Chair of NITA. Ben continues to support medical and legal organizations, law schools and pro bono activities.
---
Andrew LaBella is awarded the 2019 Valentin T. Jordanov Radiation Instrumentation Travel Grant.
Andy is the first author on all three papers accepted from Goldan Lab at the IEEE NSS/MIC conference in Manchester, UK. The papers cover topics ranging from our revolutionary and patented Prism-PET technology for ultra-high spatial resolution and ultra-high sensitivity TOF-DOI-Compton PET, to 100 ps TOF PET, and finally utilizing convolutional neural networks (CNNs) for enhanced 3D gamma-ray localization. For more information, please click here.
---
Former Radiology Chief Resident, Ammar Chaudhry, M.D., awarded $1 million for the ORIEN NOVA Grant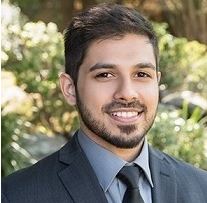 Ammar Chaudry, M.D., a resident in Diagnostic Radiology from 2011 to 2015, served as Educational Chief during his fourth year of resdiency at Stony Brook. He is the founder and director of City of Hope's Precision Imaging Lab. The grant will fund research on studying targeted cancer therapies. To read more, please click here.
---
Goldan Lab Lands ACS Photonics CoverPicosecond timing in an avalanche amorphous selenium semiconductor is achieved by implementing Nano-Frisch grids along the collecting electrode to form a multiwell structure. The induced photocurrent following optical impulse exposure is independent of carrier motion outside the wells resulting in unipolar time-differential charge sensing via extended-state hot hole transport. This is the first experimental report of avalanche gain and picosecond time-resolution using an amorphous semiconductor. Further analysis suggests we may be able to achieve sub-100 picosecond coincidence timing resolution in time-of-flight PET using our multiwell selenium semiconductor as the photodetector. For the Goldan Lab click here or ACS Publications click here.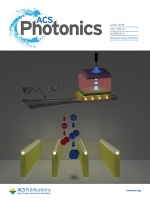 ---
Kenneth Ng receives Undergraduate Recognition Award
ECE undergraduate student, Kenneth Ng (on the right), has received a University Undergraduate Recognition Award
for his work in the laboratory of Professor Jerome Liang.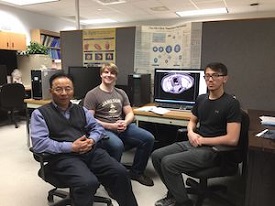 Please click here to learn more!
---
Dr. Chuan Huang elected to be the upcoming ISMRM PET/MRI Study Group Secretary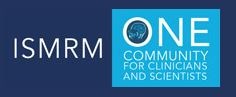 The merged International Society for Magnetic Resonance in Medicine is an international, nonprofit, scientific association whose purpose is to promote communication, research, development, and applications in the field of magnetic resonance in medicine and biology and other related topics and to develop and provide channels and facilities for continuing education in the field. Its multidisciplinary membership of over 6,000 consists of clinicians, physicists, engineers, biochemists, and technologists.
Dr. Chuan Huang will be a part of the governing committee to support the mission of research and development, evaluation, application, clinical integration, and new research opportunities made possible by simultaneous MR and PET imaging. Please click here to learn more.
---
12th Annual Women in Medicine Research Day
Stony Brook University School of Medicine, Wednesday, March 7, 2018
MRI study of Pediatric chemobrain
Medical Student Abstract Winner: Christine Cahaney (Radiology)
---
Stony Brook Radiology's High School Team consists of FOUR 2019 HS Valedictorians!
"You have set a very high bar for all those who will come after you. I feel very fortunate to have had the opportunity to work with all of you! Thank you to those who spent your past summer with us and to those who continue this school year working on projects, despite your very busy schedules." - Dr. Tim Duong
Amy Delury, Sachem North HS

Vincent Zhang, Sachem East HS

Joseph Bisulca, Half Hollow Hills HS West

Ankita Katukota, Comsewogue HS
---
Grand Rounds
Monday, February 4th 2019
Topic: "Radiological Approach to the Posterior Fossa and Pineal Region"
Steven Lev, M.D.
Department of Radiology
Acting Vice Chair, Director of Neuroradiology
Nassau University Medical Center
---
Regeneron Science Talent Search Winner
The Society for Science & the Public is proud to announce that Vincent Zhang (from Sachem High School) has been named a top 300 scholar in the 78th Regeneron Science Talent Search—the nation's oldest and most prestigious science and mathematics competition for high school seniors.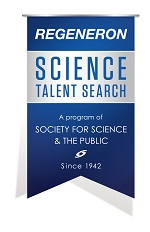 A listing of all 300 scholars can be found here. Almost 2,000 students entered the competition this year. Vincent Zhang's mentor is Tim Duong, PhD. Vincent Zhang will receive $2,000, and their school will also receive $2,000 to use toward STEM-related activities. Vincent Zhang could also be named as one of 40 Finalists, who each receive $25,000 and are invited to Washington, DC for the final competition in March. The top prize for the most promising emerging STEM leader in the United States is $250,000.
---