Jerome Zhengrong Liang, Ph.D.
• Professor of Radiology, Biomedical Engineering, Electric and Computer Engineering, and Computer Science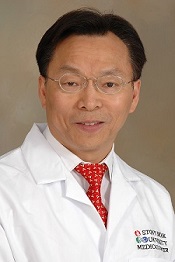 Education:
Post Doc

, Duke University, Durham, NC 

Fellow

, Albert Einstein College of Medicine, Bronx, NY

Ph.D.

Physics, City University of New York, NY

B.S.

 Modern Physics, Lanzhou University, Gansu, China
Honors:
Dr. Jerome Liang is Co-Director of Radiology Research, Professor of Radiology, Biomedical Engineering, Stony Brook Electrical and Computer Engineering, and Computer Science at Stony Brook University Renaissance School of Medicine.
In 2021, Professor Jerome Liang was elected by the conference committee to chair the 17th International Meeting on Fully 3D Image Reconstruction in Radiology and Nuclear Medicine, which is a bi-annual conference to be held in the summer of 2023 at Stony Brook University.
Over the years, Dr. Liang received multiple grants including "Advanced Virtual Colonoscopy for Early Cancer Screening" NIH/NCI Ro1 and "Radio genomics of Colorectal Polyps to Assess Benign Proliferative vs. Premalignant States."
Research Interest:
Low-dose computed tomography image reconstruction

Quantitative image reconstruction for single photon emission computed tomography

High resolution positron emission tomography image reconstruction

Segmentation of tissue mixtures from multi-spectral magnetic resonance images

Computer aided detection of abnormality and diagnosis on the detected abnormality

Development of virtual colonoscopy systems
Active Protocols:
IRB 93995-MODCR005 "Integrating Virtual and Optical Colonoscopies with Pathological Analysis to Map the Highly-heterogeneous Features of Colorectal Polyp Biomarkers" PI: Liang
IRB 92505-MODCR006 "Low-Dose Dynamic Computed Tomography
Honors:
1981

, China-US Physics Examination and Application Program (CUSPEA) Winner (Top 25 among 250,000 candidates.)

1990

, National Institutes of Health (NIH) First Investigator Award

1996

, American Heart Association (AHA) Established Investigator Award

1996

, Radiological Society of North America (RSNA) Certificate of Merit Award

2002

, State University of New York Chancellor's Entrepreneur Award "Whose invention has led to the startup of a company to commercialize the product"

2007

, IEEE Society Fellow, "for contributions to medical image reconstruction and virtual colonoscopy." 

2011

, 2012, SBU, BNL and CSHL Certificate of Excellence in Research and Invention

2013

, Stony Brook School of Medicine Award, for "Excellence in Translational Research."
Publications:
Please click

here

to see a full list of articles published by Dr. Liang on PubMed. 
Please click

here

to be redirected to Dr. Liang's Laboratory for Imaging Research and Informatics (IRIS) website
Contact Information:
Stony Brook Medicine
Department of Radiology
HSC Level 4, Room 120 
Stony Brook, NY 11794-8460
Phone:  631-444-7837
Fax: 631-444-6450
Email: Jerome.Liang@sunysb.edu