Program Director's Statement 
The Musculoskeletal (MSK) Radiology Fellowship at the State University of New York at Stony Brook is a one year full-time closely supervised training program at a designated Level 1 Trauma Center.  This program is accredited by the Accreditation Council for Graduate Medical Education (ACGME).  
Stony Brook GME website presents general information regarding postgraduate training at Stony Brook, https://renaissance.stonybrookmedicine.edu/gme, including an introductory video.   
MSK Fellowship Program Director's presentation can be found here. 

---
Overview 
Stony Brook University Hospital serves the entire Suffolk County of Long Island, and all major trauma and orthopedic oncologic cases come to our institution. Our program has a unique strength in that we can offer both academic hospital setting as well as community hospital and private practice setting for Fellow's training. Sports injury cases are abundantly provided through Stony Brook University athletes, while bread and butter routine outpatient MSK MRI's are offered through our community affiliated hospitals including Southampton and Eastern Long Island Hospital. Our outpatient imaging centers within Stony Brook as well as Commack and Hampton Bays (Riverhead is coming soon) also offer plenty of opportunities for the MSK fellow to expose themselves to outpatient MSK MRI and Ultrasound, as well as minimally invasive imaging guided MSK procedures. MSK fellow will also work with Interventional Radiology section for in-hospital IR procedures such as kyphoplasty, bone and bone marrow biopsy, soft tissue biopsy, radiofrequency ablation, etc. Overall, our program offers a well-rounded training environment which is often not possible in some of subspecialized inner-city hospitals. 
Currently, we accept one fellow per year through the Match. The curriculum has been developed to build upon the knowledge and skills learned during residency. The overall goal is for the fellow to become proficient in musculoskeletal radiology and procedures as well as adopt life long learning and self assessment skills. The fellow is able to pursue future positions in either an academic or private practice setting. Our graduates have gone on to successful academic and private practice careers. 
Thank you for your interest in our MSK Fellowship program and please do not hesitate to contact me or program coordinator if you have any questions.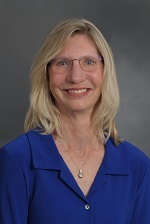 Kathleen Finzel, MD
Program Director 
MSK Radiology Fellowship Program 
State University of New York at Stony Brook
kathleen.finzel1@stonybrookmedicine.edu
---
MSK Fellowship Core Faculties:
Elaine Gould, MD FACR
Professor of Clinical Radiology and Orthopedic Surgery, Interim Chairman, MSK Section Chief

Kathleen Finzel, MD
Associate Professor of Clinical Radiology and Program Director, MSK Fellowship

Kevin Baker, MD
Assistant Professor of Clinical Radiology, Director of Residency Training, MSK Attending
John Ferretti, MD
Professor of Clinical Radiology and Surgery, Interventional Radiology Section Co-Chief 

Musa Mufti, MD
Assistant Professor of Clinical Radiology and MSK  Attending
Ms. Deborah Dabbene,  Program Coordinator MSK Fellowship
Ms. Linda Erickson, Program Coordinator MSK Fellowship

For further information please contact:
E-mail: sbuh_radiol@stonybrookmedicine.edu
Telephone: (631) 444-2484
Fax: (631) 444-7538
---