Statement on Diversity and Inclusion
Diversity is an important core value in the Department of Radiology. We strive to develop and nurture a diverse and inclusive community. We recognize that diversity, inclusion, and equity are cornerstones of excellence. By stating we aim to create and maintain an 'inclusive' community, we mean that we will ensure everybody's contributions are valued and individuals have the chance to do their best at work and progress, irrespective of the diversity dimension. Fostering an inclusive community where all can thrive is key for a successful and sustainable department. We embrace inclusion to help employees feel comfortable, wanted, and appreciated at work. We seek to counteract and eliminate inequities, discrimination, racism, and bias.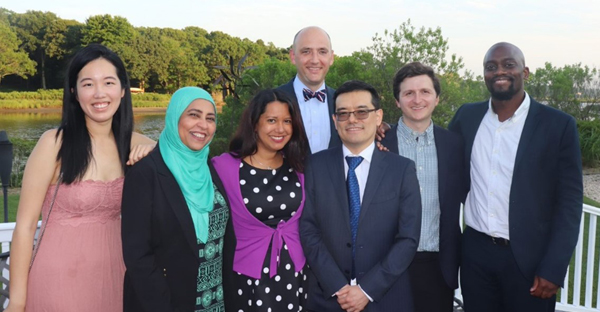 Resident Graduation Party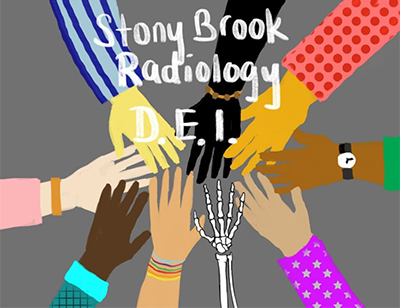 ©KC
Our commitment to promoting health equity in medical imaging: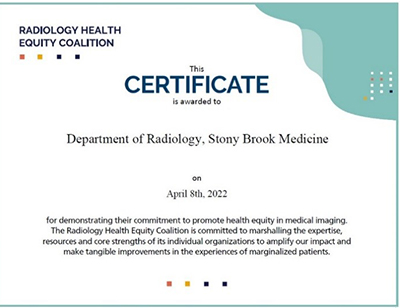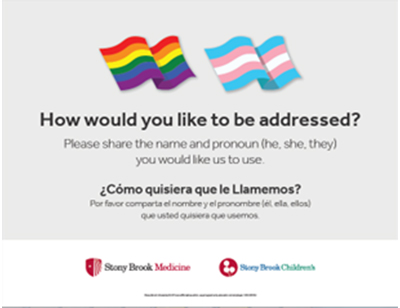 The above signs are displayed in our outpatient imaging centers.
---
Departmental Initiative on Diversity, Equity, and Inclusion (DEI)
DEI Seminars and Grand Round Series: 
These seminars are held throughout the academic year and designed to educate members of the department to improve key concepts of DEI, i.e. improving engagement, counteracting unconscious bias and microaggression, diversity and inclusion, and fostering an inclusive climate. Additional important topics such as disparities in access to medical imaging and care of LGBTQ patients in radiology are also covered. Although these are primarily tailored to radiology residents, fellows, faculty, and staff, we are trying to create an inclusive environment for everyone. Medical students or non-radiology members of Stony Brook University are always welcome to attend. We also invite external guest speakers for the departmental DEI Grand Round series.
DEI online resources in the State of New York:
Participation in online webinars and Book Clubs that are open to radiologists in New York, e.g. webinars provided by the Department of Radiology, Weill Cornell Medicine; New York State Radiological Society; Medical Society of State of New York.
AAWR webinars:
Promotion of career advancement and mentorship for women radiologists through webinars provided by the American Association of Women Radiologists.
Other resources:
Additional resources are available through national and international radiological societies such as, but not limited to, the Association of University Radiologists, American College of Radiology, Radiological Society of North America, and International Skeletal Society.
---
URM Pipeline and Community Outreach Programs
Premedical Access to the Clinical Experience Program
The Pre-medical Access to the Clinical Experience (PACE) program allows Stony Brook underrepresented minority undergraduate students who are in their junior and senior years and have self-identified as a pre-med student to shadow Stony Brook School of Medicine faculty members in private practices, and in the hospital, in order to increase their exposure to clinical experiences and their ability to successfully apply to medical school. Radiology faculty and residents participate in this program as mentors.
For more details, visit https://renaissance.stonybrookmedicine.edu/hscdiversity/PACE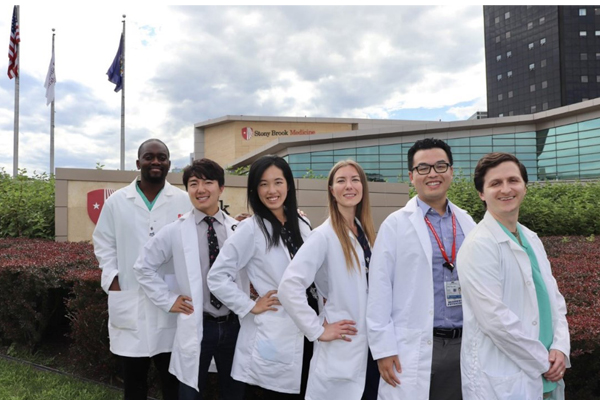 Doctors of Tomorrow Scholarship Program
The Doctors Of Tomorrow Program (D.O.T.) is a county-wide High School senior student educational program run by the Suffolk Academy of Medicine, to provide personal, firsthand, encouraging information on what it takes to become a doctor. The program consists of an Introductory Symposium, an Essay Contest, and "A Day With a Doctor". Department of Radiology faculty participates in this program as a member of the DOT evaluation committee and a volunteer physician preceptor.
For more details, visit https://scms-sam.org/dot/
Stony Brook Health Outreach and Medical Education (SB HOME) program
SB HOME is a medical-student-run, physician-supervised free clinical affiliated with the Renaissance School of Medicine at Stony Brook University. The program provides high-quality and comprehensive primary care to uninsured adults on Long Island at no cost. SB HOME is dedicated to improving the health and well-being of the underserved community in Suffolk County by:
increasing access to free, dependable, and comprehensive health services 
empowering individuals and families through education and social services
training future clinicians in culturally competent and compassionate care
For more details, visit https://renaissance.stonybrookmedicine.edu/stonybrookhome

Stony Book Radiology department participates in this program by providing imaging services to the patients referred by SB HOME at a special discounted rate. Diagnostic x-rays can be performed on a walk-in basis and no appointment is necessary.  All other exams (DEXA, screening mammography, CT, MRI, and ultrasound) must be scheduled in advance.  The patient or their designee may call 631-638-2600 Option 2 to schedule an appointment and indicate that they are referred by SB HOME for imaging services and an appointment will be mutually agreed to by the patient and Stony Brook Advanced Imaging, giving priority to the patient's preference and availability.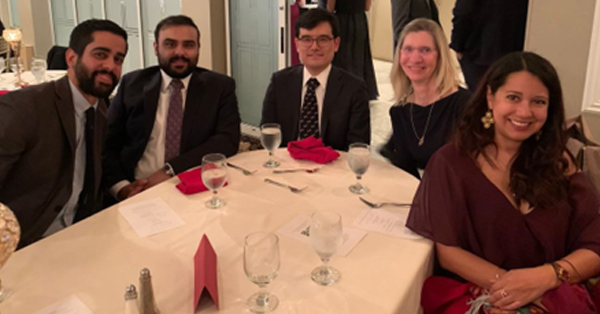 SB Home Gala
---
Diversity and Inclusion Committee
The Diversity and Inclusion Committee offers education, training, and support to members of the department at all levels. We are committed to the mentorship of trainees from underrepresented minorities, faculty and staff recruitment, departmental and medical school-wide DEI initiatives, and community outreach programs.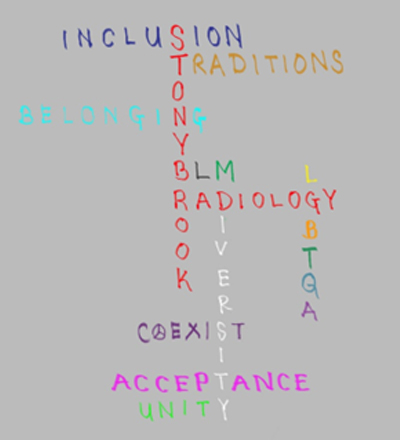 Co-Chairs/Faculty Diversity Ambassadors: 
Musa Mufti, MD (MSK)
Marlene Zawin, MD (Body/Chest)
Faculty Members:
Almas Abbasi, MD (Body/Chest)
Krystal Airola, MD (Breast)
Giuseppe Cruciata, MD (Neuro)
Kathleen Finzel, MD (MSK)
Johanna Monsalve, MD Pediatric)
Resident Members: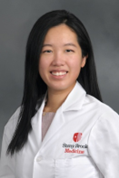 Katherine Chung, MD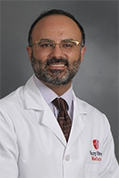 Farshid Faraji, MD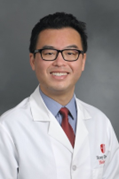 Max Hao, MD MSc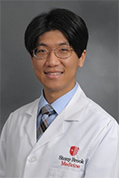 Jungmo Gahng, MD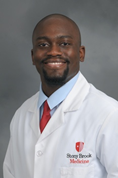 Mutshipay Mpoy, MD
Jolanta Norelli, MD PhD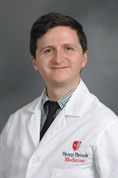 David Payne, MD
Alumni:
Alvaro Bravo, MD (MSK Fellow, class of 2023)
Administrative members: 
Emmanuel Thomas, MBA (Radiology Administrator, Technical Director of Outpatient Imaging Centers)
Maura Chodkowski (Senior Administrative Assistant)
*Information updated on March 24, 2023