Chuan Huang, Ph.D.
Associate Professor of Radiology, Psychiatry
Director of PET/MR Clinical Research
Other affiliations: Department of Biomedical Engineering, Department of Computer Science, Stony Brook Cancer Center,
AI Institute, Institute of Engineering-Driven Medicine, and Neuroscience Institute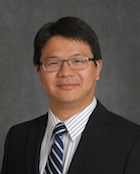 Education:
Post Doc, Massachusetts General Hospital – Harvard Medical School
Ph.D. Mathematics (minor in Optical Sciences), University of Arizona, Tucson
B.S. Mathematics, University of Science and Technology of China, Hefei, China
Honors:
2013, 2014 Young Investigator Award Honorable Mention, CaIC, SNMMI Annual Meeting
2014, 2015, 2016, 2017, 2018, 2019 Distinguished Reviewer for Magnetic Resonance in Medicine
2016, 2017 Distinguished Reviewer for Journal of Magnetic Resonance Imaging
2017 Society of Biological Psychiatry's Chair's Choice Award
2017 NARSAD Young Investigator Grant
2020 Stanley Fahn Jr. Faculty Award, Parkinson's Foundation
Publications:
Please click here to see a full list of articles published by Dr. Huang on PubMed.
Research Interest:
PET/MR

Medical image reconstruction

Medical image processing

Medical image analysis

MR Physics, pulse sequence programming

Medical image motion correction

Medical imaging in Psychiatric/Neurological disorders

Please click here to be redirected to Dr. Huang's lab website
Contact Information:
Stony Brook Medicine
Department of Radiology
HSC Level 4, Room 120
Stony Brook, NY 11794-8460
Phone: 631-444-6905
Fax: 631-444-6450
Email: Chuan.huang@stonybrookmedicine.edu