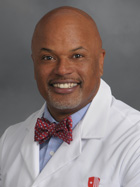 Jedan Phillips, MD
Associate Dean of Minority Student Affairs, Office of Minority Affairs
Jedan Phillips, MD, Associate Professor of Family, Population and Preventive Medicine at the Renaissance School of Medicine at Stony Brook University, and Associate Dean for Minority Student Affairs, joined the School of Medicine faculty in 2005. He has since served on the School's admissions committee, is a faculty advisor for the Stony Brook Chapter the Student National Medical Association (SNMA), and is Director of Stony Brook HOME, the student-run outreach clinic.
Dr. Phillips holds clinical and educational positions at Stony Brook Medicine and is a community advocate for preventive and primary medical care services for the underserved living in Long Island communities. He has won numerous awards, including the Gold Humanism Award for modeling the very best qualities of a compassionate physician; induction into the medical honor society, Alpha Omega Alpha; the Michael Maffetone Service Award, and the establishment of the Jedan Phillips Service award in honor of his service.
Dr. Phillips received his MD degree from the University of Maryland and his Bachelor's degree from Johns Hopkins University.
Welcome to our new office and website!