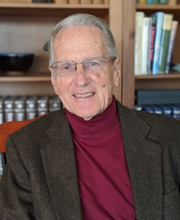 Pierce Gardner, MD, an Infectious Disease Internist at the Renaissance School of Medicine at Stony Brook University, has received the 2020 Dr. Charles Mérieux Award for Achievement in Vaccinology and Immunology from the National Foundation for Infectious Diseases (NFID).
The award honors individuals whose outstanding lifetime contributions in the fight against vaccine-preventable diseases have led to significant improvement in public health. It is named for Dr. Charles Mérieux, the distinguished French scientist who devoted his life to fighting infectious diseases globally, combining his medical knowledge with an understanding of business to develop one of the world's leading vaccine laboratories, the Pasteur Institute.
Dr. Gardner's career has focused on global health policy, and training the next generation to tackle health issues in low-resource countries. He has done extensive international work and has been a consultant for the World Health Organization, the Centers for Disease Control (CDC), and the Armed Forces Epidemiological Board (now the Defense Health Board).
The award recognizes his advocacy for adult immunization on the Advisory Committee for Immunization Practices of the CDC, and the Defense Health Board, as well as helping to establish the Fogarty International Clinical Research Scholars & Fellows Program at the National Institutes of Health.
Dr. Gardner serves as Associate Dean for Academic Affairs and Professor of Medicine, emeritus, for the Renaissance School of Medicine. He has served as a progenitor for the Clinical Research Scholars/Fellows Program at the Fogarty International Center at the NIH, which has now trained almost 1,000 US and international professionals. For nine years, he served as the liaison representative of the American College of Physicians to the Advisory Committee on Immunization Practices at the CDC, and he chaired the Guidelines for Adult Immunization for the American College of Physicians.
Dr. Gardner's major academic appointments have been at Harvard Medical School, the University of Chicago, and Stony Brook University, where he currently serves as Senior Consultant to the Global Health Institute. 
Dr. Gardner graduated from Harvard Medical School and trained in Internal Medicine at the University of Washington and at Case Western Reserve. He completed his fellowship training in Infectious Diseases at the Massachusetts General Hospital. He has published more than 140 articles, reviews and books, primarily dealing with immunization issues, education and global health.