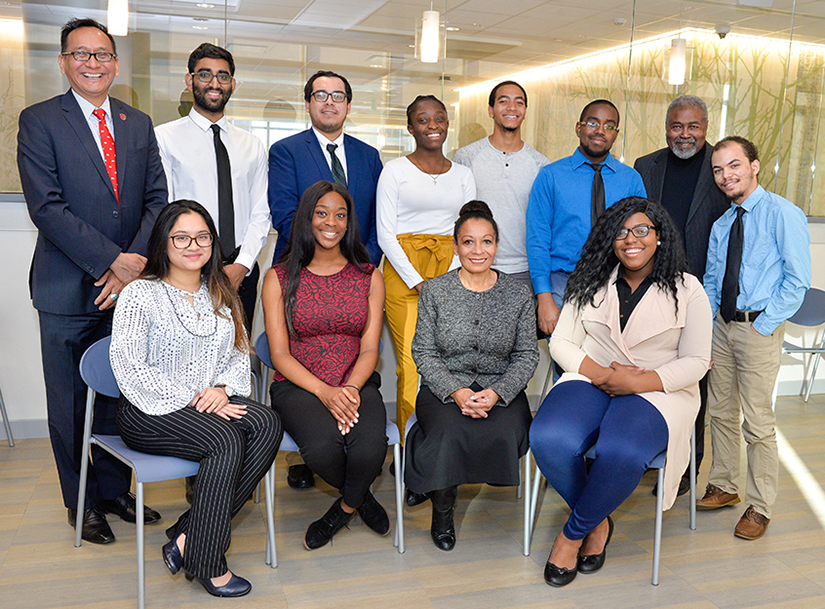 Hope and opportunity were the themes of a luncheon celebrating nine Stony Brook University undergraduates, who recently completed the PACE (Pre-medical Access to the Clinical Experience) program. The six-week experience, offered by the Renaissance School of Medicine at Stony Brook University, prepares students from diverse racial and ethnic backgrounds for careers in medicine.
Racial and ethnic minorities historically have been underrepresented in the health professions in the United States. Since 2016, 38 Stony Brook students who self-identified as pre-med and are considered underrepresented minorities (many of them first-generation college students) have participated in PACE.
PACE students shadow physicians treating patients in a variety of clinical settings. The students also spend time in National Institutes of Health-funded biomedical laboratories, where they are taught how to do data entry and hands-on research techniques.
"Some students have had research experience before, but some have never been in a laboratory in their lives," said Inel J. Lewis, MPA, Program Director, School of Medicine Diversity Initiatives, in the Office of Health Sciences Faculty, Staff and Student Diversity.
The students also get assistance in entering and completing Masters degree programs, to gain additional experience in the healthcare educational arena.
PACE includes seminars on such topics as stress management and crafting a personal statement for medical school applications. And it provides one-on-one mentoring from Stony Brook medical students, who guide the undergraduates by sharing what they have learned on their own journeys to becoming physicians.
"Often our PACE students are first-generation college students, so they have no academic role models or mentors," Lewis said. "We are grateful to the medical students and the faculty members who are so patient and caring with them."
The PACE Scholars honored at the luncheon are: Doka Ezekwe, Brayan D. Florentino, Aiseosa Irowa, Sarah Malik, Malik Padellan, Celsio Correa-Penafiel, Jermaine Robertson, Caleb Sooknanan and Catrina Wiltshire. After completing the program, now they are preparing to take their Medical College Admission Test (MCAT). The students learned at the event that they all will receive scholarships to the Kaplan MCAT prep program, through various philanthropic funding sources.
Lee Bitsoi, EdD, Stony Brook University's Chief Diversity Officer, noted that "We don't have enough people of color in healthcare professions, especially medicine." Changing that will impact not only minority students, he said, but also underrepresented and underserved communities.
"When patients from those communities come to the hospital, they may be a little bit more open to sharing and speaking with a healthcare practitioner who's from their background," he said.
Inel Lewis said PACE has "given talented students the encouragement that their dreams of attending medical school are attainable." Through PACE's support, "the students go from feeling as though they can't do it, to knowing they can do it. PACE empowers these students with skills. And then they have the confidence to apply to medical school," she said.
Student Doka Ezekwe said the PACE program "motivated me and reconfirmed my belief that if I want to become a doctor, I will." She had a message for other minority students interested in pursuing a career in medicine: "A lot of people will tell you that you can't do it. But don't let anybody tell you that you can't do what you want to do. Just work your hardest at what you want to achieve."
Neonatal Attending Physician Carly Gomes, MD was at the event with PACE student Sarah Malik. Dr. Gomes said she and Sarah meet regularly, to talk about Sarah's goals and how she can achieve them.
"Sarah has a big interest in newborns and infant care," she said. "So the next step is for her to come and shadow me in the Neonatal Intensive Care Unit."
Sarah said she's excited to learn more about how babies are cared for in the NICU.
"I would just love to see the day-to-day work that Dr. Gomes does and how she interacts with the patients and their families," Sarah said. "That's something you can't get from reading books – you have to see it first-hand."
Aldustus Jordan, EdD, Associate Dean for Community Engagement and Service Learning in the School of Medicine, spoke to the students about their dreams for the future. "Our job is to help you fulfull those dreams," he said. "So keep on keepin' on."