Max Fink Papers span 65-year career of world-leading expert on electroconvulsive therapy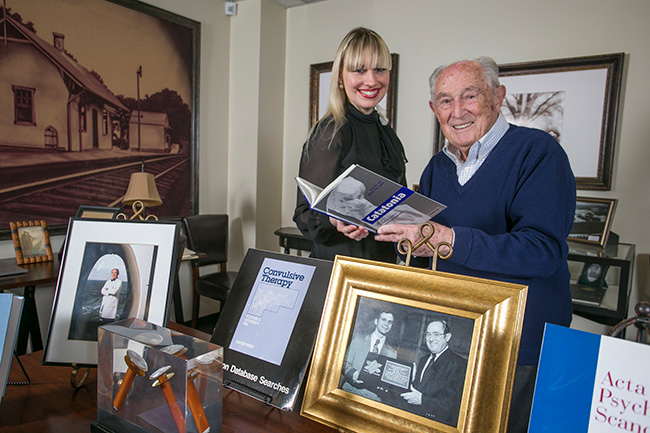 Kristen Nyitray, (left), Director, Special Collections and University Archives at Stony Brook University, has worked closely for 10 years, with Max Fink, MD, (right), Professor of Psychiatry and Neurology Emeritus at Stony Brook University to launch the Max Fink Papers and Digital Collection. Opened in late 2017, the collection is available to students, faculty and global researchers studying the fields of ECT, catatonia and EEG.
The transformative career of Max Fink, MD, Professor of Psychiatry and Neurology Emeritus at Stony Brook University, a world-leading expert and defender of electroconvulsive therapy (ECT), is the focus of a new collection at the Stony Brook University Libraries.
The University recently announced the opening of the Max Fink Papers and Digital Collection. The digital collection, a subset of the papers, includes nearly 7,000 items (20,000 pages) of Dr. Fink's original notes on experimental psychiatry, outgoing letters to colleagues, professional writings and an autobiographical memoir completed in 2017.
The archive documents the extraordinary career of the psychiatrist and neurologist, who founded the journal Convulsive Therapy, published the definitive medical textbook on ECT and has provided expertise and commentary in media productions, including as a consultant on A Beautiful Mind (2001), an Academy-award winning movie about schizophrenia.
"Dr. Fink's pioneering research in the field of electroconvulsive shock therapy is of high research and scholarly value to students, faculty and to global researchers, and now that it is accessible digitally, it can get into the hands of more people, more quickly," said Stony Brook University President Samuel Stanley Jr., MD. "He has had a transformational impact on the field of psychiatry, and we are honored to hold his collection at Stony Brook University."
Comprised of nearly 250 linear feet (475 boxes) of research materials dating from the 1880s through 2017, the collection at SBU includes Dr. Fink's notes, manuscripts, publications, correspondence, grant reports and visual materials on the study of convulsive therapy (electroshock), catatonia, melancholia, pharmaco-electroencephalography and psychopharmacology. Opening the papers will provide new opportunities for scholarship and insights into Dr. Fink's pioneering research in these specialized areas of psychiatry.
The collection is the culmination of an extensive, multi-year effort of archival processing, cataloging and digitization, which was supported by Max and Martha Fink.
Dr. Fink's studies of ECT began in 1952 at Hillside Hospital in New York. He has published prolifically for six decades on the use and effects of ECT.
Dr. Fink joined Stony Brook in 1973 and established — along with Stan Yolles, MD, founding Chairman of the Department of Psychiatry at Stony Brook — the first Psychiatry Unit at Stony Brook University Hospital. He also organized the ECT Service at Stony Brook, and organized studies of catatonia (an abnormality of movement and behavior arising from a disturbed mental state) that influenced the American Psychiatric Association to acknowledge that catatonia was independent of schizophrenia.
In 1979, he authored Convulsive Therapy: Theory and Practice, the book medical historian Edward Shorter and internationally recognized psychiatrist David Healy called the "definitive medical text on electroconvulsive shock." Dr. Fink has authored more than 800 articles and several books on the ethics of ECT, melancholia and catatonia. His latest is a history of catatonia, written with Edward Shorter, that is in press with Oxford University Press.
He founded Convulsive Therapy (now the Journal of ECT) in 1984, a quarterly scientific journal. From 1975 to 1978, and again from 1987 to 1990, he was a member of the Task Forces on Electroconvulsive Therapy of the American Psychiatric Association.
From 1995 to 1996, he chaired the Task Force on Ambulatory ECT of the Association for Convulsive Therapy. In 1994, with NIMH support he organized the CORE study program with Charles Kellner as Principal Investigator, which studied continuation therapies after ECT and compared the benefits and risks of different electrode placements. The group has published 17 reports establishing new standards for effective ECT.
ECT is remarkably effective for patients with catatonia and melancholia. By 1996, Dr. Fink had developed protocols at University Hospital to identify, verify and treat catatonia that has been widely accepted. This recognition led to catatonia being established as a unique syndrome in the DSM of the American Psychiatric Association.
Dr. Fink has received many prize awards for his research in ECT and in EEG, including the Electroshock Research Award (1956), the A.E. Bennett award of the Society of Biological Psychiatry (1958), the Anna Monika Prize award for research into depressive illness (1979), the Laszlo Meduna Prize of the Hungarian National Institute for Nervous and Mental Disease (1986), the Gold Medal award of the Society of Biological Psychiatry (1988), and Lifetime Achievement Awards of the Psychiatric Times (1995) and the Thomas William Salmon Award in Psychiatry (2011).
For more information about the Max Fink Papers, click here.