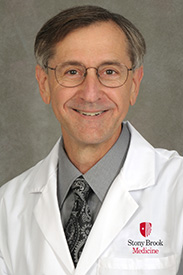 Kenneth Kaushansky, MD, is Senior Vice President for Health Sciences and Dean of the School of Medicine.
Kenneth Kaushansky, M.D., M.A.C.P. earned his B.S. and M.D. degrees from the University of California, Los Angeles, and completed his Internal Medicine Internship, Residency and Chief Medical Residency, and Fellowship in Hematology at the University of Washington. He joined the faculty at the University of Washington as an Assistant Professor in 1987, was promoted to Associate Professor in 1991 and to Professor in 1995. Following his service as Hematology Section Chief at the University of Washington Medical Center, Dr. Kaushansky was named Helen M. Ranney Professor and Chair of the Department of Medicine at UC San Diego in February 2002. Dr. Kaushansky is currently the Senior Vice President for Health Sciences and Dean, School of Medicine, as well as a SUNY Distinguished Professor at Stony Brook University.
During his career Dr. Kaushansky has been a successful teacher, clinician and biomedical researcher. The goal of the Kaushansky laboratory is to understand, and manipulate for therapeutic benefit, blood cell production. Towards this end, his team has cloned several of the genes important in the growth and differentiation of blood cells, including thrombopoietin, a key regulator of stem cell and platelet production. Dr. Kaushansky is also an accomplished clinician, and he has been a champion of the need to train more physician-scientists who can bridge the gap between the laboratory and the clinical arena, translating research discoveries into improved treatments and technologies for the prevention, diagnosis and management of disease.
Dr. Kaushansky has been recognized for his scientific and clinical contributions by election to several honor societies, including the Institute of Medicine of the National Academies of Science and the American Academy of Arts and Sciences. Dr. Kaushansky is also a past-president of the American Society of Hematology (2007-2008) and the American Society for Clinical Investigation (2004 – 2005). He also served a 5 year term as Editor-in-Chief of the journal Blood (1998-2002), currently serves as Lead Editor for Williams Hematology as well as for the past edition, and serves as a major reviewer for the National Institutes of Health and for many major scientific periodicals.