School of Medicine students assist in coronavirus response via new course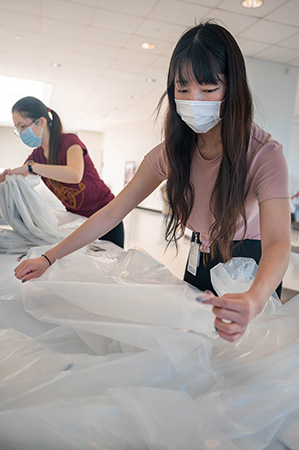 Ariel Yang, fourth-year medical student, and Reona Kimura, third-year medical student, assemble personal protective gowns as part of
the COVID Service Learning class offered at the Renaissance School of Medicine at Stony Brook University.
Hundreds of medical and graduate students at the Renaissance School of Medicine at Stony Brook University have joined the fight against the coronavirus through a new course that provides opportunities to engage in active volunteer service at Stony Brook University Hospital.
Through a course called "COVID Service Learning," students are manufacturing Protective Personal Equipment, distributing meals to residents and hospitalists, delivering groceries to geriatric patients and performing COVID testing in the pathology laboratory. They also orient patients to expanded telehealth services, perform follow-up patient phone calls, and screen visitors as they enter the hospital. Other students who graduated early from the Renaissance School of Medicine are working as assistant physicians on nursing units and volunteering in clinical laboratories at the hospital.
"Our students at the Renaissance School of Medicine are demonstrating a tremendous spirit of enthusiasm and altruism in contributing to the care of patients at Stony Brook Medicine through their selfless service," said Kenneth Kaushansky, MD, MACP, Senior Vice President, Health Sciences, and Dean of the Renaissance School of Medicine at Stony Brook University. "I could not be more proud of the work they are performing."
Lisa Strano-Paul MD, FACP, Professor of Clinical Medicine in the Department of Internal Medicine, Assistant Dean for Clinical Education, and Course Director for the Primary Care Clerkship at the School of Medicine, is serving as director of the COVID course.
"This course is designed to promote student learning while also providing meaningful assistance to patients, families and the broader community impacted by COVID-19 during emergency response times, as well as faculty and staff who are combating it on a daily basis," she said.
Students volunteer for 15 hours a week for two to four weeks. The elective course is offered Pass/Fail and consists of 35 hours of service over a two-week period, or 70 hours of service over a four-week period. Reflective discussions and debriefings occur for 2.5 hours weekly, facilitated via Zoom by School of Medicine faculty members.
"Students have the opportunity to engage remotely in service learning projects/activities that address urgent healthcare system needs," said Dr. Strano-Paul. "This experience will enrich student learning by developing their leadership skills, facilitating professional identity formation, and promoting inter-professional communication and collaboration."
The course empowers medical students to get involved directly in the community, joining projects like telehealth, community food delivery and patient outreach, as well as creating new projects on their own, such as assembling gowns and 3D printing face shields. Fourth-year medical student Naveen Mallangada worked directly with Carol Gomes, Chief Executive Officer of SBUH, to organize a project to assemble thousands of gowns for the hospital using materials provided by local businesses.
"It was inspirational to see the students get behind this project so quickly," said Gomes. "They were willing to do whatever it takes to help our staff safely provide care for our patients."
"This elective as part of the school of medicine curriculum shows that the medical students at Stony Brook are not only the brightest, but the most active in helping their community in a time of crisis," Mallangada said. "When medical students say we commit our lives to medicine, that commitment goes beyond just the hospital setting."