Labros Meimetis, Ph.D.
  Assistant Professor of Radiology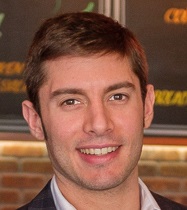 Education:
Postdoc, Harvard Medical School/MGH, Boston, MA, 2016
Ph.D. University of British Columbia, Vancouver, Canada, 2012
BSc. Simon Fraser University, Burnaby, Canada, 2006
Patents:
Meimetis, L.G.; Carlson, J.; Weissleder, R. "Bioorthogonal turn-on probes" US20160121002A1.
Meimetis, L.G.; Nodwell, M.B.; Wang, X.; Andersen, R.J. "Decahydrobenzofluorene and dodecahydrofluorenoazepine derivatives as SHIP1 modulators and their preparation" US9000050B2.
Publications:
Please click here to see a full list of articles published by Dr. Meimetis on PubMed. 
Research Interest:
My research is focused on developing drugs and biologics to address escape pathways in tumors that result in current treatment strategies to fail in clinical trials and at best provide modest survival times in patients administered with approved drugs. 
Therapies to overcome the following pain points will be developed:
Heterogeneous tumors
Poor solid tumor penetration using BiTE, bispecific and CAR-T therapies.
To enable novel drug discovery, we will perform research in the areas of: 
Eliciting tumor immunogenicity
Adjuvants for enhanced immune cell penetration in solid tumors
High potency warheads for antibody drug conjugates for low TAA copy number

​​​​​​​​​​​​​Molecular imaging will play a key role in advancing these programs and will encompass Positron Emission Tomography (PET) using 18F, 89Zr, 68Ga and 44Sc labelled probes in preclinical animal models to determine immune cell distribution to identify the most suitable drug candidates to advance to the next round of testing.
Contact Information:
Stony Brook Medicine
Department of Radiology
HSC Level 4, Room 092 
Stony Brook, NY 11794-8460
Phone:  631-444-5400
Fax: 631-444-6450
Email: Labros.Meimetis@stonybrookmedicine.edu