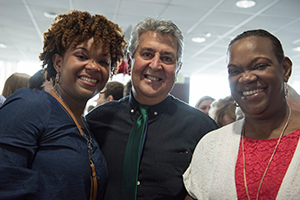 An annual rite of passage launched Stony Brook physicians-in-training ready to make a difference in the world. A total of 123 Stony Brook University School of Medicine students discovered where they will begin their medical residencies after graduation at the annual Match Day ceremony.
The springtime event was marked by anticipation (and some anxiety) as students waited to find out if they'd matched to their first choice of residency (and if not, to their second or third choice.) Many had their families on hand for support. Finally the students tore open their envelopes to learn where they are headed next. There were shouts of joy, and hugs among the classmates who have been through so much together.
After graduating from Stony Brook May 18, they will begin their residency training programs in July.
Approximately 25,000 medical students across the country learn of their residency assignments on Match Day, held by medical schools every March. The event is administered by the Association of American Medical Colleges' National Resident Match Program.
Forty-nine percent of the Stony Brook Class of 2018 matched to residencies in New York State. The other fifty-one percent matched to programs in: California, Canada, Connecticut, Washington D.C., Delaware, Florida, Illinois, Maine, Maryland, Massachusetts, Michigan, Missouri, New Hampshire, New Jersey, North Carolina, Ohio, Pennsylvania, Rhode Island, Tennessee, Texas, Vermont and Washington state.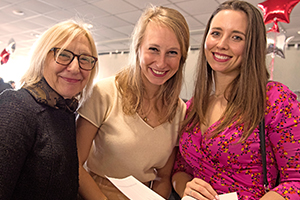 Collectively, they will practice in 20 specialties. Internal Medicine ranked as the leading specialty with the highest number of Stony Brook students matched (31), followed by Emergency Medicine (16) and Pediatrics (14).
"Match Day is one of the most memorable moments in the career of a physician, as it impacts both their personal and professional lives," said Kenneth Kaushansky, MD, MACP, Senior Vice President of the Health Sciences and Dean of the School of Medicine. "The location at which our graduates perform their residency can shape their expertise, the direction of their career, and where they live for the next several decades, as it did for me many years ago. I matched at the University of Washington in internal medicine, and spent the next 22 years there becoming an academic hematologist and physician-scientist, entirely because of the training I received and the people who mentored me. I congratulate all of our (soon-to-be) graduates on this step in their journey."
This year's Match Day was the first since the School of Medicine implemented the LEARN (Learning- focused, Experiential, Adaptive, Rigorous and Novel) curriculum.
"We were eager to see what effect this integrative curriculum would have. I'm proud to say that the students did well academically, and most of them matched into the programs they wanted," said Latha Chandran, MD, MPH, Vice Dean of Academic and Faculty Affairs and the Miriam and David Donoho Distinguished Teaching Professor.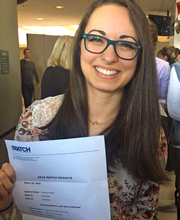 Medical student Cortney Crespo found out on Match Day that she'll be going to Tufts Cambridge Health Alliance for a residency in family medicine. She started her Stony Brook journey as a newborn, 25 years ago. After having trouble breathing, Cortney was transferred from St. Charles Hospital (where she was born) to University Hospital's Neonatal Intensive Care Unit, where she was treated.
Today she looks forward to being a family medicine practitioner, because "you can be with patients from birth to death. Family medicine extends that continuity of care." Her main interest is in integrative medicine and she plans to educate patients about nutrition, exercise and mindfulness.
Engaged couple Marleni Fabiola Milla (who immigrated from Peru when she was eight years old) and Johnathan Lee Nieves (the first person in his family to graduate from college) matched to psychiatry and emergency medicine, respectively, at the University of Connecticut. They met at Dickinson College and graduated in 2011, and both were admitted to Stony Brook University School of Medicine.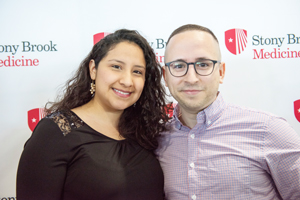 John was awarded Stony Brook's W. Burghardt Turner Fellowship, a four-year full tuition fellowship to attend the School of Medicine. After being together for 10 years, Marleni and John's wedding will take place a few days after medical school graduation.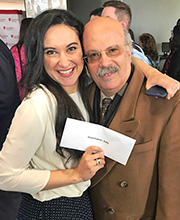 Safa Abdelhakim, who came to this country at age 18 from Egypt, matched to a neurology program at Yale-New Haven Medical Center. She finds neurology unique because "the disease very much impacts the physical presentation of the patient, as well as their identity. To be there for these patients and their families is a beautiful thing, truly."
Safa credits her clinical training at Stony Brook, as well as mentoring from attending physicians and exposure to different specialties, with preparing her for residency. She is interested in medical school curriculum development and looks forward to exploring new neurological treatments.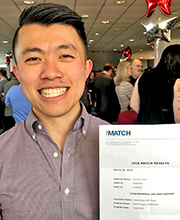 Johnathan Shih is a first-generation American. His parents are immigrants from Taiwan who moved to the U.S. a few years before he was born and started a small restaurant business. The family was of relatively low income while Johnathan was growing up. In order to help his parents make ends meet, he worked at the family business and helped to raise his two younger siblings.
Thanks to his parents' hard work and sacrifice, Johnathan became the first person in his family to attend college. He graduated from Stanford University with a degree in molecular biology, and was accepted to medical school at Stony Brook shortly after. Last month, he matched into his top choice plastic surgery residency program at the University of Washington in Seattle.