Long Island is considered a haven for residents and visitors alike. The longest and largest island in the contiguous United States, Long Island stretches over 100 miles from New York City to Montauk Point, offering pristine Atlantic Ocean beaches on its famous South Shore and quaint towns on its North Shore.
Whether you enjoy fabulous art galleries and museums, exceptional fishing spots, pristine golf courses, great restaurants, amazing wineries, beautiful bike trails, or white sandy beaches, there's virtually something for everyone. For those raising a family, Long Island is also known for its friendly communities, cultural and historic institutions, and numerous family attractions including the Long Island Aquarium, children's museums, water and amusement parks,  animal farms, petting zoos and more. Long Island is also home to many excellent public and private schools.
Located in the northern center of the island, Stony Brook is also close to the excitement of Manhattan where an easy commute places you at the doorsteps of world-famous museums, professional and college sporting and concert events, and restaurants of every cuisine.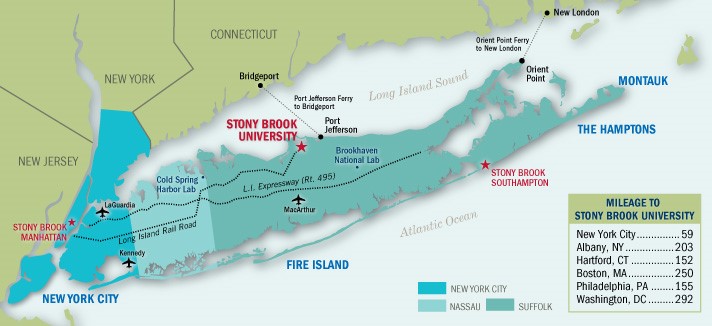 Transportation to SBUH
By Car
Take the Long Island Expressway (Route 495) to Exit 62. The Stony Brook ramp exits onto Nicolls Road North (Route 97). Follow Nicolls Road for 9 miles entering the SBUH campus on the right. (Nicolls Road deadends ¼ of a mile north of the hospital.) Please park in the hospital visitor's parking lot.
By Train
Take the Long Island Railroad's Port Jefferson line directly to the Stony Brook campus. University bus service is available on the campus side of the station or call a taxi at 631-473-0707 ($6.00 per person one way). To view schedule go to lirr42.mta.info.
By Ferry
The Port Jefferson ferry runs between Bridgeport, CN and Port Jefferson, NY (631-473-0286; outside New York State 203-335-2040). 
The Orient Point ferry runs between Orient Point, NY and New London, CN (Orient Point: 631-323-2525 or New London: 860-443-5281).
By Plane
Exit left from Islip-MacArthur Airport onto NY-454 E/ Veterans Memorial Hwy. Stony Brook exit is approximately 3 miles on the right. Merge onto Nicolls Road north (Route 97) towards Stony Brook. Follow Nicolls Road for 12 miles; turn right to enter the SBUH medical campus. (Nicolls Road deadends ¼ of a mile north of the hospital.) Please park in the hospital visitor's parking lot, we will validate your parking ticket. For ticket info go to www.macarthurairport.com.
New York City Area Airports (JFK, LaGuardia and Newark) are 50 miles to the west. From Kennedy Airport, you may take the AirTrain to Jamaica Station and transfer to the LIRR for the train to Stony Brook (Port Jefferson line).