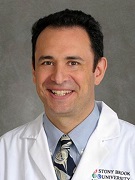 Dr. Cohen is a Clinical Associate Professor of Medicine at the Stony Brook Renaissance School of Medicine.  He received his MD from Weill Cornell Medical College and completed training in Internal Medicine and Hematology/Oncology at New York Presbyterian Hospital/Weill Cornell Campus.  He performed postdoctoral research at The Rockefeller University in the laboratories of Dr. James Krueger and Dr. Ralph Steinman. 
Dr. Cohen's research interests include industry and collaborative group trials of novel breast cancer therapies; development of novel PET radiotracers for the detection and monitoring of breast cancer; and the use of PET scan and fMRI for the study of chemotherapy-induced cognitive impairment.  He was the co-MPI on an R01 grant from NCI on "Assessing the Role of [11C]Vorozole in the Detection of Aromatase in Breast Cancer" and the co-MPI on an R21 grant from NCI on "Neuroinflammation, NMDA receptors and cognitive function in chemobrain".  He has contributed to manuscripts published in the Journal of Nuclear Medicine, Clinical Breast Cancer and Breast Cancer Research and Treatment.  He is a regular reviewer for NIH study sections on chemotherapy-induced cognitive impairment. 
Dr. Cohen is active in the clinical care of patients with breast cancer and in patients with benign hematologic disorders.  He lectures frequently on breast cancer, oncology therapeutics and hematology topics in the medical school and to postgraduate trainees.  He has mentored multiple graduate students in the Scholars in Biomedical Sciences program.  Dr. Cohen serves as the Chair of the Cancer Center Pharmacy and Therapeutics committee and Vice-Chair of the Cancer Center Data and Safety Monitoring committee.