What is the PECASE award? The Presidential Early Career Award for Scientists and Engineers, commissioned in 1996 by the National Science and Technology Council (NSTC), is the highest honor bestowed by the US government to outstanding scientists and engineers at the outset of their independent research careers.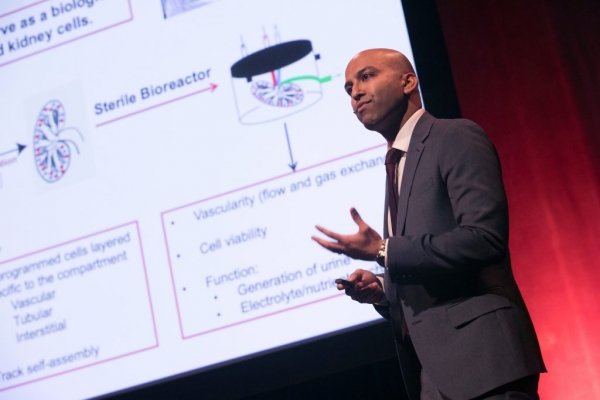 The PECASE embodies the high priority placed by the government on maintaining the leadership position of the United States in science by producing outstanding scientists and engineers, and nurturing their continued development. There are nine agencies participating in the PECASE awards program, including the Department of Health and Human Services: National Institutes of Health.
The Department of Medicine is thrilled to announce that Sandeep Mallipattu, MD has been named a recipient of the Presidential Early Career Award for Scientists and Engineers (PECASE). The PECASE also acknowledges the contributions scientists and engineers have made to the advancement of science, technology, education, and mathematics (STEM) education and to community service as demonstrated through scientific leadership, public education, and community outreach.
Dr. Sandeep Mallipattu presents his research plan to build an artificial kidney from patient-derived cells.
Dr. Mallipattu is chief of the Division of Nephrology and Hypertension and the DCI-Martin Liebowitz Associate Professor of Medicine. He is recognized for his research on identifying molecular mechanisms involved in the progression of chronic kidney disease. Specifically, he investigates the mechanisms by which modulating gene expression effects some of the most fundamental cellular processes in the kidney, with the ultimate goal of identifying novel pathways that could be targeted for therapy.
Dr. Mallipattu earned a BS in Biomedical Engineering at the University of California, San Diego, then earned his MD from Boston University School of Medicine, and completed his Internal Medicine and Nephrology Fellowship at Icahn School of Medicine at Mount Sinai.
PECASE award winners will be honored on July 25 at a special ceremony in Washington, DC.